It's been a long time coming, but Serato controllerists may finally have a suitable answer to NI's Kontrol S4. The Reloop Terminal Mix 4 all-in-one 4-deck controller complements Serato digital DJs quite well, incorporating important turntablist features. Traktor-using fans of this well-built controller can also rejoice in a couple of Traktor Pro mappings for either 4-deck or 2-deck/2 sampler use. Let's see how it stands up to a little comparative testing.
Manufacturer: Reloop
Price: $799 (MSRP) $599 (common retail price)
Availability: Shipping April 28, 2012
Communication: MIDI over USB (AC or USB powered)
Ships with: Serato DJ Intro and a Virtual DJ 4-Deck LE (Reloop Edition), power adapter (optional, runs on USB power as well), USB 2.0 cable. (Traktor Pro mappings will be available at product launch.)
Weight: 10.25 pounds (4.65 kg)
Dimensions: 20.3 x 12.6 x 1.7 inches (51.5 x 32 x 4.4 cm)
System Requirements: Mac OSX or Windows XP/Vista/7
The Good: Pro grade construction. Booth output with dedicated level control. Excellent audio quality. Tons of useful controls, included dedicated Filter per track, FX section per deck, looping, hot cues, sampling, and good track browser. Well-made jog wheels.
The Bad: No professional software included; only 2-deck Serato DJ Intro and 4-deck Virtual DJ 7 LE. Some features are in limbo awaiting software updates. Only one aux input.
The Bottom Line: The Terminal Mix 4 has everything it takes to become the go-to all-in-one 4-deck controller for Serato… except Serato. Until all the features are baked in and Reloop adds support for Serato Itch, the TM4 will have to settle for being a hell of a contender. It has the hardware quality, audio quality, and features to rank it among the top 4-deck controllers out there.
Build Quality and Design
While no NS7 in size, the Terminal Mix 4 is still a bit of a beast. It's about the same surface area of the Kontrol S4, yet almost 3 pounds heavier. For that extra weight, however, you get the confidence of a really solidly built product. The chassis is mostly metal. There's a plastic casing around the sides, but then also an aluminum faceplate on top. To a one, all of the extensive controls on the TM4 feel and perform at the highest standard. The jog wheels, faders, push-button rotaries, knobs, and rubber and plastic buttons all reek of top-shelf quality and are a pleasure to use.
Altogether there are 111 MIDI controls. Have a look at how the control sections break down before we get into the nitty gritty.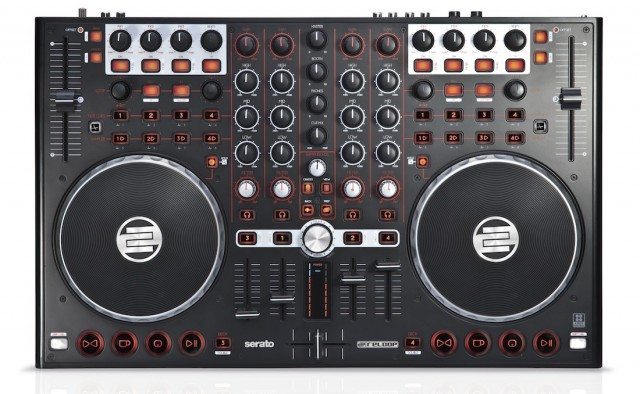 Mixer section:
Crossfader with adjustable crossfader curve
4 channel strips, each with 60mm volume faders, dedicated filter knob with center detent, 3-band EQ with center detent knobs, gain knob, and fader start and headphone cue buttons
Master mix section, with master output knob, booth output knob, headphone volume knob, Cue mix knob with center detent and sample volume knob
Browsing section with large Trax push-button encoder, 4 deck load buttons, and 4 browsing shortcut buttons for direct access to Crates, layout views, etc.
Deck section x 2:
15.5cm touch-sensitive, flat design jog wheels with a vinyl grip surface for scratching, pitch bending, and cueing.
Quick Search button lets you navigate to any part of a track extremely fast with the jog wheel.
High-resolution 14-bit 100mm pitch faders with range and keylock buttons
FX section with knobs and buttons for 3 effects, plus an endless rotary push-button encoder
Looping section with 2 encoders and 2 buttons
Hot cue/sample section with 8 2-layer buttons
Transport section with 4 rubberized buttons for playback and track sync.
Shift key for second-layer controls
Controller Performance

The chunky knobs of the TM4 feel great. They have a nice grip, and the center detents are sticky, but not too sticky. If there's any complaint, it would be that in order to pack so many high-quality controls on the surface, the knobs are packed pretty tightly together.
The crossfader, pitch faders, and channel volume faders thankfully all have their own feel to them. Made for expressiveness, the loose crossfader feels more like a pro DJ mixer crossfader, rather than the very controllery crossfaders you often see. The 60mm channel faders were the tightest of the faders, made for smooth volume transitions. However, the four channel faders weren't exactly uniform in their resistance. Each of the 14-bit 100mm pitch faders (the TM4 supports ranges of ±6 to ±100%) felt a little looser than the channel faders — just enough to enter in tiny increments. Their precise response also felt pleasant across the various pitch ranges.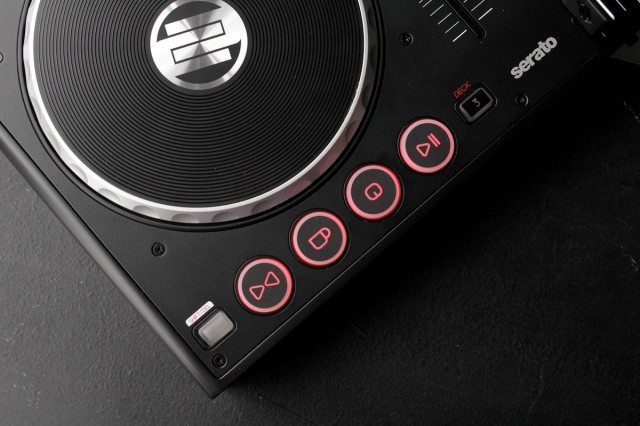 Among non-motorized controller jog wheels, the TM4's wheel rank very high. To go along with their comfortable flat design, the generously-sized platters have a very responsive touch sensitivity and a remarkably playable action. Their vinyl-like surface grip is also a welcome inclusion. In the end, they're still just controller jog wheels, but they are made for people who will actually play them.
The rubberized transport buttons are a treat to use, and I wish there could have been more of these brought to the front for cue points, loops, and samples. However, admittedly, that would compromise the more scratch-centric design of the TM4. The plastic buttons in the Hot Cue/Sampler sections feel durable and have a reliable response and action for you to play them as fast as you like. The operative word though is "play," and buttons of this sort aren't as playable.
Software: You Expect Us To Spin With This?
I happen to agree with the hype that Reloop makes over this being the first 4-deck controller made specifically for Serato. I'm a big fan of tight hardware/software integration, as we saw with the Kontrol S4 and S2. Even better on those NI controllers was that they actually included the software they were designed to control.
Unfortunately, Terminal Mix 4 only includes Serato DJ Intro and Virtual DJ 7 LE (Reloop Edition). The former is a 2-deck version of Serato that strips a lot of features, although it does still include effects and sampling. The TM4's FX sections are functional in Serato DJ Intro for turning on/off the 3 effects per deck, selecting their amounts with the knobs, and using the Beats rotary for choosing the time signature for effects syncing.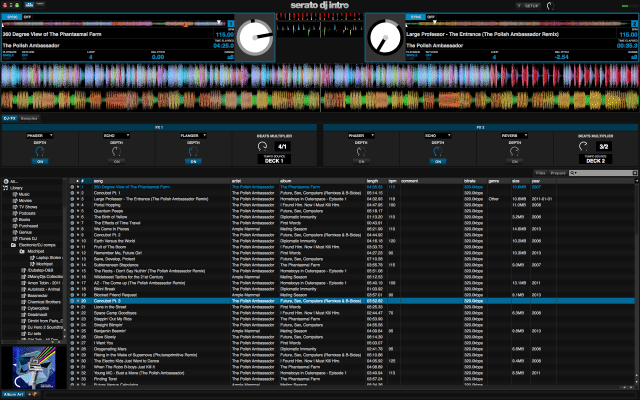 However, Loop, Hot Cue and Sampler sections of the TM4 are only partially functional in Serato DJ Intro. Reloop's site mentions that certain performance features in the sampling, looping, and hot cue sections, as well as other feature like intelligent EQ kill, will be available with future software updates or with the "Pro" software. The current feature sets per-software are listed below:
Serato Intro supports:

2-Decks with tight Jog Wheel Scratch performance
Loop Control
4x Hot Cue (Deck)
4x Sampler (Global)
3 FX Slots (Deck)
Dedicated Filter per Deck

Virtual DJ 7 LE supports

4-Decks
Loop Control incl. Move
8x Hot Cue (Deck)
8x Sampler (Global)
3 FX Slots (Deck)
Dedicated Filter per Deck

Traktor Pro Support:

4-Decks
Full Loop Control
8x Hot Cue (Deck)
4x Sample / Remix Deck Support (Deck)
Full FX Slot Control
Loop Recording
Unique Performance MODE in Slice Layer: Beatmash & Instant-FX Control
Dedicated Filter per Deck
We can only reason that once Reloop and Serato get full compatibility worked out, that the TM4 will at least be certified for Itch, which has 4-deck capability. Otherwise, the $600 TM4 is an excellent 4-deck controller with no native 4-deck software integration other than Virtual DJ.
The Reloop Edition of Virtual DJ 7 LE that comes included actually does a pretty good job of utilizing the full controller layout of the TM4. Virtual DJ has come along over the years, and performs pretty well in terms of handling keylock over drastic pitch ranges, track syncing, looping, cue points, and effect quality. However some areas of the software aren't as well integrated with the TM4, particularly with track browsing. Besides that, it's just not a widely adopted program and not the thing that will attract DJs to the TM4.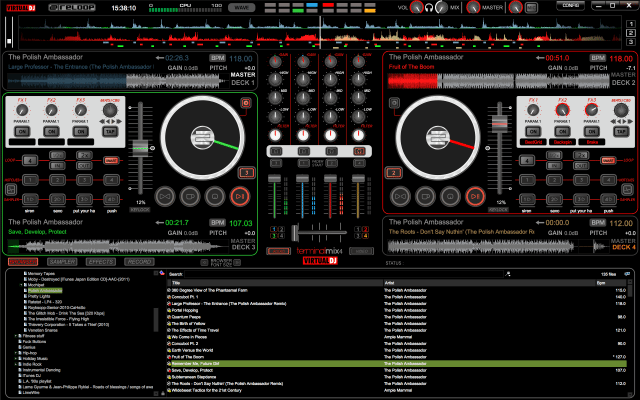 Oddly enough, until the TM4 includes compatibility with a 4-deck Serato version (hopefully both Itch and Scratch Live), the best software to use with it right now may be Traktor, due to…
Traktor Pro Mappings
If you've ever used hardware made for specific software, like the Akai APC controllers or Kontrol S4/S2, then you're bound to be disappointed with using mappings such as the Terminal Mix 4's Traktor Pro mappings.
It's not that the mappings aren't decent. So far there are two available — one for 2 decks/2 sample decks and one for 4 decks. But due to the inherent limitations of MIDI mappings and probably some development in progress, the Terminal Mix 4 just won't be the same beast with Traktor that it could be in Serato without tighter integration.
For example, the Traktor MIDI mappings don't take advantage of some of the TM4's best features that were built with turntablist Serato users in mind, such as Crossfader deck assignment switches and the jog wheels. Track navigation in Traktor also doesn't work as fully as in Serato. On the flipside, the TM4 Traktor mappings will let you work the effects decks, cue points, loops, and samples, but not with the same degree of control and integration as an S4 or S2.
Right now, Traktor is functional on the TM4, but I cannot recommend the TM4 for DJs who exclusively use Traktor. However, if you mainly use Serato and jump over to Traktor occasionally, the mappings will be a blessing, and a possible starting point for your own variations.
Audio Quality
We'll use the NI Kontrol S4 and S2 as basis of comparison of the audio quality on the Terminal Mix 4. We've always praised the S4/S2 sound given that their components come from NI's excellent stand-alone interfaces and they have admirable audio quality to go along with high output levels.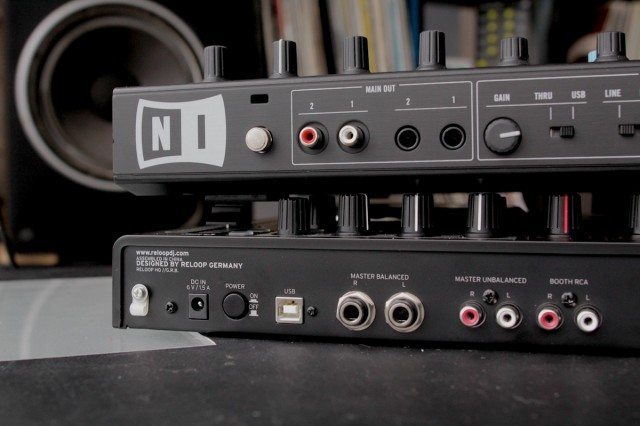 After side-by-side comparisons of the S4 and Terminal MIx 4 (conducted at the sample rate of 48kHz), I have to say that I was very impressed with how well the TM4's audio interface held up. If anything the TM4 had a more detailed sound than the S4. The Terminal Mix pumped out chunkier bass, dirtier distortion, crisper high-end, and more nuanced vocals. I'd give the S4 points for better warmth. But the TM4 also put out higher audio levels, both on AC power and USB bus power. DJs needn't to worry about low levels with the TM4.
USB Bus Power vs. Power Adapter
Like the Kontrol S4 and S2, the Terminal Mix 4 comes with an AC adapter but can also be run off of a fully powered USB 2.0 port. If the AC plug gets pulled while in use, the audio cuts off while the TM4 adjusts itself, and then the audio comes back on after about 8 seconds. If you put the AC plug back in while it's operating on USB power, the audio again cuts off, but not for as long. It fades back in over 5 seconds.
On the plus side, the TM4's LEDs did not appear any dimmer when on USB power, unlike the S4/S2, whose lights dim significantly on USB power. The S4 and S2 also reduce the headphone output on USB power, but the TM4 loses no output level on USB bus power. Both the main outs and each of the headphone outs stayed just as loud on bus power. It's really quite remarkable what this unit can do on just USB power.
Front and Rear Tech Specs

Back Panel:
Stereo RCA auxiliary input a CD player, turntable, etc. — switchable from line to phono level
Grounding post
Main outs: balanced 1/4″ outputs or unbalanced stereo RCA outputs
Booth out: Stereo RCA
USB and power jacks
Power on/off button

Front Panel:
Crossfader curve control: Long to Cut
Crossfader assignment switches for each of 4 decks
1/4″ Mic input with level and tone control
Input routing switches: bypass the mic and auxiliary input to the master output or run them through the software
2 headphones outs: 1/8″ or 1/4″ stereo (both active at once), with tone control
Level and tone knobs push in to stay out of the way.
How It All Ties Together
Because it's a high-quality unit with a solid build, excellent sound, and a ton of great features, at $600, you could make the argument that paying a little more for the high-end software is reasonable. (And you could argue it the other way as well.)
As it stands right now, where the TM4 does not come with a version of the 4-deck Serato Itch, it's hard to justify purchasing it. I have the strong suspicion that it will become an Itch-certified controller shortly after its release in May. After that, upgrading to Scratch Live will probably cost you a few shekels. It's impossible to say right now, however, so we'll just have to keep you updated.
Assuming that the TM4 does become Itch certified, I'd happily recommend it to Serato DJs looking for an all-in-one solution to use either as a main rig or as a secondary, practice, small-gig setup. Its combination of rock-solid construction, tight Serato integration, and price make it compelling. It is a worthy take on the Kontrol S4 concept for Serato users. With arguably superior sound, nicer jog wheels, and a price of $300 less, the Terminal Mix 4 might be an even better buy than the S4… once the software support catches up.