Livid today announced the release of their new modular controllers, allowing performers with advanced MIDI control needs to slide in custom modules into a Eurorack-style enclosure.  While we'd seen a hint of this release at NAMM, the final details of the system, including price, weren't released until today. Read on for the full press release and pricing information.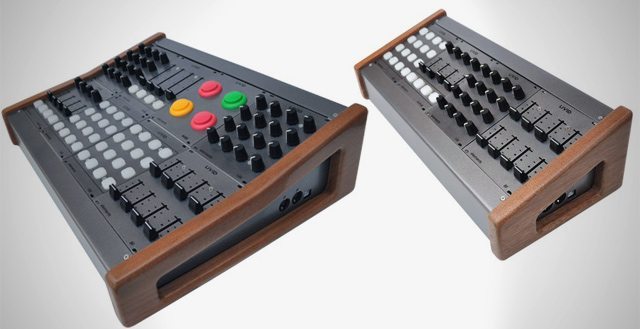 Manufacturer: Livid Instruments
Cost: $950 for the dual rack bundle (above, left), $650 for the single rack bundle (above, right), and ~$100 for most of the standalone modules.
Release Date: Available Now
What We Like: A wonderful range of customizability, arcade buttons
What's Missing: DJ-booth friendly form factor, more diverse and aesthetically-pleasing modules
The new Livid Elements system is inspired by analog synthesizer rack design, allowing users to insert and remove whatever modules make the most sense for their particular setup. Naturally, many younger users won't have a spare case lying around that these modules would fit into, so Livid is also selling the cases in bundles and as standalone empty units. The cases have MIDI I/O, USB, and an optional power plug.
Assembling the racks don't require any solder or advanced electrical engineering skills-  Livid claims that the Elements system is plug-and-play, and setting up the units are simple with the configuration utility – we'll only know for sure once we've had a chance to try it out ourselves.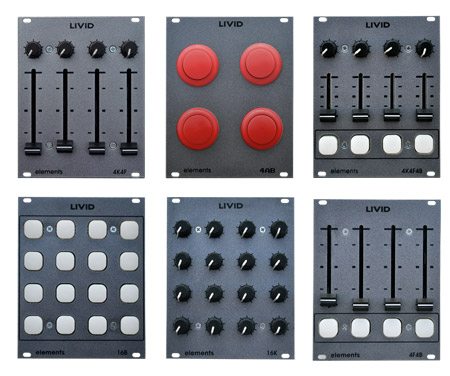 One of the most interesting things about this project to the DJ community is that Livid is opening up the development process for modules to artists, companies, and designers – meaning that they're building an open system that others can actually take advantage of and build their own control surfaces for. Promotional video (only vaguely cheesy!) and press release below.
FOR IMMEDIATE RELEASE

Livid Instruments Announces Elements, a Modular MIDI Controller

June 19th, 2012, Austin, TX – Livid Instruments announced today Elements, their new modular controller platform. Elements is based on the popular eurorack modular format and provides endless possibilities for creating your own MIDI controller. Finally: DJs, VJs, and musicians can create their own controllers without any soldering, engineering, or complicated assembly required.

"We've been dreaming up a modular controller since the very first days of Livid", states Travis Redding, Livid's Director of Hardware. Redding, who is responsible for the design of Elements has been working over two years on the layout, configuration, and module integration of this system. Redding explains "We knew we didn't want a proprietary modular product. We wanted to create a simple, open system that can be used by anyone wanting to assemble their own controller, and make it easy for others to make controller modules. Our vision was that this should be larger than just a Livid product, an easily adoptable format for the growing modular movement".

Inspired by analog modular synths, Element modules come in many different configurations and layouts so you can easily remix the modules to create your own MIDI controller. Each module connects to the Elements Brain for easy plug-and-play configuration and setup. Modules are housed in Eurorack cases and result in a plug-and-play MIDI controller. The Elements configuration software makes it simple to configure your very own system. The standardized modular format allows for an incredible amount of flexibility and expansion, and Livid is has a variety of cases and modules available from their online store.

With a USB port, MIDI in and out jacks, and an optional 5v power supply, Elements is a massively flexible controller solution. Whether performing with Ableton Live, mixing visuals with Cell DNA, DJing with Traktor, or controlling your favorite analog gear, Elements provides a wide range of control possibilities.

In addition to their own Elements modules, Livid has created a Hardware Development Kit (HDK) for other companies, artists, and designers looking to create and share their own modules. The Elements system allows buttons, rotary potentiometers, faders, pressure sensitive pads, accelerometers, LEDs, encoders, sensors, and other analog devices to be connected through Livid and third-party modules.

For more information visit lividinstruments.com/hardware_elements.php
What would you build into your dream module in this system? Let us know in the comments.