Design concepts have a way of coming in and out of fashion, and it looks like modular control surfaces are back in the "in" category. Grid is a modular MIDI controller system that recently launched on Indiegogo after months of proof of concept videos. Keep reading to learn more about Intech Studio's Grid, sign on to get your own units, and watch the prototypes in action.
Grid Modular MIDI Controllers
Intech Studio has been developing a modular controller system for three years – and with the launch of their new crowdfunding campaign, commercial production runs could be on the horizon. The system is a set of plug and play control surfaces, any of which can be used on their own ("there is no brain module", notes their website) or connected together to make a custom control surface.
What's Special About Grid?
For the launch of their crowdfunding campaign, there are three starting modules – the P016 (knobs), BO16 (buttons) and PBF4 (buttons, faders, and knobs. At first glance, these look to be very simple controllers compressed into an almost-too-small size of 4 inch squares (106mm). It's no coincidence – they're designed to be mountable in a 3U Eurorack modular case. But potential backers shouldn't get stuck on a single unit – the magic comes in how extendable the Grid system is.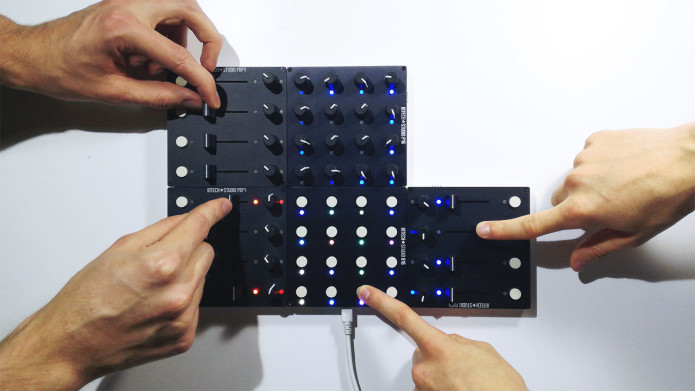 Users can connect up to 16 different grid modules in any arrangement, at any 90º orientation, using a "custom designed magnetic interface". As they are moved around (even while playing live), the mapping can adapt based on position and rotation of the modules.
These controllers are of course MIDI-mappable to any software – and videos that they've released already show Ableton, Traktor, and more being controlled – all of which have substantial control sets that could easily take advantage of this type of system. Here's a video of Grid controlling Traktor and Max8 in action for concurrent visual and DJ control:
A Future for Expansion
The fascinating thing about modular systems is that future modules can easily be added to the lineup and be completely compatible if the demand exists. Intech is already teasing a module called ANA4 – "which allows the Grid modules to be directly connected to analog synthesizers and 5-pin DIN MIDI gear."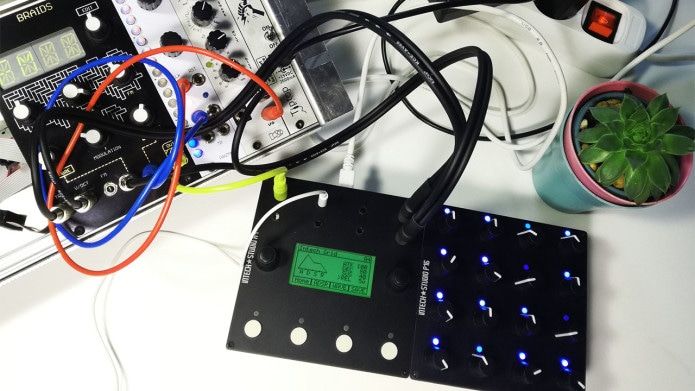 It's All Down To The Funding
Here's the reality of these types of projects: many of them fail, or don't go much further than their initial prototype phase. Making hardware is a really, really challenging endeavor with unforeseen obstacles. According to the project timeline, the Indiegogo campaign preceeds an optimistic one month process for tooling and manufacturing preparations, with a goal of Grid shipping in April 2019.
But first, the company needs to raise money. At the time of publication, there are 17 days left in the in crowdfunding campaign, and the campaign has raised just 7% of their goal, $25,000.
Grid Tech Specs
To finish off our summary, we thought it would make sense to include some of the features we haven't mentioned by sharing the official tech specs of the Grid system. Even more detail is available on the official website:
Ultra-mobile MIDI controller solution
Extendable control surface (Grid magnetic interface)
USB Bus powered device (Type-C receptacle)
USB 2.0 compliant composite device (HID Midi, CDC Serial, DFU Bootloader)
Compatible with Windows, Mac and Linux (No drivers needed)
Support for major DAWs and music software
Editor for advanced MIDI mapping
NRPN & Sysex support
Stylish sandblasted aluminum front-panel
Tactile user interface featuring long life components
Full-color RGB LEDs
Compact size: 106mm x 106mm x 16mm (4.2" x 4.2" x 0.6")
Lightweight: 200g (7oz)
Eurorack compatible (21HP)
Modular Flashbacks? 
If you're wondering about previous modular MIDI controllers (both concepts and real products) we've covered on DJTT, here's a selection from throughout the years: