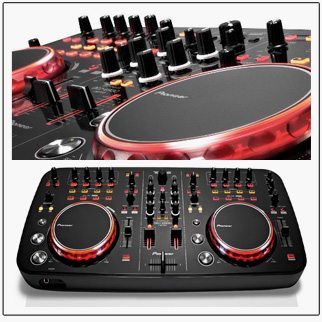 After almost a year since the original announcement of the Serato Intro-branded Pioneer DDJ-Ergo-V, the high-end DJ hardware giant is releasing a new limited edition of that same unit, with a redesigned control scheme aimed to match the workflow of Traktor Pro. The DDJ-Ergo K will come bundled with TraktorLE (LE is short for Lame, er, Limited Edition – no cue points), and is set to launch within the month of August of this year! It also boasts a less toy-like black control scheme, rubber EQ knobs, and similar lighting effects as to those featured on the original Ergo unit, including white LEDs, playback rotation, FX pulse, and track load pulse.
There's no official word on the price of the unit yet, but we are seeing it show up in one online European retailer at 499 euro. We'll wait for the official press release from Pioneer for the final word! In the mean time, have a peek at the unit in the official launch video below.
UPDATE: The DDJ-ERGO-K (official name!) will be available starting in late August – with a MSRP of £429 / €499. 

(Editor's Note: seems like there's a bit of a naming confusion here – even within Pioneer's own site, we've found the unit referred to as both the "Pioneer-DDJ-ERGO-K" and the "DDJ-ERGOLimited")
More Info: