Guitarists have effects pedals; producers have instrument plug-ins. Where do DJs turn when they have a little expendable cash to satisfy a gear jones? Newly redesigned, the Kaossilator 2 and Mini Kaoss Pad 2 place powerful DSP sounds and effects into your pocket or in the palm of your hand as you perform. They're just the kind of non-essential-but-fun gadgets that can reinvigorate your rig. Read the full review and find out if they're right for you.
Reviewed: Korg Mini Kaoss Pad 2 and Kaossilator 2
Price: $160 (available here in the DJTT webstore: Mini Kaoss Pad 2 | Kaossilator 2)
Availability: Now
Weight: 3.7 oz.; 105 g (without batteries), each
Dimensions: 2.99 x 5.04 x 0.98 inches (76 x 128 x 25 mm)
Power Supply: 2x AA batteries (alkaline or NiMH); optional AC adapter available from Korg
The Good: High sound quality in small package. Records to microSD memory cards. Audio playback from the memory card for emergency backup. Internal mic and speaker in both units. Accepts rechargeable batteries.
The Bad: Plastic casing may not be the most rugged for the road. The Kaossilator's loop recording is rudimentary. Must format previously used microSD cards. Output volume not extraordinarily high.
The Bottom Line: For the most practical use in your set, the Mini Kaoss Pad 2 provides the essential functions of a classic Kaoss Pad for a smaller price in a much smaller package. On the other hand, the Kaossilator 2 may present you with something brand new to experiment with and to potentially impress the punters in your audience, although its loop recording function leaves a lot to be desired.
TWO OF A KIND
This second generation of miniature Kaoss has been redesigned into smaller yet still nearly identical packages. Now they're about the size of an old and clunky Blackberry phone, only far more interesting.
Now that everyone feels accustomed to high-technology being held in one hand, and knows that you can produce song on an iPhone, the novelty of a tiny synthesizer or effects processor has all but worn off. But that doesn't negate the convenience of these handheld units. At their size and weight of only a few ounces (including batteries!), every DJ bag has room for at least one. And what they offer is so much more than their size may imply.
Both models include:
Internal mic and internal speaker
1/8-inch headphone/mini jack audio output
1/8-inch line input (Mini Kaoss Pad 2) or 1/8-inch mic input (Kaossilator 2)
Internal mic or speaker will shut off if you connect an external input or headphones/speakers
microSD memory card slot: microSD cards of 512MB-2GB and microSDHC up to 16 GB are accepted. Audio playback of music stored on the memory card is possible—good for storing emergency backup music.
Power: 2 double AA batteries (alkaline or NiMH rechargeable) with battery life of about 5 hours; AC adapter available but not included; auto power-off option.
Bright OEL display: clear visibility of the menus and options, day or night.
Identical side controls: power button, volume buttons, mic on/off buttons.
Capacitive touchpad and value slider: activated with an uncovered finger (or other body part), rather than some other object.
BPM: Auto BPM detection, tap tempo, or setting the BPM to a constant value. The Auto BPM generally worked very well – displayed tempo sometimes jittered between two whole-note values, but the results always sounded perfectly synced.
Master Recorder: captures the unit's audio output to the memory card as a 16-bit/44.1 kHz WAV file (CD-quality). Can include MP3 playback, effects and mic input on the Mini Kaoss Pad 2 or the loops, live performance and mic input on the Kaossilator.
THE LEGEND CONTINUES – MINI KAOSS PAD 2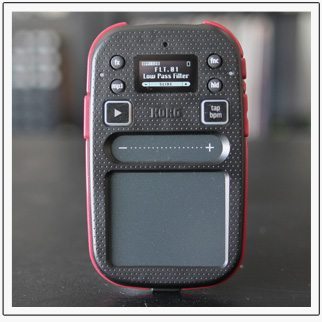 It's hard to fathom that a DJ today wouldn't know about the Korg Kaoss Pads, probably the most influential effects units in DJ history. They brought real-time tactile effects control to the masses and continue to be wildly popular. Performing with the Kaoss touchpad — where one effect parameter is assigned to the x-axis and another to the y-axis of the pad — now feels like second nature.
The limited nature of the Mini Kaoss Pad 2 means that it can't carry all the features of the full-size KP3, but the essentials are here. You get 100 high-quality effects programs, including 15 really cool Looper effects that combine a certain audio effect with audio looping/stutter edits that vary in timing according to the position of the y-axis. There are also 10 audio programs; these output their own synth notes or special audio effects — similar to what the Kaossilator does — rather than affecting the input audio signal.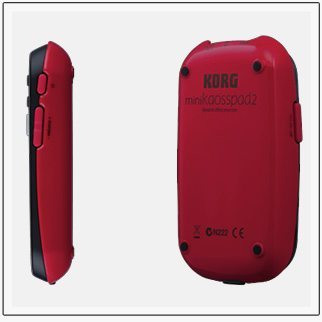 Besides that, you have 15 filters, 15 modulation effects, 20 LFO effects, 10 delays, 5 reverbs, and 5 vocoder settings. The vocoders you can of course use on any audio, not just a voice, but I found them to be less satisfying on drum loops or full tracks rather than on voices.
Overall, the effects sound great: equal to the full-size KP3. As far as inventiveness goes, the Mini doesn't hit us with anything that's absolutely new or mind-blowing, but instead the attraction is the variety, quantity, and quality of what you get.
The inclusion of MP3 playback from the memory card means that you can practice using the effects anytime, without any other gear. You can even go into the menu and choose a single cue point as the place to begin playback on an MP3 file. As another option, you can choose "Send" as the connection type in the menu if you want to hook up the Mini to the effects send/return jacks of a DJ mixer. That will omit the audio input and only send the effected signal to the output.
POCKET SYNTH – KAOSSILATOR 2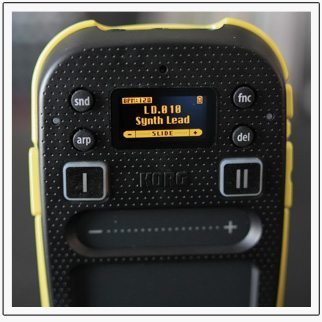 Also it's now in version 2 (or version 3 if you count the significantly more baller Kaossilator Pro), fewer people may be familiar with the Kaossilator 2. However, the concept is simple. It takes the touchpad aesthetic and applies it to high-quality digital PCM (sampling + synthesis) sounds from an onboard chip.
There are 150 built-in sounds on the Kaossilator 2, and those include synth leads, synth chords, basses, acoustic tones, and special effect sounds. Drum programs are split into 15 drum kits skewed toward popular electronic genres – where a different sound is played according to y-axis position – and drum patterns, where various preset patterns are played back with some kind of variation on the x-axis.
The sounds of the Kaossilator 2 measure up to some of the standard presets you'd hear on a Korg digital keyboard, and the programming of the sounds and choice of variation on the x-axis generally all make sense for the kind of all-purpose electronic dance music that Korg is going for. Of course, one small synth like this can't adequately address every sound you may want, so the Kaossilator covers all the "bread-and-butter" bases.
Any of the sounds can go through the onboard arpeggiator, activated by the "arp" button. You can choose from 50 arpeggiator patterns by holding the "arp" button and using the touch slider, and naturally all arpeggios play back in sync with your chosen tempo. The drum patterns are handy because they are quick and easy to add to a set at your chosen tempo. They – as well as the arpeggiator – come in handy for recording to the two loop slots of the Kaossilator 2.
The looper is a key feature to the Kaossilator, despite being pretty basic in features and not the easiest to use. The first step is that you have to hold down one of the loop buttons in order to record (releasing the button stops recording). Right away that makes recording a decent loop that much harder, because it's already a challenge to record something that you want with the unmarked touchpad. The difference between one note or drum sound and another on the touchpad is quite small and challenging to hit accurately, even if you don't have fat sausage fingers. Taking away a finger or a whole hand in order to hold down the loop record button means that the task becomes even tougher.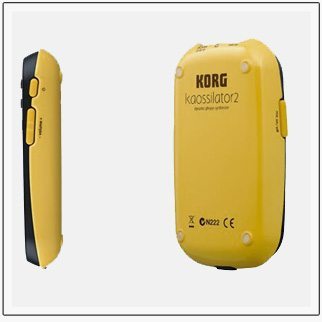 In the looper, you can overdub endlessly: as the loop plays back, record a single drum hit or piano note at a time if you want to, and then just keep overdubbing until you're finished. However, that reveals another detriment of the looper – no undo button! You can only delete a snippet of the loop (or the entire loop), but that deletes all the overdubs for that length of time. If one mistake is made on, say, the fourth track of a loop, you may have to start the whole thing over.
My last complaint about the loop recorder is that the maximum length of a loop is 8 beats (two 4/4 measures) – not even enough to establish most simple melody lines. While probably done to minimize the need for onboard recording RAM, it seems archaic to limit the loop length to 8 beats on a miniature synthesizer with up to 16 GB of expanded storage,. Fortunately, you can save your loops to your memory card as WAV files and then dump them to a computer.
If you build loops for the two onboard slots, you can go back and forth between those loops, as well as add a live performance of the Kaossilator's active sound and utilize the mic input. So there's a fair bit that you can do with the Kaossilator at any one time, even if the most common use may be fiddling with a cool argeggiated sound over your DJ set.
KONTROLLED KAOSS

With so little real estate to work with, Korg does a nice job in utilizing the sharp-looking display and a few hardware buttons to access all the various menu functions of these units. Pressing the FNC button repeatedly cycles through the Setup menus options, and when you get the "UTILITY" page, using the touch slider accesses the Utility sub-menu.
On the Mini Kaoss Pad 2, the menus allow tweaking of the levels of the external input and audio playback, adjustment to the effect depth and release levels, enabling of the send/return audio output option, and accessing the Master Recorder.
Menus in the Kaossilator 2 let you choose the key, scale, and note range (from one octave to full range) of the synth tones, allowing you to experiment with dozens of keys and odd scales from all kinds of musical traditions from around the world. In addition to the Master Recorder and Audio Player, the Kaossilator 2 menus also house your arpeggiator options (pattern, time, and swing) and loop options (length of each loop up to 8 beats, relative loop volume, and saving/loading loops).
The utility sub-menus are close to identical for each unit and cover things like battery type, display brightness and memory card formatting. You'll most likely have to format/erase any microSD card you want to use (I tried to use a card that I also use with my Android phone, but it wouldn't work without formatting it first. Even a brand new card had to be formatted first, which is no big deal).The Kaossilator also lets you choose whether or not the mic input needs phantom power.
On the subject of menus, it seems like a shame that the capacitive touch slider is only used to access menu items and choose from the available effects and synth programs. Rarely do you see a piece of music gear with a touch slider that isn't used for some kind of performance technique. Yet when we're working on a sound or effect, it's just sitting there, mocking us! But hey, maybe Korg can do something about that with a software update. Another advantage of the memory card slots is that Korg can issue software update files that you load to a formatted card and update the software.
KORGCLUSION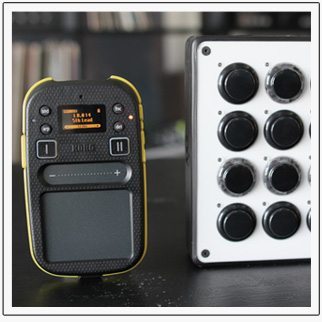 While both of these Kaoss units are thoughtful redesigns of already successful products, it still strikes me that given a choice, the Mini Kaoss Pad 2 makes the most practical sense for performance, especially for DJs. It doesn't have nearly the full feature set of its big brother KP3, but for the price and portability of it, you get an external hardware effects unit that can make a big difference to your overall DJing routine.
On the other hand, the Kaossilator 2 still feels like a niche product that is much more hampered by its limitations. The Kaossilator concept is pretty cool, and it's manifested to full fruition in the much more sophisticated Kaosillator Pro (street price: $399). But particular to the tiny Kaossilator 2, its loop creation system makes for some frustration, especially if you're trying to pull off something live and on the fly. It's still a fun musical gadget to mess with if you're just in the mood for an interesting discretionary purchase, but we'll be interested to see what Korg can do to make it a little more performance-friendly.
Markkus has put together a few audio examples demonstrating the types of sounds and effects possible with these units: check them out. 
If you're interested in purchasing your own units, check them out here in the DJTT webstore: Mini Kaoss Pad 2 | Kaossilator 2.