Today we've got the full details on the Kontrol Z2 mixer teased a few weeks ago by Native Instruments. As many of you know, I'm a big believer in standalone mixers for serious DJing, so it was a pleasant surprise to find out NI was making a dedicated Traktor mixer. In today's exclusive video, I walk you through the Z2 and show you some of my favorite features of the mixer and of the new Traktor 2.6 that I used in NI's launch video that was just released.
Manufacturer: Native Instruments
Price: $799
Availability: Preorders now in the DJTT store  –  Expected ship date Nov. 1
Ships with: Traktor Scratch Pro, Control Vinyl and the mixer.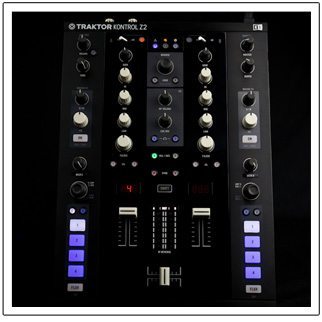 THE KONTROL Z2'S BASICS
The Traktor Kontrol Z2, Native Instruments first foray into the DJ mixer world, is a digital/analogue hybrid. It's essentially a control surface and analogue mixer with a sound card all wrapped in one package. Designed to be a true pro-level mixer, the unit is housed by an aircraft-grade aluminum body and sits at standard mixer/turntable height. It's not the MIDI-only mixer that devoted S4 users have been clamoring for – but instead a club-ready, standalone-mixer mixer that also offers complete control over any connected computer running Traktor.
The mixer is clearly aimed to become the professional club mixer for Traktor users, matching and potentially surpassing the legendary Rane TTM 57/61/62 series of mixers that many Serato DJs know well.
(Editor's Note: We don't think small photos quite do this unit justice- so we've uploaded a full set from our photo shoot on Facebook.)
A 2X2 MIXER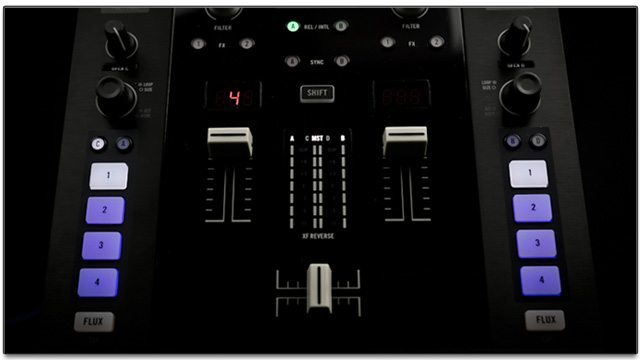 While the Z2 is on the surface a two channel mixer, it still offers full control over all four decks in Traktor. In practice, it makes the most sense to have decks A and B running full songs, with C and D pumping in loops, samples, and acapellas. Both auxiliary decks have a single knob that is used for volume control. While not a full channel strip, this proves to be sufficient for basic level adjustments.
The mixer has a spacious mixing section, with plenty of room in the layout to allow for broad motions that intense scratching, juggling, and channel gating techniques sometimes require. The unit is Traktor Scratch Pro certified, so timecode signals can be wired straight into the unit for a complete DVS solution. All three faders (channel faders and crossfader) are Innofaders, and on either side of the mixer are four cue point/Remix Deck buttons backlit with multi-color LEDs.
The mixer has some of the best innovations in more recent digital DJ developments as well, offering advanced HID integration with CDJs, a complete browse section that allows for selection and loading of tracks, and simple control of Traktor's new Macro Effects and Flux mode (see below).
THE NEW TRAKTOR FEATURES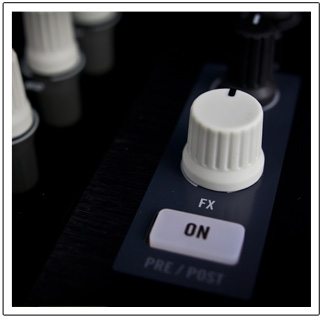 Alongside the launch of the new Z2 mixer is a new version of the Traktor Pro 2 DJ software, Traktor 2.6. The new update includes three new major features that complement the workflow of the Z2 – but that all users of the software can get pretty stoked about:
Post-Fader Effects the new version of Traktor allows users to choose when effects are applied allowing more creativity post fader.
Macro Effects operate in a similar way to the Super Knob effects found in most of the DJ TechTools mappings, combining effects motions into a single action – making fills, sweeps, builds and breakdowns more exciting to create with just a single knob.
Flux Mode is very similar to the Slip Mode that a lot of CDJ units now include – the track keeps playing while you use effects or scratch the track, and then jumps back to where the track would have been.
EASILY INTEGRATED

The Kontrol Z2 also delivers when it comes to having a sensible place in a wide array of setups. The mixer stands at a standard height, matching CDJs and turntables, and packs a 24-bit soundcard with XLR outputs, booth outputs, microphone and photo/line inputs.
One of the really nice things about putting the Z2 in a CDJ setup is that if you're not ready financially to upgrade to the CDJ-2000 Nexus units, the Z2 allows you to access a similar set of digital features that those offer – like the beatmatching and sync technology.
THE FUN EXTRA FEATURES
Removable top panels: There's a good chance there will be future color and style options available to Kontrol Z2 owners.
Three Innofaders: Smooth as butter, these extremely high-quality faders are designed to have some of the best response and durability.
Great cue/sample triggering features:

The cue points triggers are lined up perfectly next to the turntables for quick access.

Built-in powered USB hub: With two ports, this means plugging in Midi Fighters, F1s, etc is a snap, and doesn't take up a precious USB port on your computer.
THE VALUE: IS IT WORTH IT?
The mixer is priced at $899, which includes a high quality full sized mixer, a full version of Traktor Pro 2, scratch vinyl and a bevy of controls – the Z2 is a great value for those that want to move to a professional, full-sized DJ mixing interface. At this price, the Z2 is an ideal and affordable option to have at the center of your home setup or club install, allowing for modular expansion in the future.
THE IMPLICATIONS
It's no secret that the Kontrol s4, while being widely popular, is less popular in actual clubs and onstage. In those domains, modular controllers and mixers reign supreme. The introduction of the Z2 could be the beginning of NI's foray into the world of professional, modular DJ equipment – and I could not be more happy. It's a setup that is more flexible, powerful, and translates the best to realistic setups for live venues. Now with the z2 at the center, it's easy to see many other things starting to fill the newly created space around it.
With all-in-one controllers still selling in massive numbers, making a 2-channel mixer might be perceived as risky – but personally I could not be more pleased with the results and plan to use this as the center of my new CNTRL tour setup. We think the mixer is a good value, we've decided to carry it in the DJ TechTools web store and we're throwing in a free set of Chroma Caps for anyone that makes a preorder!
More Info:

Ean Golden is the founder of Dj TechTools and a worldwide Dj specializing in controllers and new performance technology.
Follow Ean on: Twitter  Facebook   SoundCloud   YouTube