What if you could set all your cue points and loops for your DJ music from anywhere, at any time, straight from your iPad or Android phone? Well, you can. That is, if you use Pioneer hardware to DJ. That's right, Pioneer's new version of Rekordbox has given its customers a simple, free software for mobile track analysis that Serato and Traktor junkies will be wishing they had. Today we investigate what Rekordbox is all about and how useful the software really is.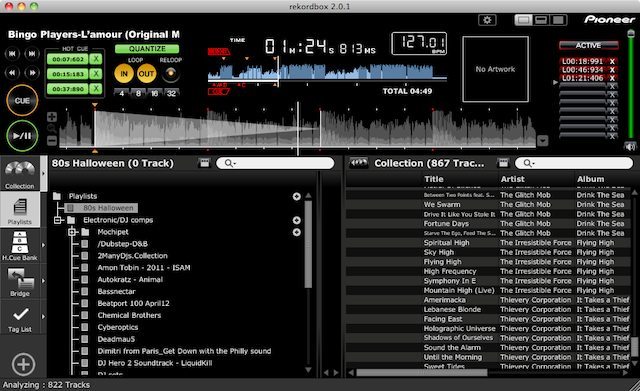 Reviewed: Rekordbox 2.0.1, Rekordbox for iOS 1.1.2, Rekordbox for Android 1.1
Price: Free (after submitting email and survey answers)
System Requirements (Recommended):
Mac OS X: 10.5.8, 10.6, 10.7 (10.8 Mountain Lion not officially supported at the time of this publication); 1.6GHz or greater Intel Core Duo; 1GB RAM
PC: Windows 7, Vista, or XP; 2GHz or greater Intel Pentium 4 (or compatible); 1GB RAM
iOS: iPhone, iPod touch or iPad running iOS 5.0 or later
Android: Get current info on compatible devices at the Rekordbox FAQ
The Good: Allows convenient, mobile analysis and preparation of tracks, including cue and loop points, for certain advanced Pioneer DJ gear. Accurate processing courtesy of MixVibes technology. iTunes compatibility. Desktop and mobile versions connect wirelessly.
The Bad: Music transfers from computer to mobile devices over Wi-Fi only, not USB. No music transfer from mobile device to computer. Limited Pioneer gear support for wireless music playback from mobile devices.
The Bottom Line: Rekordbox gives Pioneer-using DJs the advantages of computer-based music management and track analysis in a free-to-use software. The addition of iOS and Android versions lets DJs do their track preparation from wherever they like. Its a fairly simple, yet very handy service and succeeds in its execution.
BACK ON THE TRAIL

For all of its many important and iconic contributions to DJ technology, Pioneer hasn't exactly been  the pioneer of computer DJing, mainly instead focusing on building hardware than software. That's why it's all the more surprising and pleasing that with the new versions of Rekordbox, Pioneer may have stumbled across the bridge to the future, leaving behind a breadcrumb trail for other DJ companies to follow.
Essentially, Rekordbox is the music management software for a select amount of Pioneer gear: CDJ-2000nexus, CDJ-2000, CDJ-900, CDJ-850, CDJ-350, MEP-4000, DJM-2000, DJM-900nexus, RMX-1000, and XDJ-Aero. Each hardware unit has varying levels of compatibility with the information that Rekordbox can save. The CDJ-2000nexus takes the fullest advantage of all of the Rekordbox features.
Inside Rekordbox, you can store and manage your music collection. The software analyzes and saves the waveform, beat grid, BPM, and key (optional within the Preferences) information of music files, which can then be loaded quickly into a Pioneer DJ player either through a USB device, SD card, wireless LAN, or a Pro DJ Link (wired LAN).
Also crucial to track preparation, you can save cue points, 3 Hot Cues and up to 10 loops per track, all of which you can set in the software using its scrolling waveform playback and real-time quantizing. You can also add artwork, ratings, and other info to tracks, as well as create Playlists and Hot Cue Banks. Rekordbox is compatible with your iTunes collection's playlists, ratings, etc. and can easily import all of that information.
DESKTOP BOX

While you could use Rekordbox only on a mobile device, the heart of the Rekordbox system is meant to be the desktop software. Here you can create a repository of all the music and data for your DJ sets.
Begin by importing your music collection into Rekordbox from iTunes, another location in your computer's directory, an external drive, etc. From there you can upload music wirelessly to Rekordbox on an iOS or Android device. From there, you can either load the music wirelessly to a compatible Pioneer player (currently only the CDJ-2000nexus and XDJ-Aero can connect to the mobile app) or sync your changes back to the desktop software. You can then load music either to USB storage or an SD card for playback. Another option is to connect a laptop directly to a Pro DJ Link wired LAN. After a DJ performance, the playlist from the DJ player, as well as any changes made to the music files, can be loaded back into Rekordbox.
As a piece of software, Rekordbox isn't anything revolutionary, but it's meant to be a time-saving and convenient way to prepare your music for a performance on Pioneer gear. When you first import music into the Collection, Rekordbox analyzes the music and saves analysis files to a folder on your machine. Like any track browser, you can view and sort your collection by 31 categories based on tags and other file information.
The software features playback, cues, hotcues, loop points, and the ability to save everything into memory. With the Playlist tab in the browser, you can create Pioneer-friendly playlists to use in your sets. Click the Collection right arrow to expand the music Collection side-by-side with the Playlists for easy dragging-and-dropping (see screenshot below).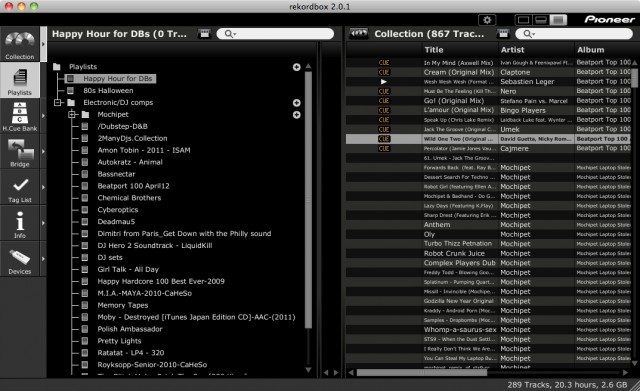 To import iTunes playlists, go to the Bridge tab of the browser, navigate to the iTunes playlist you want, and right-click on it to select Import Playlist. You must import it to your Collection if you want to use it with your Pioneer gear.
When you're ready to either send music to a mobile device or to a USB drive or SD card to use with Pioneer gear, click the Devices tab in the browser. You'll see compatible external media that you can drag tracks or playlists to. Anything you save to external media will appear in a Contents folder, which is what compatible Pioneer gear will use. You don't have to format your external media specifically for Rekordbox/Pioneer, which is nice.
There is also a WiFi/Mobile button to connect to an Android or iOS device. If you have your mobile running the Rekordbox app on the same network as the computer, a message will pop up on the mobile screen asking you to connect.
TRACK TRANSFER OPTIONS
Keep in mind that the Rekordbox system lets you transfer music from your computer to your smartphone or tablet, but you can't transfer music from the mobile device to the computer. You can only sync the track settings changes from the mobile to the computer.
Another option is to analyze pre-existing music on the mobile device and then to load that music directly to Pioneer gear over wireless LAN, but that option is currently only available for the XDJ-AERO and CDJ-2000nexus. Android devices can also connect to the CDJ-2000nexus over USB.
I had a USB stick with music stored in a Contents folder from the Rekordbox desktop software. Then I tried to drop some songs into that Contents folder that had been processed in Rekordbox for Android. However, those songs from the Android device would not load into a CDJ-2000, while the music from the laptop would.
With those limitations, it seems to make sense in most cases to have any music you want to use in your computer, transfer it to the mobile device to create settings, and then sync those settings to the computer prior to playback.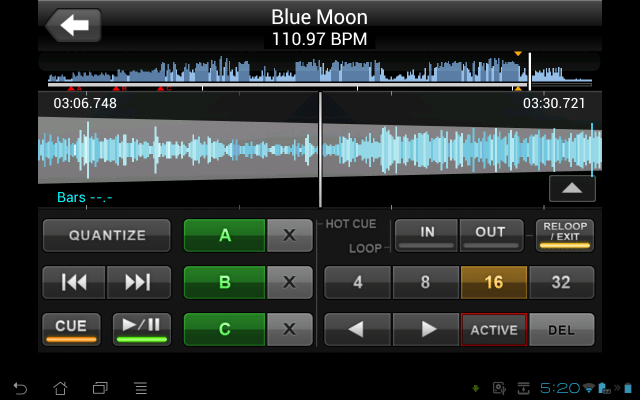 LITTLE BOXES – REKORDBOX ON MOBILE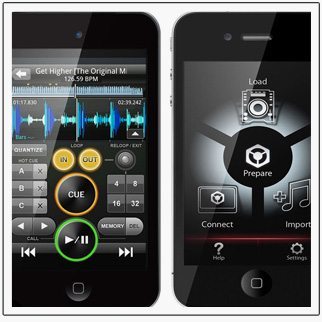 Whether on an iPhone, iPad, Android smartphone or tablet, the Rekordbox app looks basically the same. The menu page hooks you up with main options to Import music from the device's memory, Connect with Rekordbox desktop software, Load music to a networked Pioneer device, or Prepare tracks.
Any music that was transferred from Rekordbox on a computer will already appear in the music menu that comes up when you touch Prepare. From there you can navigate to the song you want to load in the player.
The mobile app player retains most of the important features of the desktop version. You have a two waveform views: a smaller one that shows the whole track and the locations of any saved Hot Cues and loops, and the larger scrolling waveform.
Again, you can set Cue, Hot Cue, and loop points in real time with or without Quantize, or scrub the waveform to the desired spot for setting a point. Rather than 10 selectable loop slots, the mobile Rekordbox lets you save set loops with the Memory button, and then gives you arrow buttons for jumping from one loop to the next.
While the Rekordbox app appears to be designed for the small screens of smartphones — and looks sharp and clear on those screens — it also scales up well to full tablet size.
ON WITH THE SHOW
The first time I tried to load Rekordbox-prepared music into a CDJ-2000 from a USB thumb drive, the Hot Cue and loops were showing up in the hardware's display, but when I would hit the Hot Cue buttons, my saved Hot Cues were not loading. I found out later that it was because when preparing the music files, I didn't have "Prepare Hot Cue Auto Load setting for CDJ use" in the desktop Preferences and "Enable Auto Load Hot Cue" in the mobile app Settings — these options are turned off by default.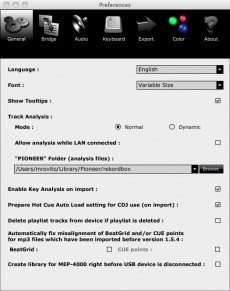 I'd rather have those options turned on by default – but that's what I get for breaking my normal habit of reading manuals. Once I reloaded the music to the USB stick with Hot Cue Auto Load turned on, the Hot Cues responded well next time I loaded them into the CDJ-2000.
Loops and other settings and track information also showed up and worked just fine from the CDJ-2000's USB menu. Really, once you get the music files to the Pioneer gear, the Rekordbox work is over, and it's time to enjoy the fruits of your labor. The preparation and pre-analyzing of waveform, BPM, key, etc. save time and can take your mind off those details so you focus on your set.
The Rekordbox files also worked like a charm on the CDJ-900, although with the 900, a lot of the features, such as Hot Cues, aren't available. You can get an idea of what Rekordbox features will apply to what Pioneer from the online Rekordbox manual.
For example, with the DJM-2000 mixer connected to Rekordbox over a Pro DJ Link, you can monitor Rekordbox music through the DJM-2000 headphones without playing it on a CDJ.
SUBJECTIVE VIEWS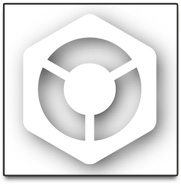 For all of its convenience, Rekordbox deserves some props, but more importantly, it also functions and responds well. Whether using the desktop or mobile version, the BPM and key detection proved to be highly accurate, with some slight variations that seem to be inevitable no matter what software you're using. The Quantize feature also consistently set cue and loop points on the nearest beat grid division, as advertised.
For the most part, the touch response of Rekordbox in its iOS and Android versions was also accurate enough to drop cue and loop points in real time with the Quantize turned on. Waveform scrubbing worked really well, too, making it easy to set points with the playback paused.
Basically, everything that Rekordbox IS is good. And its bottom-line coolest feature, which lets DJs analyze and prepare their tracks from mobile devices, is the one that Native Instruments, Serato, and others should go after recreating for their users as soon as they can.
However, it's what Rekordbox is not that could still use some work in the future. Even recognizing its cool apps, for the most part, Rekordbox is not truly a "post-PC" system. The dream of a traveling DJ carrying only some gadgets and USB drives and then showing up to the club booth to rock the CDJ-2000s still isn't quite fulfilled here. To have that, the mobile versions of Rekordbox would need greater compatibility with Pioneer gear, both wirelessly and over USB.
At the very least, it would be great if tracks prepared in Rekordbox on Android could be saved to SD card or USB drive and then played directly on Pioneer hardware. Unlike iOS, Android is an open system whose devices usually have SD card and/or USB drive compatibility.
Regardless of all that, Rekordbox is a no-brainer for DJs using compatible Pioneer hardware. It's convenient, easy to operate and free of charge (you do have to answer some survey questions and provide your email to Pioneer). Pioneer is building an intriguing system with room to grow, and it seems that the company intends to keep building on it. Here's to blazing new trails. -Markkus Rovito