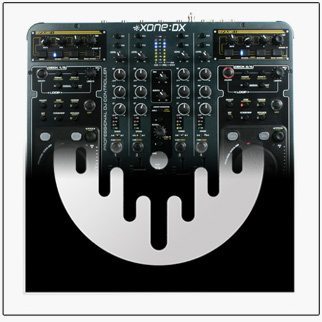 As Serato DJ begins its rollout in the next few months to a wide array of supported controllers, there's a significant missing controller in the lineup, the Allen & Heath Xone:DX. This beast of a MIDI controller debuted in 2010 as one of the first flagship four deck controllers for Serato ITCH, with an (at the time) incredibly impressive feature set.
Read the DJ TechTools review of the Xone:DX from June 2010.
Loyal users of the controller are pretty peeved about the lack of support for Serato's new software, and have started a petition directed at Serato to build out support for the MIDI controller, which in 2010 carried a hefty $1299 price tag. There's a number of very long forum threads on Serato's website with users discussing and debating the decision – the basic tenants of which are that Serato ITCH still feels like an incomplete, unstable product to some users, and by discontinuing ITCH and not allowing DX users to update to DJ, they're being left in the dark with a very expensive controller that might have been purchased as recently as within the last six months as new. These users have started a petition asking Serato to reinstate continued support for the DX, either by updating ITCH or by adding support to Serato DJ.
Serato's official response seems to be focused around the unit being discontinued, and no longer supported by Xone – and while the production may have ceased, a few Google searches reveal that as much as the unit no longer is in production, there are still units circulating around the retail market. When we reached out to Serato, here's what they had to say:
"In regards to the Xone:DX this is a discontinued hardware product and therefore will not be supported in Serato DJ. It is supported and will continue to be so in the latest version of ITCH (2.2.2). This is the same for the Denon HC5000."
And a user on the Serato Forums shared this comment from Allen & Heath's support team:
"(…)we are currently in communication with Serato and I hoped to have a more detailed answer for you.

At this stage it appears highly unlikely that Serato will offer support for the DX, when we have clarification on this will publish an official statement.

In the short term this question might be better put to Serato to see if they will be offering another forms of connectivity with DJ such as general midi which will allow third party devices to interact with their software."
The real question that arises out of this mess is what type of longevity is reasonable for users to expect from their controllers? Xone and Serato most likely did not plan for the controller to be phased out as early as it was. And as a comparison, look at the success and continued support that Native Instruments has had for the Kontrol S4, which was brought onto the market just months after the DX – and those users never paid more than $1000 for their controllers!
We're interested in your thoughts in the comments below – how much of an obligation does Serato (or any software manufacturer with proprietary hardware requirements) have to continue supporting DJ controllers as they release new versions?
More Info: