Our moderators on the DJ TechTools forums recently held an awesome contest in the Show Your Setup sub-form that we kicked off almost exactly a year ago. The contest saw some incredible setups, but only one could be the winner, as forum members voted to determine the best of the bunch. Take a look inside to see the full photos from Ryan Ruel's winning setup and learn more about his DJ booth in a quick Q&A.
Ryan's setup – which he's nicknamed "bluedoor" –  is quite fleshed out, with a well-designed booth, some awesome DJ kit, and a full lighting setup to seal the deal. Instead of simply congratulating him on getting our envious votes, we thought it'd be awesome to ask him the details on his gear and learn more about the different elements that make up his DJ setup.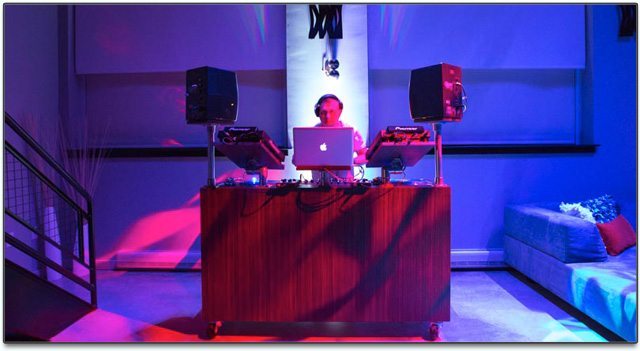 Hey Ryan, congratulations on winning!  Give us a quick description of how you use your gear and what your standard workflow/practice session consists of?
The most important part of my workflow is of course music selection and preparation. Over the years I've built up a large list of followed artists and labels, and several times per week I sample new releases. I key my tracks and sort them into customized genre categories using iTunes, then use smart playlists to sort based on those genre categories. I maintain two separate iTunes libraries, one on my main Mac which contains all of my music, and one on my DJ Mac for dance music. Once the tracks are tagged and sorted on my main machine, I move them over to the DJ laptop and analyze the tracks in both Traktor and Rekordbox.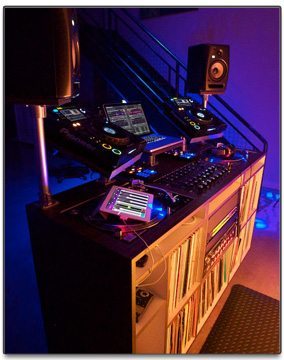 On the playback side of things, I use Traktor with the Audio 10 DJ interface. The CDJ-2000's are set up in advanced HID mode to control two decks in Traktor, and the Technics are set up to control another set of decks using timecode vinyl.
Having two Kontrol X1's allows me to have full control of the effects units in Traktor on all four decks. I have adjusted the layout such that the left side X1 controls the left CDJ and Turntable, and likewise for the right side of the booth.
My workflow tends to be music and mixing focused rather than being highly technical. I generally do not use sync capabilities, although occasionally will do so when looping for extended mixes. Other than basic looping, I do use effects sparingly. I particularly like the new macro effects in Traktor 2.6, and I also frequently will use the filters as a mixing tool. I primarily mix using the CDJ-2000's these days, although I do occasionally break out my vinyl collection.
Rotary mixers are great for some people, other people hate them – what's the background on why you're rocking that Rane kit?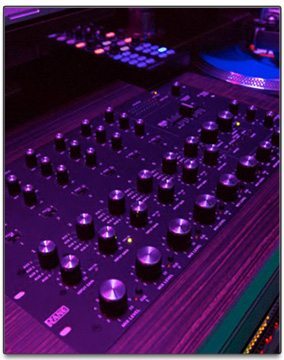 When I first started DJing in 2005, with Boston being an East Coast city with close proximity to New York, many of the clubs here were using either UREI 1620LE's or Rane 2016's, and I longingly had always wanted one. Like many, I have had a number of DJ mixers over time. I first owned a Numark DXM01, then a Denon DN-X1500, and then I moved to a Xone 92 Rotary.
In 2008 I went through an "Ableton Phase" and purchased a Xone 3D, selling my Xone 92. That phase didn't last long (I do still love Ableton for studio use), but I wound up selling the Xone 3D.
At that point I decided to step up to a classic rotary layout with the Rane MP-2016 and XP-2016 EQ expansion. The sound quality of this mixer is fantastic and the ALPS black beauty pots are a joy to mix on. I like that the Rane only does one thing: it mixes, and it does it exceedingly well.
The Rane MP-2016 also features a large number of inputs and outputs, which means it works great in a booth like mine where I can play directly from turntables and CDJ's, or a laptop.
What about the new CDJ-2000 Nexus units, not very many of our readers will have had a go on them – how have you enjoyed them so far?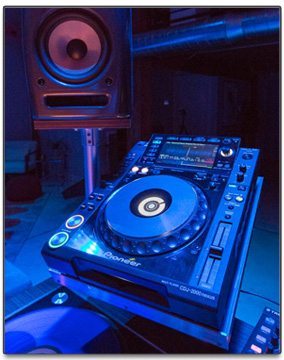 So far so good! I've read that there are still some firmware bugs that are being ironed out, but I have personally not experienced any issues with them. The new quantization features are great, and looping is nicely improved. And of course, the waveform displays are wonderful. All in all, I'd say they are great upgrade from the previous generation.
Can you talk a bit about your sound setup? It looks like you've got a significant rack below your mixer – what's in that?
The Rokkit RP6's serve as my main monitors and are self powered, of course. The space below the mixer holds a few different components, at the bottom are two rack mount power strips used to turn everything on and off. Above that is a Rane ME-15s, which is an EQ unit that allows me to precisely EQ the booth monitors. And above that is an American Audio DB Display, which allows the master out level to be carefully monitored. I'm a stickler for levels.
What about other sound in the room, anything besides those Rokit monitors?
I have the master out of the Rane running to my home theater setup. That system is powered by a Denon receiver, and my speakers are by Orb Audio. There is a 10″ subwoofer for that system in the corner, and it's more than enough for the space. I actually did have a larger system when I first moved into the loft, but it was actually very overbearing with all of the exposed hard surfaces.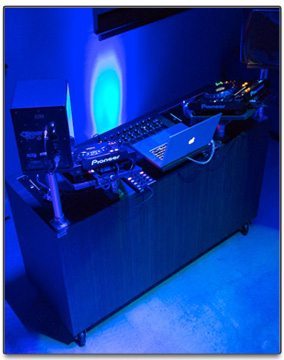 Is there anything in your setup that you want to replace or get rid of?
Actually, there is nothing that I would get rid of at the moment. I am very good at purging what I am not using. I recently had purchased the Kontrol F1, which is a brilliant piece of kit, but I found that it wasn't fitting into my workflow and ended up selling it.
Nice wheels! What type of desk is that? It seems like a fancy version of the DIY Ikea DJ booth…
The desk was purchased from dualsf.com in 2008. They make a great product, and what is particularly great is what you cannot see: All of the wires inside. There is a large chamber behind where the vinyl storage is located to hold all of your cables and adapters and such. It's great that it's on wheels (makes cleaning easy), and it's very heavy and solidly built.
Seems like a lot of work went into building a very club-like environment in this room that you're showing off – can you talk a little bit about this space? Do you have parties there, what's your favorite thing about the room, etc?
I've always been intrigued by loft spaces, and so I finally purchased one. The space is one big open loft, with a bedroom area upstairs overlooking the living area. The building is a converted factory from 1903. What I love most is the 16 foot ceilings, massive windows and the exposed wood and metal from the original factory.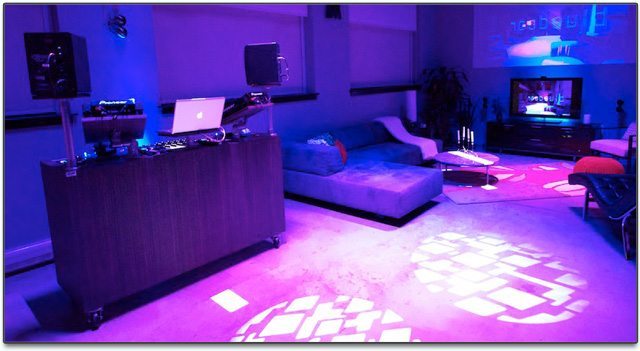 I owned the booth in much the same state it is now when I moved into the space, and it fit perfectly in the room. Once I had moved in, I had the idea of installing a few club lights up on the beams. Of course, a few lights turned into quite a few lights. I had electrical work done to properly provide power for all of the lighting. All of the fixtures are LED, and I had it wired such that I can turn on the wash lights separately from the somewhat noisy moving yokes. The wash lights then serve double duty as accent lighting when I'm not DJ'ing.
I actually don't have as many big parties as one would imagine, as I do have neighboring units, and I'm very respectful about noise. I play a weekly time-slot at Radio4By4.com, and a few friends and neighbors will tend to pop in during my broadcast.
One of the costliest things in the space was actually the custom blinds. I have one set of shades that act as normal shades, and another which are full blackout. The blackout shades are very useful for keeping the light both out, but also keeping the light in when I have the lighting rig turned on. Sadly, they aren't motorized (the additional cost was absurd!).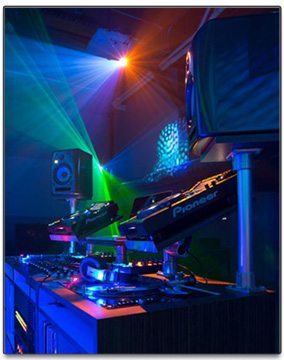 Tell us more about how you control the lights in the room? Are you using any DMX software or lighting controllers? 
The lights are controlled via DMX software running on main desktop Mac. I am using a product called Artist 3 from ShowCad systems, who specializes in club lighting control and are installed in many clubs in the UK and beyond.
I am using my iPad as the main point of control for the lighting and visuals. Artist 3 of course has full MIDI support, and I created a customized interface for Liine software's Lemur app to trigger cues, effects and adjust levels. I use Arkaos and Modul8 on a Mac Mini in my home theater cabinet to provide visuals for the projector and television. A great feature of the Lemur App is that it can send MIDI and OSC to different targets (meaning different machines), therefore my custom interface can control both the light software running on one machine and the visualization software running on the other.
See the video below to see the lights in action:
Do you play gigs out and about often? What gear do you bring?
I have played out occasionally in Boston over the years at a few different venues. Most notably, I've had the privilege of playing at RISE Afterhours here in Boston. I tend to play there every other month or so. I particularly love playing in the lounge at RISE as it presents an opportunity to play 5 hour sets, which is great. This year RISE was awarded slot number 42 on the DJ Magazine's top 100 club list, it's amazing achievement for everyone involved.
With regard to what I use when playing out, In the past most venues have had CDJ-1000's installed with a mixer provided. In those instances, I would bring a Macbook with Traktor and a Kontrol X1. Recently, I've been primarily bringing my CDJ-2000's with me if they aren't provided, and playing off of USB sticks. As much as I love Traktor, the simplicity of using CDJ's with digital media is very appealing.
Anything else you'd like to share while you've got everyone's attention?
Stay in school! All kidding aside, this is a serious hobby for me, and it has allowed me to combine my passion for the music with my tech-nerdiness and take it to an entirely new level. I certainly have a lot of toys, but of course what matters the most is always the music and having fun.
Try not to get caught up in the drama and have a good time.
You can check out all of the photos of Ryan's setup in this thread on the DJTT forums or see all of the other setups that our forum members are showing off. Share yours, and if it's way cool, we just might feature it on the blog in the next Show Your Setup feature!