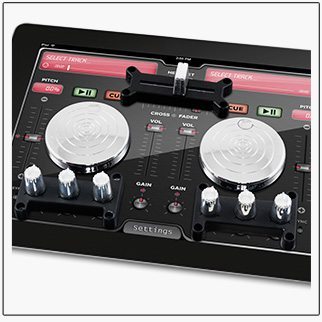 The Consumer Electronics Show in Las Vegas is a classic run-up to the Winter NAMM convention – which often means for companies that have booths at both, they're spilling their DJ goods at both. Nothing mind-blowing just yet, Ion Audio's Scratch 2 Go iPad controls are in the running for most unique DJ product released in 2013 so far.
The Scratch 2 Go kit comes with a crossfader, three EQ knobs, and two jogwheels – all of which have a capacitive suction cup on the bottom that allows your actions on the hardware to translate to a touch on the iPads screen.
The kit requires the iDJ 2GO app by Ion, but 9to5mac is reporting that it will also function properly with Algoriddim's djay app for iPad.
No word yet on if there will be compatibility with other popular iOS DJ interfaces like Liine's Lemur or TouchOSC; or if there are any plans to expand beyond iOS.
Check out YouTube user jkahnjkahn's video from the CES 2013 floor of the Scratch 2 Go kit in use:
It seems a bit regressive – but this kit highlights what the "touch revolution" of DJing continues to miss – real physical feedback and hardware to manipulate audio playback.
More Info: