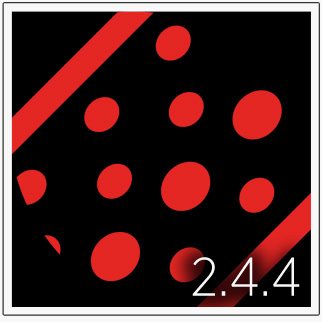 It seems like just yesterday that Serato Scratch Live 2.4.4 was released as a beta – but it's nearly been a full month. Today the full version went live, with a host of bug fixes designed to solidify the software a bit more.
The beta incorporated nearly all of the final fixes in this release, which also includes a set of updates to CoreAudio drivers for Rane hardware, increasing compatibility for other software and OS X 10.8. The Core Audio Rane drivers also aren't all installed by default – which is a good thing, as they all run a constant small process in the background if they're installed.
Here's the full release notes from Serato, download links are at the end!:
With this release we have focused primarily on fixing bugs and improving stability. In particular issues that have been reported widely on our forum, most significantly the CD drive crash and kernel panics seen with the Rane SL4, Sixty-One and Sixty-Two.

The other significant change is that the Scratch Live installer no longer installs the Rane Core Audio drivers on Mac. However, these Core Audio drivers are still included in the Scratch Live 2.4.4.dmg for users to install manually. This was a necessary step for OS X 10.8 support.

Bug Fixes

Fixed an issue where playing files from the CD drive or ejecting a CD caused a crash.
Fixed a kernel panic occurring when hotplugging SL4.
Improved hot plugging stability for all devices for both Mac and Win (resolving kernal panics with the Sixty-One and Sixty-Two).
Scratch Live can now install on Windows 8 without the need to disable Windows security settings. (Note: Windows 8 is not currently officially supported by Serato).
Fixed a bug where video files without audio were labelled as corrupt.
Fixed an issue where you couldn't save cue points, loops or autogain values to .mov or .flv files.
Fixed a bug where m4a files displayed 'unsupported file type' message if QuickTime not installed.
Fixed a bug where BPM field was locking up focus when the value was un-changed.
Fixed an issue where the Next Transition (Video) button could be MIDI mapped, but would not save to the MIDI XML.
Fixed an issue where you could get distortion when recording with the Sixty-Two.
Fixed an issue where no audio was being recorded in Mixtape when using the Sixty-Eight.
Fixed a bug with the Serato Video auto crossfader whereby it couldn't reach far left or right when set to a fast speed.
Fixed a bug where the TTM-57 hardware audio effects are on, but Serato Video thinks they're off and thus doesn't apply the associated video effect.
The fader movements will now be added to shared memory so that Mix Emergency can use them without having to start/stop Serato Video first.
Fixed a bug whereby the TTM-57 phono functionality wouldn't save to preferences. Note that both PGM channels must be set to phono for preference saving to take place.
Fixed bug where the year tag was not being imported from the iTunes xml file.
Fixed bug where doing a 'relocate lost files' on individual files or groups of files by either dragging tracks within SSL, or dragging tracks from finder/explorer, onto the 'relocate lost files' button, would not work.
Fixed potential instability when doing 'relocate lost files' on certain files.

Other Changes
Changed the following default preferences on first installation:

DJ-FX on by default
Playback Keys Use Shift off by default
Read iTunes Library on by default
Added BPM to default Library View (previously was song, artist, album, length & comment)
Added Artist to default History View (previously was name, start time, end time, playtime, deck & notes)
New Driver Installation Routine for Mac
The Rane Core Audio drivers are no longer automatically installed when using the Scratch Live installer. Instead, the individual Core Audio driver installers are now located in the Rane Device Drivers folder within the .dmg file.

Rane Core Audio Device Driver Updates:

OS X 10.8 support for the Rane Core Audio Drivers for the SL2, SL3, SL4, Sixty-One, Sixty-Two and Sixty-Eight.
Fixed issue on OS X 10.8 where the Control Panel failed to open.
Fixed SL3 issue on 10.7.x and 10.8.x where iTunes would play an incorrect sample rate after setting the sample rate to 48kHz then reconnecting the device.
Known issue (all Core Audio on 10.8 only): If the buffer size is changed via the control panel while an audio application is open, the actual round trip latency jumps to approximately 350ms. Re-selecting the Rane device as the audio device within the application's Preferences restores the correct latency. Rane is working with Apple to resolve this known issue. Note that the ASIO drivers are unchanged.

Download Links:
What's next for Serato? We're still waiting for Serato's answer to Traktor's bold move into mobile set preparation and performance, or perhaps we might finally see a Bridge update? What do you think the next big version of Serato will hold?