When it comes to MIDI controllers, physical motion can be a hard type of input to understand and access – especially when it's completely disconnected from a physical controller. What if there was a controller that simplified motion – not quite as complex as Imogen Heap's gloves, but vastly more fun and playful than the typical controllers for DJs and producers? The Hot Hand USB could do just that – see how it holds up in Mad Zach's hilarious review video.
Reviewed: Hot Hand USB
Manufacturer: Source Audio
Price: $149.99 (in the DJTT store)
Communication: Wireless MIDI with USB receiver
Battery: Rechargeable Li-ion – 6 hour life
Distance: Capable of transmitting over 100 feet.
ATTACH TO ALL THE THINGS
As Zach notes in his video, a major interesting feature of the Hot Hand controller is that it isn't limited just to waving your hand about in the air. It works just as well attached to a physical object – giving it the type of endless possibilities that previously were relegated to more DIY projects like the Makey Makey boards. There's not a lot of messing about when changing objects, either – since the configuration utility shows you exactly what MIDI is being sent from each axis, just make a few tweaks and it's set.
MIDI MAPPING
The Hot Hand USB comes with an essential software editor that allows users to change the depth and smoothness from the different axes of the ring's motion, as well as other options like MIDI messages, control signals, and more – it's more than suitable for more complex uses. The X and Y axis are pretty intuitive and easy control – only the 3rd (Z-axis) needs a bit more tweaking to really get it working, especially in parallel with the other two.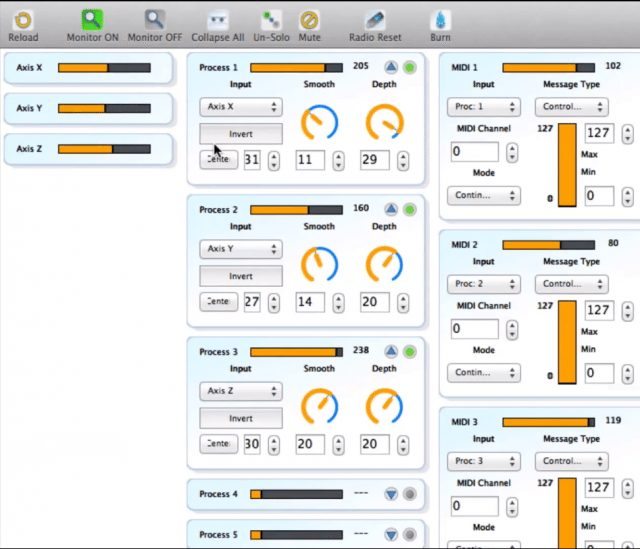 JUST PLAIN FUN
Overall, the controller is very much focused on simple enjoyment of motion control capability – a relatively low cost investment for wireless motion control that is likely to see prettying interesting uses from a wide array of controllerists, producers, and performers. We're keeping this written review pretty short as Mad Zach's video above really shows what the unit is capable of – but as he concludes, the Hot Hand might might look and feel a bit silly, the variety of fun and expressive ways to use it to physically control effects and audio are well worth it.