We've been studying your entries for the Midi Fighter X design competition all week, and with over 400 (!) entries from our community, we've had a very difficult time figuring out how to choose only 5. This contest was a massive success with the entire community sharing their visions of what a controller can be. It was very inspiring and humbling to see so many creative ideas from a wide range of people in every corner of the world.
WINNERS
First, It's important to note that every person who entered really is a winner because all of the entries demonstrated great ideas, passion and creativity. Go back and check out the full set here.
As a reminder of how the winners were chosen, the first design was the most-liked design on Facebook, and the other six were selected using a combination of elements including quality of design, staff voting and excitement for the designs in Facebook comments.  Even if your design was not in the top 5, it did influence the contest in a significant way. We looked at the entire group in aggregate to find the design trends that  should be represented in the winners. The most popular style (by # of entries) were:
2 deck simple mixer
all in one controller for 4 deck mixing
fun and tactile effects expression
ableton (esq) sequencer
click on the image to get a better look and vote for your favorite at the end of the article. 
MIDI FIGHTER MVMNT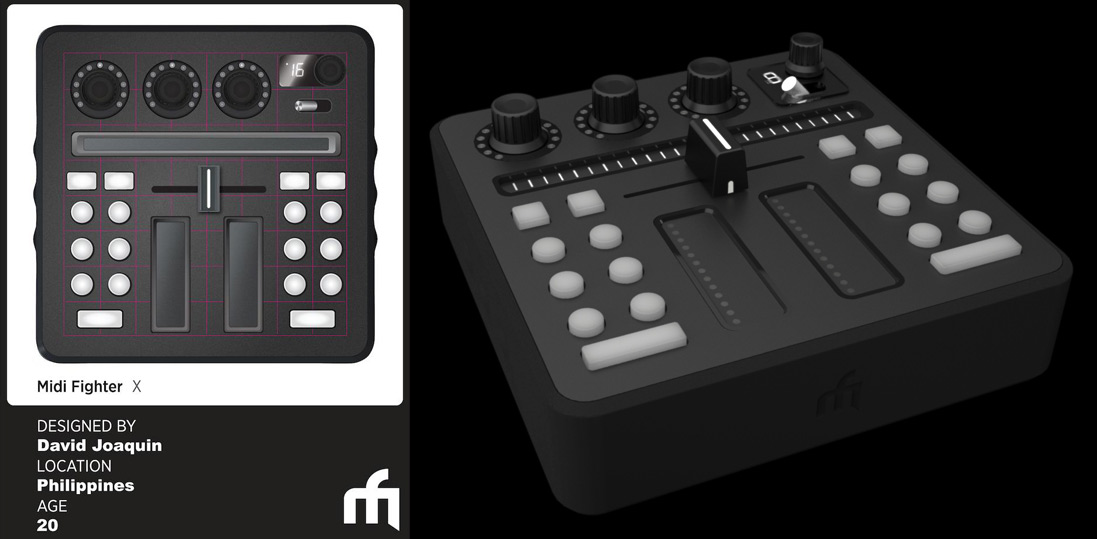 David writes: 
Midi Fighter Mvmnt (read as Midi Fighter Movement) has:

1 Long Horizontal Touch Strip (for track time selection and browsing library)
2 Vertical Touch Strip (can be used for gain, tempo, pitch)
1 Encoder Display
1 Toggle Button (switch from Browse Mode to Mix Mode and vise versa)
2 Wide rectangular buttons (pause/play for Decks A and B)
3 LED lit Knobs (for effects and such or Low,Mid,High)
12 Circular Buttons (for launching audio loops/samples )
1 horizontal cross fader (for fading through audio from deck a to deck b and vise versa)
4 smaller rectangular buttons (to launch track cues)
MIDI FIGHTER ULTIMA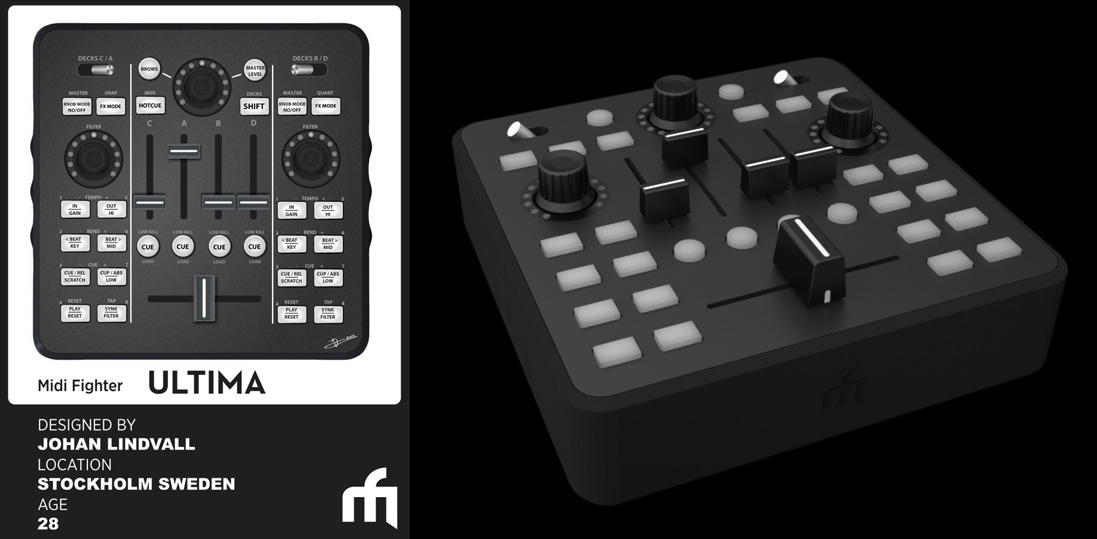 Johan writes: 
It's the ULTIMATE 4 track Midi Fighter Mixer. The only mixer you'll need!
It contains all the Tempo bending, Cueing, Mixing and Browsing you'll kneed. And with the Analog switch you'll switch between the decks with a breeze.

In the "KNOB MODE" you will turn the Deck knob into: Track Gain, Hi, Mid, Low, Key, Scratch (for track preparing) and a RESET button for resetting all knobs and effects from your buildup to your drop.

In the "FX MODE" you'll have an instant gratification mapping with a twist. 😉
MIDI FIGHTER TWISTER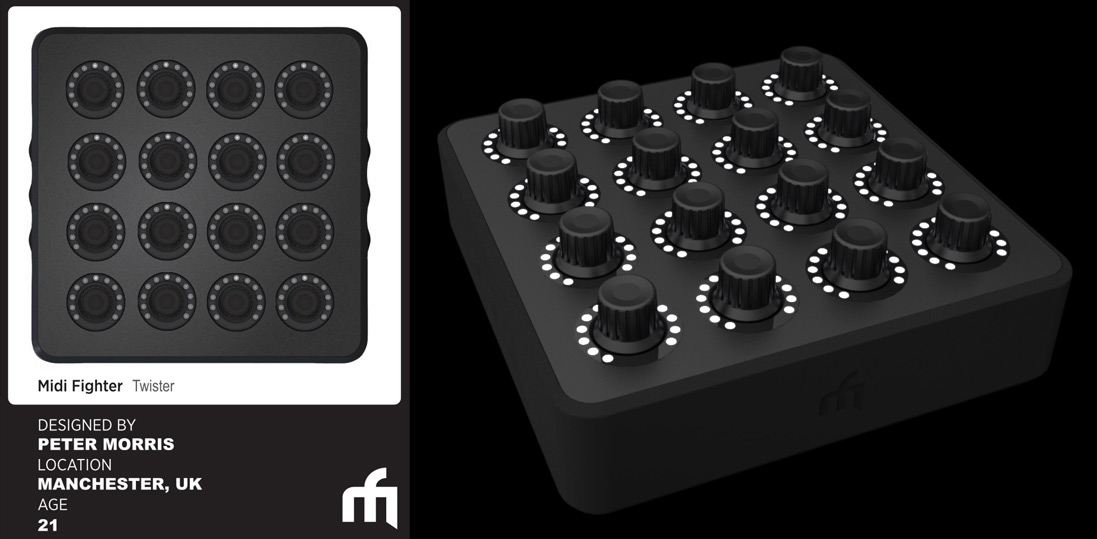 Peter writes:
It may look dull, but it fills a gap in the market for a controller that just has lots of knobs. My own personal usage would be for EQ and effects within Ableton but could equally be used to control four effects racks within Traktor or any other software (especially if the encoders could have a push toggle switch as well).

The idea behind this design is that it does not prescribe any usage cases, much like the original Midi Fighter and can be used for a multitude of different uses. Hopefully you'll agree it's completely modular and could be used to extend anyones setup with a bit of rotary control 🙂

tl;dr it's got lots of encoders
MIDI FIGHTER SEQFREQ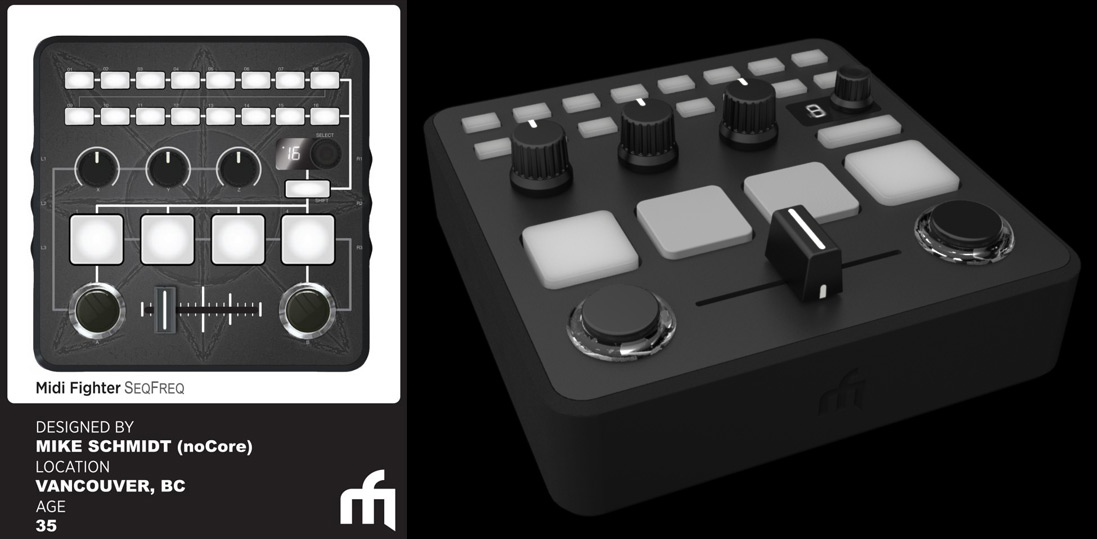 Mike writes:
Hands-on all-in-one performance controller for song writing, rhythm creation, beat juggling/mangling (…) The sequencer for this unit draws much inspiration from Korg's Electribe series – but with dual functioning sequencers so you can write a beat while the other plays, mix the two together, jam on the pads, tweak your effects (don't forget the tilt and rotation!) – record those tweaks! – save your pattern, load a pattern, start from scratch, NEVER STOP!!!

Accompanied by a pair of Midi Fighter 3D units – this rig would pack quite the punch.
MIDI FIGHTER MACRO-MASHER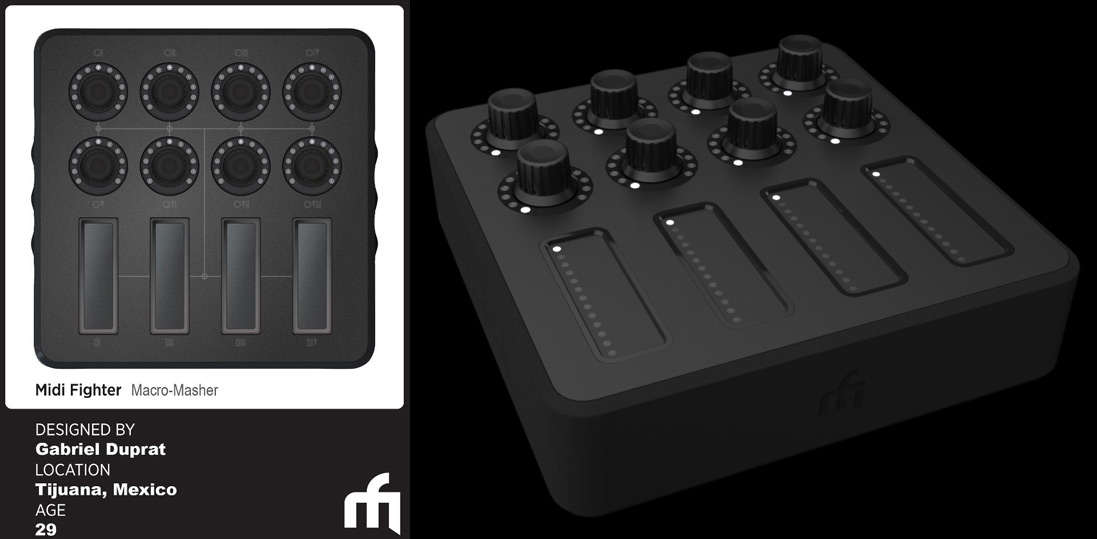 Gabriel writes:
I designed this layout thinking about the modular aspect you guys mention in the contest, so it's meant to be used with another Midi Fighter. I'm mainly an Ableton user and I have a Midi Fighter Classic, so this controller is meant to be used in conjunction with that.
The top 8 encoders are meant to be mapped by default to the selected device's macros. The bottom 4 touchstrips are meant to be freely mapped and used for more expressive FX mashing.  As well as working as an analog controller I would like these touchstrips to work as momentary switches activating a device momentarily as you touch them.  It's pretty basic but i think it'd be really handy and easily customizable.
MIDI FIGHTER X-FADE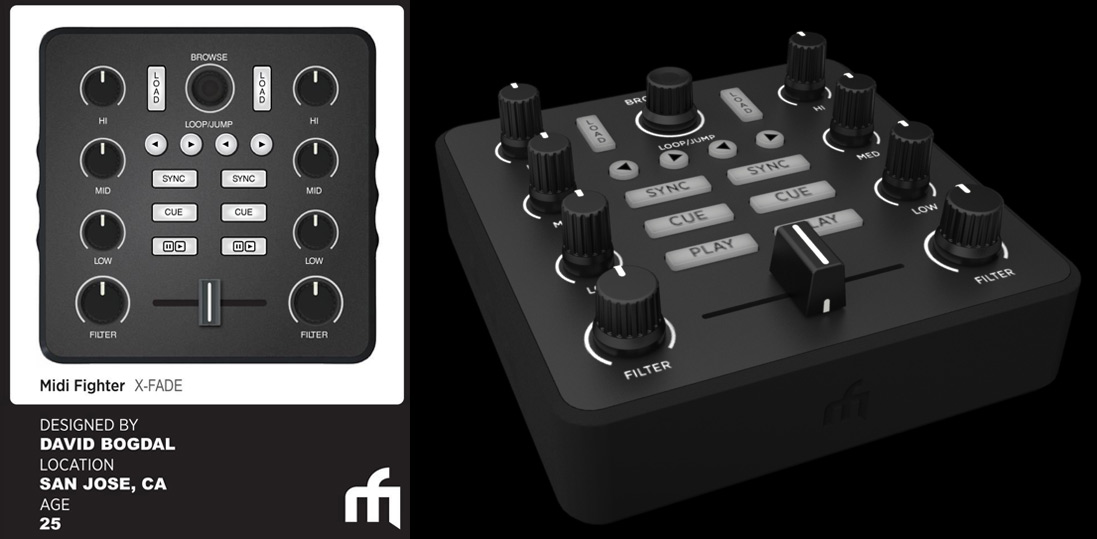 David writes:
Here is the Midi Fighter X-FADE. I chose to design a controller that I could take with me on trips that is small, but allows me to mix a basic set of two channels the way I love mixing in just one package. I use only the cross-fader, with EQs, filters, loops and beat jumps. I do prefer to beatmatch my tracks when mixing, but being able to take such a small controller with me anywhere to DJ solely with, I can excuse the use of SYNCing 😉
MIDI FIGHTER ASTRO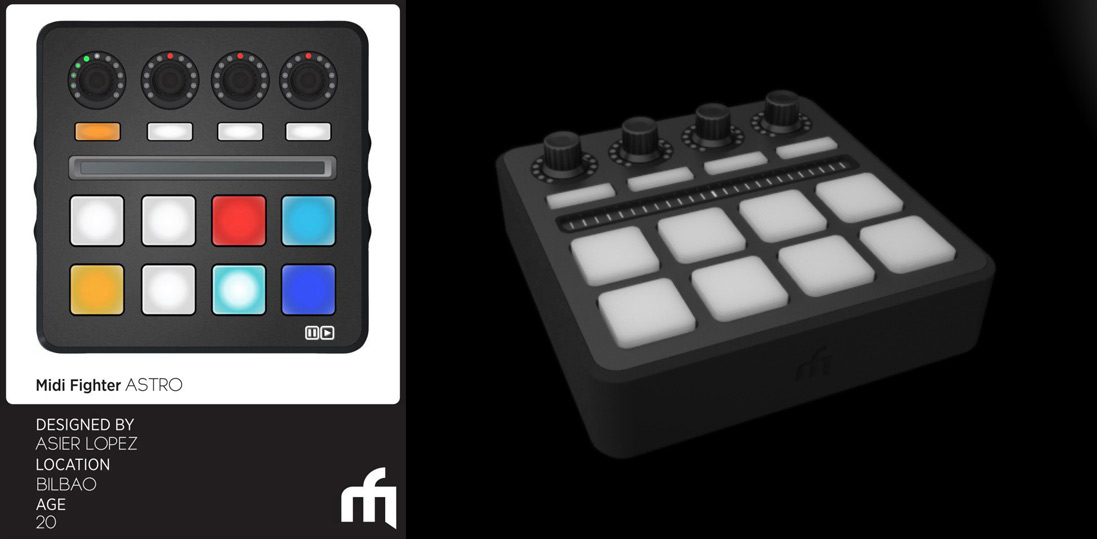 Asier didn't submit a description for the Astro, but we think it's pretty self explanatory! FX on the rotaries, deck switching below that, track strip search, and cues/samples at the bottom. 
The feedback in this poll will help us determine what direction to go from here – as we noted previously, we're not looking to build all seven of these – but hoping to find a few great designs that we can start prototyping soon!
Finally, we'd like to thank all of our community one more time for the amount of hard work you all put into this contest – there are some incredible designers here, and even more who simply share our passion for designing digital DJ technology. Thank you for proving that crowd sourced design can be fun, rewarding and  produce great results for everyone. We expect to see all of you in the next contest!