Native Instruments Traktor Kontrol X1 MK2: Not A Hoax!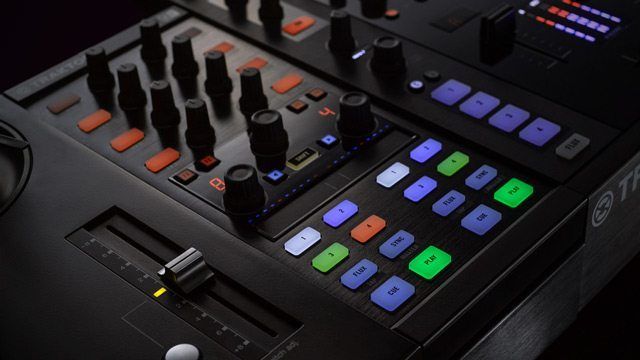 A few weeks ago we reported on what could have been leaked photos of a brand new update to the Traktor Kontrol X1 – and finally Native Instruments has announced that the controller is the real deal. Read on for the full announcement, photo gallery, launch video, and our first impressions of the Traktor Kontrol X1 MK2.
LAUNCH VIDEO
Manufacturer: Native Instruments
Price: $229 / 199 € / 20,800 ¥ MSRP
Available: Preorder now in the DJTT Store for $199
Dimensions: Nearly identical to the X1/Z1 – and fits the Kontrol Stand and other accessories.
KONTROL X1 MK2 IN PHOTOS
We've got some more updated photos of the unit in action from Native Instruments – click through the gallery below to check them out:
FIRST IMPRESSIONS AND REACTIONS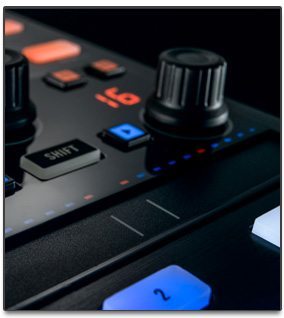 The X1 MK2 controller is a real no-brainer update to the original X1, incorporating many of the features that have been added to Traktor in the last three years that have become a central part of the software's workflow.
A few of them are pretty obviously additions, like the loop count display over the (now touch-sensitive) loop encoders (they're also used to choose what decks you assign the unit to at start up), the multi-color cuepoint buttons, the addition of Flux mode and effects assignment. Even smaller additions like the larger Play/Pause and Cue buttons very much seem to be in line with improving the experience of what DJs most commonly use a controller for.
The touch strips tell a similar tale in their function – their primary functionality aren't some crazy new form of control, but instead a familiar set of controls that just make more sense in strip form. The strip can be used in split mode between two decks or in a single deck mode. Rather than pushing and pulling the pitch, the control moves the phase of a song – less ideal for traditional DJing but more aligned with how modern DJs learn. This all can likely be changed around with your own remapping of the controller!
Of course, remapping the touch strip to effects will be the most fun – and we wouldn't be too surprised to see Traktor DJ-like touch features show up in some future mappings. We reached out to Native Instruments to ask them all of the different types of touch controls baked into the unit at launch, and they identified the following:
By default, the touchstrip is in two deck mode – and because it touchstrip can recoginze 2 fingers at once, you can nudge both Decks simultaneously. As mentioned above, you can "re-size" the touch strip control to be used entirely for one deck.
The type of action changes based on if a track is playing or not. If one is, the touch strip nudges (complete with a phasemeter above the strip itself). No track is playing, the strip has scratch control, allowing rapid readying of the playhead location (i.e. starting point, HotCue position, etc.) and you'll see a track progress meter in the LEDs above the touchstrip.
The strip is also FX assignable – turning on an effect when you touch it and off when released. Two fingers allow you to jump back and forth between two different FX settings. Put your finger in one position, then put a second finger in another position–the FX will jump to the secondary position. When you remove your second finger, the FX jumps back to the position of the first finger.
Assigning the strip to Auto-Loop control has a similar result: touching the strip drops a loop of a specific size, but turns off when you release – and two fingers allows jumping between loop lengths. The Traktor team was sure to note specifically that: "This is super-awesome with Flux Mode turned on."
WHAT'S MISSING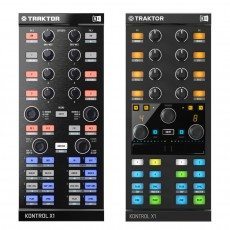 It's worth pointing out a few of the features that have been dropped from the second generation of the X1. Loop In / Out is long gone (folks who DJ older records will miss those, but few others), as well as the beat jumping, Cue | Rel, and Cue Abs buttons. These all have been removed to make way for the new cuepoint buttons, but it does seem like a number of the shift functions aren't mentioned on the face of the new unit – prime remapping material!
The astute observer will also notice that there's no mention of Traktor DJ functionality anywhere – nor is there a "compatible with iPad / iPhone" sticker on the front of the box. It seems like this controller won't be able to be used with Traktor DJ for iOS, which is a bit out of step of what we expected from NI. Our Kontrol Z1 review really notes how nice it was to use the Z1 next to an X1 – but for now it looks like that won't be possible for iOS users.
Update: NI's official comment on Traktor DJ compatibility:
We believe that Traktor DJ as a standalone app offers its own paradigm of transport and effects control. The X1 MK2 is therefore specifically designed to address these features with Traktor Pro
For $229, is the X1 MK2 the next controller for you, or will you stick with what you've got? Friendly discussion in the comments, let's have it!