For working DJs, sometimes the greatest competition is an internet-connected jukebox. While it might not have any talent in terms of contextualizing and mixing music, its ability to fulfill the direct musical desires of a room makes it a prime choice for venues that could easily have a DJ. Becoming a versatile, multi-genre DJ who can react to a room is essential to get more gigs – learn more in today's article.
WHY BECOME A MULTI-GENRE DJ?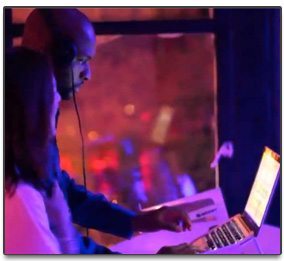 No More Evacuating The Dancefloor: A lot of DJs are experts in specific genres, often because of a personal draw to a certain sound. Often times these DJs suffer when placed in an environment where their usual style isn't working – and not having the ability to break out of the usual will keep the dance floor nice and empty.
More Gigs: DJs who want to play more gigs often have to learn how to become a generalist instead of a specialist. This doesn't mean giving up mixing your favorite type of music, but it does mean building a library, improving selection skill, and mixing prowess that will come in handy when your audiences change every time you play out.
Different Venues: Fancy becoming a resident DJ at a bar or club with its own independent draw? These venues are usually well known for being a great place to go, and not for a particular night – so when a huge pack of international students from a local college roll into your brand new residency, filling the dance floor and demanding tracks way outside of your normal repertoire – you need to be ready.
Go Mobile: If you're planning on getting into the mobile side of gigs (read: weddings, bat/bar mitzvahs, school dances, class reunions, etc), you often walk into these types of gigs almost entirely blind in terms of what type of night it's going to be like. You can't scout out these events a week ahead of time – there've been countless times I've showed up to an event with a completely different crowd than what the organizer expected (wedding receptions can always be a surprise).
Remember: almost any gig you play can make you a better DJ. Even the ones where none shows up, or where the club owner yells at you for not playing his favorite new Rihanna song, or where you forget to reset the timecode track on the bride and groom's first dance and the song stops 30 seconds in.
BUILDING A MULTI-GENRE LIBRARY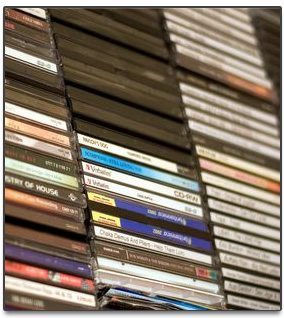 Becoming a DJ who can perform in any genre does not mean that you have to have every single song in that genre. The reason why is simple – if you don't know what music you have, your ability to choose quality tracks that surprise and delight the crowd in front of you is limited by your guesswork and the requests that you get.
Instead, think about building up a quality collection that focuses around these three different types of songs in per genre:
Classic / Timeless Track: The well-known tracks that define(d) the genre.
Deep Cuts: The lesser-known dark horses in a genre, you'll have to hunt for these quite a bit more.
New, Current Songs: If a song is getting radio play, you're going to want to have a copy in your arsenal. Feel free to prune these regularly.
Here's some of the best practices that you can do to build a great, current library:
Paid Record Pools: We've written a whole roundup of digital record pools earlier this year – having a service that curates music for DJs is a great way to rapidly build a current library and not miss out on songs as they come out.
DIY Personal Record Pool With Friends: While we don't encourage piracy of tracks you don't own, having a few trusted friends (ideally fellow DJs!) who you talk shop with and share rare edits and interesting tracks with is a great way to build your library.
Top Lists: If you're after a great mobile library, start with the Mobile Beat Top 200, powered by DJIntelligence (one of the most used mobile DJ request services) – this will cover many of the requests you're likely to get.
Podcasts + Radio: We hear from more and more DJs who regularly listen to podcasts to search for new tracks and who use digital radio services like Spotify, Pandora, or even Hype Machine to keep their library peppered with current tracks – or to educate themselves on genres that they might not know anything about.
Pro tip: Set aside a time every week to go digging for new music – and as you find things during the rest of the week download them and put them in a playlist to listen, review, and categorize when this library-building time comes around.
IT'S NOT ABOUT YOU: READING THE CROWD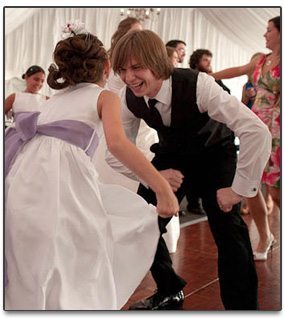 Just having a great music library means nothing if you aren't playing to your crowd. Not every crowd will tell you what they want to hear, or how they're doing. Start first with what you know about the gig – are people here to dance all night, sing along to pop hits, or just have ambient music to socialize to? In some cases, the ideal state changes dramatically over the course of an event – take a traditional wedding reception, which starts off with mellow cocktail music and escalates to first dances and a potential full-on dance party as the night goes on.
To get people to start dancing, look for the connectors in the room – the people whose enjoyment of your music will infect others around them. Wedding DJs know exactly what I'm talking about – if you get the wedding party on the dance floor, you can usually get everyone else out there pretty easily.
Pro tip: a really good exercise is to go out to the venue where you're considering doing a gig and watching how things go down. How does the night evolve, and what's the relationship between the DJ and the crowd? You'll get lots of good ideas this way, so always scout your gigs if possible!
EVERY GIG IS A CHANCE TO PRACTICE MORE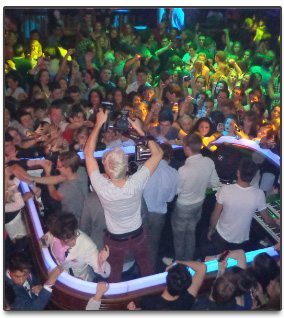 DJ AM stood at the top of the pack in terms of being a DJ prepared for every type of gig – simply because of the variety of performance experience he had, which included radio, mobile, band, and club gigs. Having spent thousands of hours DJing between all of these contexts made him an expert at reading a room.
In general, DJs who take every opportunity to select music for a group of people are the first to become pros at commanding a room. Some great ways to score more reoccurring hours playing out include:
searching on wedding sites and Craigslist for a multi-op (more than one DJ) company in your region and seeing if they need new DJs or roadies
signing up to work at community or college radio
finding a regular live music night that has downtime between acts and volunteering to be the between-band DJ
The next article in this series will discuss the many solutions for handling the always-difficult art of handling requests during a gig – stay tuned! 
Header photo credit: Pulseradio.net