Looking for a controller with unique flavor, road-worthy toughness, or extreme portability? How about something with all three? The Livid Instruments Base gives you deep programmability with its touch-sensitive faders and buttons, and 32 velocity pads – read on for our full, in-depth review.
Reviewed: Livid Instruments Base
Price: $429 (MSRP), $399 (common retail price)
Communication: MIDI over USB (USB powered)
Available: Now
Ships with: USB cable. Software templates for DJ and production programs available to download here. Web-based editor application here.
Weight: 3 lb.
Dimensions: 10.25 x 11 x 0.75 inches
The Good: Some of the best drum pad response available for the price. Excellent construction. Compact and lightweight for travel. Deep programmability and pre-built templates for Ableton Live, Reason, Traktor, and others.
The Bad: Pad lights look muted in well-lit room. Rubberized bezel occasionally gets in the way of "zero" fader values.

The Bottom Line: True to its name, the Livid controller gives you a base on which to build your own control scheme for any MIDI software. With 57 physical controls and several control layers per preset, you can access hundreds of controls for your DJ, VJ or production software. Non-programmers have some excellent templates available for Live, Reason, and Traktor.
WHO MADE IT?

The Austin, Texas boutique manufacturer Livid Instruments entered the controllerism fray pretty early on, way back in 2004. While their well-built, highly stylized controllers and custom building kits don't outsell the Numarks and Pioneers of the world, the small shop has earned a well-deserved reputation among high-level DJs and producers for quality construction and deep programmability.
BASE CONTROLS AND BUILD

For its latest production, Livid chose to make its first unit whose pads are pressure sensitive (aka aftertouch). The Base controller also has no moving parts; it favors touch-sensitive faders and buttons over knobs and sliders.
That may not be everyone's cup of tea, but the touch faders with LED meters mean you can jump to just about any value you want, including full on or full off, instantly with one touch. Also, when switching to different pages or presets, the fader values reset immediately.
The touch-sensitive controls and recessed pads also help give the Base a flat face, which makes it even more portable. Even with its 32 velocity- and pressure-sensitive pads, 9 touch faders, 8 touch buttons, 8 functions buttons and 2-digit display, the Base comes off as very travel-ready. It's less than an inch thick, and even though it feels extremely durable, it weighs only 3 pounds.

Livid uses robust aluminum for the Base chassis, with a rubberized bezel on the faceplate encasing the controls and providing a nice feel. The unit feels amazingly sturdy, all the way down to the hard rubber feet on the bottom. The aluminum bottom plate of our unit bent up a little bit when pressed. That didn't seem to endanger the Base in any way, except for maybe leaving an opening for dust to get inside.
The Base feels strong, but it takes up a small volume of space for such a solid controller. If you were to team up the Base with another compact controller such as the KMI QuNeo or Midi Fighter 3D, a Native Instruments Audio 2, and a laptop, you could easily fit it all into most standard laptop backpacks — forget about those huge DJ bags that make you look packed for a moon landing.
CONTROLLER FEEL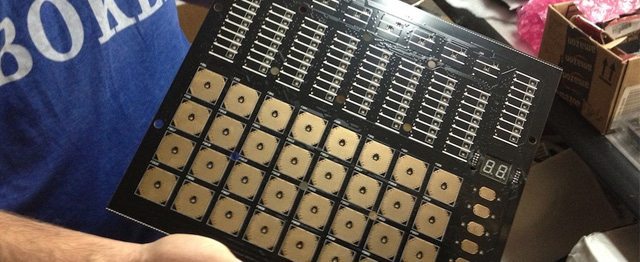 The Base's 32 pads are smaller and spaced closer together than most controller pads out there, from the Maschine to the Akai MPD line. However, for fitting 32 pads – instead of 16 – onto a compact controller, they don't feel too cramped. Their response is also amazing; anything but the slightest tap will set them off. The Base pads may be the best of the many that I've tried for triggering in rapid-fire style with two finger on the same pad.
It must be said that the Base pads do feel quite different from most other controllers. They don't depress, and they are so firm that they actually can be pretty hard on the fingers after a long time. When incorporating velocity or pressure sensitivity, you have to use a fair amount of strength to get the highest values. If you don't have the finger dexterity built up from many hours of beat tapping, this controller may challenge you.

The faders respond with no latency, and although there aren't enough LED lights on each fader to respond to every one of the slightest movements, there are different LED styles that can be programmed for the touch controls. For example, a fader using "EQ" LED style will show two green LEDs in the center of the fader to indicate when you've hit the "zero" value. The faders can also be programmed to send both a note and a velocity value, increasing their utility.
With the touch faders, you can jump around to different value easily and instantly by just touch a spot of the fader, or sweep through the values in the traditional way by dragging your finger. You can also toggle between values by leaving one finger down and tapping another part of the fader with another finger. The only slight problem with them is that if you want to go instantly to full on or full off on a fader, which is useful for many things, such as muting a channel, you have to be careful to hit the very bottom or top of the fader. If your finger catches on the Base's rubber bezel, you may get a value that's close, but not quite full off or full on.
All the RGB LED lights look great in the dark, but probably because of their translucent rubber, the backlit pads are  bright enough to see in direct light, but they do look a bit muted.
Programmability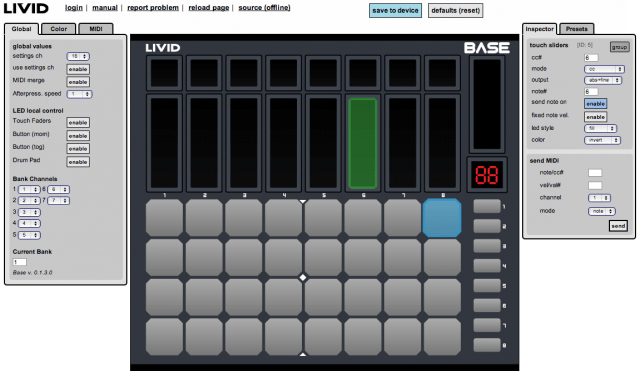 Livid and its user base are known for the full customizability of its controllers and for an enthusiasm for creating very useful and creative templates, respectively.
Base will work with any software that supports MIDI Learn, and for any other MIDI applications, you can program it using the Livid Online Editor software. The software works well and similarly to most other MIDI template editing software. It recognizes when the Base is connected, and you can use it to update the firmware, save MIDI settings to and from the Base, and create new programs.
[Corrections Oct. 2, 2013 4:30 pm PST.] The Base supports 7 user banks, which change the channels of all settings and also store LED updates that are sent to the controller, programmable in the editing software. And because there's still some use for offline editing software, Livid also has an offline Editor option, available with instructions.
Pre-Baked Mappings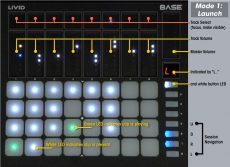 Livid devotees may program their own templates at a greater rate than others, but if we had to guess, more controller users probably get by on what they can find online to control their software. Base users already have a decent selection of mappings, scripts, and settings to choose from, and judging by Livid's other models, there will be more coming as the weeks go on.
Livid provided an Ableton Live Remote Script for Base. This comprehensive script utilizes several modes, as well as Shift functions, to wrangle as much Live control out of the Base as possible. You can use it to record, launch clips and scenes, mix, and play and/or tweak instrument Devices and Drum Racks. There are versions available for both Live 8 or Live 9, and the Live 9.1 Base Remote script will add native step sequencing for drums and synths.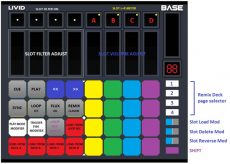 Traktor Pro users may want to check out the Base mappings from DJTT forum member extraordinaire, Stewe. He's made two Base maps for Traktor, one for playing 4 Track Decks and another for using the Base to control the Remix Decks. Both mappings make efficient use of the Base controls for launching 8 cue points, EQ kills, entering Flux mode, etc. in the case of the track deck mapping. But the Remix Deck mapping seems to really suit the Base. If you're already a Remix Deck power user or want to explore them further, dedicating a controller like the Base to Remix Decks and using a good mapping will allow you full controller over recording, loading, and launching loops or samples, as well as independent control over Remix Deck slot volume, filter, reverse, and more.
A Reason Remote Script available for the Base from Livid makes the unit a very capable control surface for Reason 7, particularly for playing drums and instruments, recording them, and then tweaking their parameters for recording automation or audio overdubs.
BASE-IC MATH

Some may look at the 32 velocity and pressure-sensitive pads on the Base and think, "that's twice as many as other controllers. I'm now twice as stoked." The 32 super-responsive pads do make the Base a mouth-watering prospect, particularly as a secondary controller for DJs wanting to access many cue, loop, sampling, effects, and other performance buttons without using shift or mode buttons as well. And if you want multiple layers of functionality, the Base lets you program that in as well, using the touch buttons or function buttons to access different control layouts.
You may pay a little more for the Base's supreme chassis and control build quality, but it's by no means an astronomical price for some hand-built love. If you don't love the available mappings, it may take some high-level MIDI editing chops to get the Base where you want it, but you'll also enjoy pro-level reliability.

Please leave us your comments, and find out what Markkus is reviewing or send questions to Markkus on Twitter.