After doing an admirable job playing catch-up last year, Mixvibes Cross 3 gives the others something to catch-up to: a well-appointed video DJing feature set with plenty of flexible mixing options, effects, recording and video sampling slots. If you've considered adding video to your DJ sets, you owe it to yourself to read all that Cross 3 can do.
Reviewed: Mixvibes Cross 3 DJ software
Price: $129.99 / 96€ (approximately); free update to registered users
Available: Now
Supported Audio Formats: MP3, Ogg, AAC, M4A, FLAC, AIFF, WAV, Apple Lossless, WMA
Minimum System Requirements: Windows 7, Intel 2.1 GHz Core 2 Duo or equivalent CPU, 2 GB RAM or Mac OS 10.6.8 or higher, Intel 2.1 GHz Core 2 Duo CPU, 2 GB RAM
The Good: Many new video features, including audio/video players and audio/video samplers; video effects, mixing, recording, and sampling; text and image titling; and more. Rekordbox sync. Well-rounded set of DJing essentials, like Beatgrid editing, Head-Up Display, master out limiter, recording, interface customization, MIDI mapping & multi-controller support.
The Bad: Without a top-of-the-line laptop, you need to be careful of the processor load when performing with video. Really hard to get the text effects on the video to stop moving once you start them. Many newer controllers aren't supported with mappings.
The Bottom Line: Cross 3 asserts itself as one of the clear leaders in video DJing software.
MIXVIBES' YEAR IN REVIEW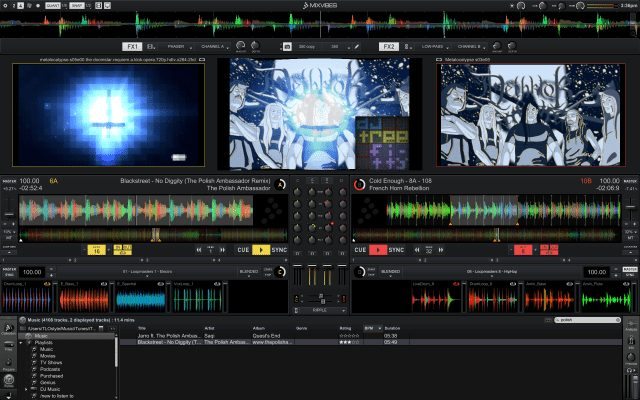 It's been another productive year for the Mixvibes crew. When DJ Tech Tools reviewed Cross 2.3 about a year ago, the software had enjoyed a burst of development that saw it add sample decks, multi-effects, Quantize/Snap, a modular interface, a channel filter, and other improvements that told the world that Cross was ready to party with the big boys in the DJ software realm.
For the big wow factor on Cross 3, Mixvibes stepped up the video support from basic playback and transitions to high-level video mixing that compares well against the video implementation of any other DJ software.
If you're not up to speed with the Cross interface customization, browsing and track collections, decks, effects units, samplers and MIDI mapping, we recommend you read our Cross 2.3 review, as we focus here on the big additions to Cross 3.
FOUR PRETTY DECKS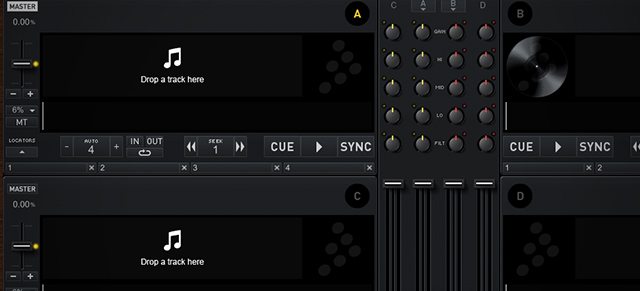 Besides video, Cross 3 brings full four-deck support with a four-channel mixer window (Before the update, Cross supported two player decks and two sampler decks). From the menu bar, it's easy to choose the 2-deck or 4-deck layout, with combinations of player and sampler decks. Only decks A and B support both audio and video, as well as external inputs.
From the mixer, you can choose external audio or video inputs from a drop-down menu for decks A and B — up to two live video inputs at a time. Also, from the General Preferences, you can choose a new EQ setting modeled off of Pioneer's DJM-2000 club mixer.
To make the decks pretty, you have to load up a track and see Cross 3's new frequency colored waveforms. By now, such multi-colored waveforms are expected in DJ software, and Mixvibes has added them so you can better see the track structure with low-, mid- and high-frequency information colored differently.
One more bonus in version three: Cross 3 now also supports Apple Lossless and WMA audio formats.
BARGAIN VIDEO

From Cross 3's menu bar, clicking the film icon button will toggle three video output screens, so you can save screen space with video playing, or if you don't want video at all, you don't have to. Cross 3 costs $30 more than previous versions did (but is a free update to registered users) but even with the higher price, Cross costs a little less than the Serato Video plug-in option. Plus, you can use Cross with any controller; not just one of the 80+ controllers that have Mixvibes-approved mappings. Cross 3's video implementation matches up well against Serato Video, so you get a lot for what you pay.
You can load videos from the browser to decks A or B, or drag videos from the desktop. The display above each player shows the video with any effects applied, and the center master display shows the mixed video with any crossfader transition effects, still image titling, or text titling effects added. A display icon button in the menu bar sends that master video output to an external display.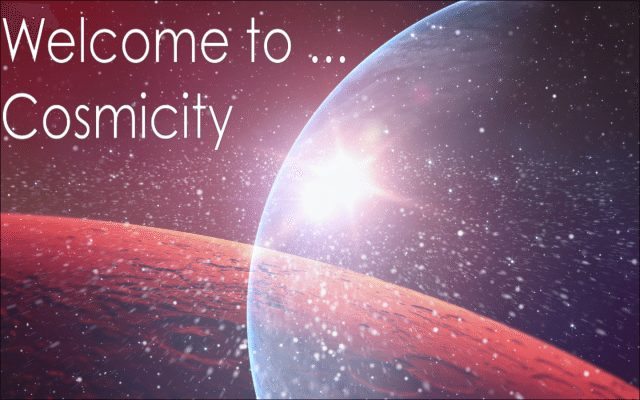 Cross 3 treats videos in its players A or B just like audio, meaning that Locators (cue points), looping, scratching, pitching, etc. work just as they do on audio. The software will analyze a video's audio for tempo or read a silent video's tempo—like a clip prepared for VJs—so a video's tempo can act as the Master or sync to the Master.
A great option in Video Preferences: separate audio and video loading. This lets you load a video that has audio, but then also load a song from your library to occupy the audio track of the deck, so that you can play any music you want with a video in the same player. You can then swap in new songs while the same video plays, or with one click in the deck, you can link an audio track to a video, so that the video will load along with that song every time (until you choose to unlink it). By default, a video in the player will loop, so you don't have to worry if a video is shorter than the song it's linked to.
Another great Preferences option lets you decouple the video from the channel volume fader. By default, a video with audio will fade out with the channel fader, but with the aforementioned option, the video will stay up while you fade out or kill the audio with the volume fader.

Cross 3's crossfader can work for both audio and video, or you can choose separate crossfaders for each. There are 35 total video transitions you can assign one at a time to the crossfader. The transition menu sits under the crossfader on the screen, and in Video Preferences, you can whittle down the available transitions to just the ones that you really like. You've probably seen most of these transitions before; it's a well-rounded group ranging from subtle fades to more extreme pixelations and strobes, and includes the requisite wipes, pushes, stretches, etc.
In the Video Preferences, you can choose to record the mixed video output in one of five resolutions, going all the way up to full HD (1080p).
VIDEO/AUDIO EFFECTS

Cross 3's two FX slots work for both audio and video effects, and each one can apply to players A, B, C, or D, the Master output, or be turned off. If no video is loaded, you'll just have the 14 audio effects to work with as normal. With video, you have the option to apply effects to both the audio and the video. There are 18 total video effects available, and in the Video Preferences, you can select which video effect to pair up with any of the 14 audio effects.

That's where it gets a little weird, because if you elect to use the effects only on the videos, rather than have access to all 18 video effect from the FX1 or FX2 slots, you still have to choose from the menu of audio effects paired with video effects and do some switching within the preferences to access every video effect.
Mixvibes could improve that in an update either by making the effect menu consist of all 18 video effects when the FX slots are routed to the video only, or by providing more than 14 options for audio/video effects so that you could have the option to try out more combinations from the FX slot menu. Of course, if they wanted to go even bigger, they could create new FX slots dedicated to video, with the option to link them to the audio FX.
On a positive note, you can get some really trippy combinations of audio and video effects going, where the tempo-synced oscillations of the Echo, X-Phaser, Flanger and other audio effects surreally sync up the video effects like Ripple, Bloom, Displace, Flash, etc.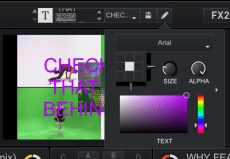 In addition to the effects slots, the master video output window has image and text "Titlers" that can be active simultaneously. Here you can enter text to show on the screen and load a still image, such as a DJ or club logo. For the image, you can choose the size, opacity and placement of it on the screen. You have the same options for the text, as well as the text color, font and optional movement up, down, or diagonal across the screen.
AUDIO/VIDEO SAMPLERS
Cross 3's samplers are all mixed-use audio/video, 4-slot sampler decks. You can set each audio or video clip to loop for play as a one-shot, and it's easy to save your sample sets for quick recall from the menu. Another menu selects how video samples will display: either split into four corners, blended together, or a single view, where the most recently launched clip appears.
Just like in the player decks, videos with assigned or analyzed tempos can be synced to the Master. Having the video samplers makes it possible to launch video or audio/video clips in rhythmic performance fashion from a pad or button controller, something you rarely find outside of specialized VJ software.
VIEWING THE COMPETITION

Besides a little strangeness with how video effects are implemented, Cross 3's video enhancements make it a very smooth experience to either add video to your sets for the first time, or to develop your video DJing skills and try new things. The layout of video displays, effects, video crossfader transitions and sampler decks make it feel quite intuitive for experienced DJs to dive right into video, treating as a natural extension to the audio mixing.
In comparison to other software, Cross 3 ranks among the best video offerings within DJ software. VirtualDJ 7 incorporates video, but only the $299 Virtual DJ Pro Full version offers full-screen video output, which Cross 3 also has. VirtualDJ's video component includes a linked crossfader, video transitions and effects, but not as many or with as much control as in Cross 3. Virtual DJ does not offer titling (without third-party plugins) or video samplers, either.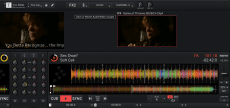 Serato Video, available as a plug-in add-on for Scratch Live or Serato DJ, presents the greatest challenge to Cross 3's video supremacy. As a premium add-on, Serato Video steps up with some impressive tricks that Cross 3 can't yet match. With Serato Video, you get effects engines for the videos that are separate from the audio effects, and you get two effects per video, with the option to link your effects choices to each particular video. That's the most important distinction, but Serato Video also has more animation options for the text and image titles, and 40 total video effects, compared to Cross 3's 18.
PERFORMANCE
I tested Cross 3 on a MacBook Pro with a 2.6GHz Intel Core i7, 8 GB RAM, and OS 10.8.5 (Mountain Lion). That machine is less than a year and a half old and comfortably exceeds the minimum system requirements for Cross. The good news is that Cross 3 didn't exhibit any of the occasional glitches that occurred when using a certain cue point and loop in Cross 2.3. However, using the full extent of Cross 3's video features can get very processor intensive, so I encourage you to find what your machine can handle with extensive practice before taking it to a show.
During the heaviest use, I had two decks playing videos with separate audio tracks in the same deck, both FX decks playing audio/video effects, a crossfader transition, a titling effect and active sampler decks. A few other programs were also open: Mixed in Key 6, a word processor for this review and Evernote. On one occasion Mixvibes crashed outright, and on another occasion, the software experienced a couple of audio hiccups in succession as I dragged a file from the browser to a deck.
Such occasional problems are no big deal for most software, yet are some cause for concern with a live performance tool. However, I wouldn't recommend writing off such a good program so quickly. If you're not using video and want the peace of mind, just go to Video Preference and un-check "Activate Video." You'll have the same low processor load as previous versions. And after all, I was testing the 3.0.0 version. Often after a major update there are quick incremental updates for stability, so keep an eye out for that if you're interested in Cross 3.
WHAT YOU GET IS MORE THAN WHAT YOU SEE

Depending on what you currently use to DJ, you may miss some audio features if you switch to Cross. But Mixvibes has demonstrated over the last two years a commitment to developing Cross into a world-class software. It already has all the basics and many of the advanced features it would need for that. It could stand to beef up its performance looping, slicing and effects options a bit more.
Nonetheless, Cross has crept up on the giants of the industry as a dark horse option for DJing. Whether you're considering diving in or have already been swimming in the deep waters of video DJing, Cross 3's robust video features, reasonable price and openness to all MIDI controllers make it a monster.
Especially if you're not already invested in a video DJing system, Cross 3 almost seems like a no-brainer. With its variety of transitions and effects and especially its eight potential video sampling slots, you could even use Cross 3 as a beginner VJ system if you were just running visuals. It's definitely not a full-scale VJ solution, but you'd be getting it without as much cost or learning curve.
Markkus Rovito is DJ Techtools' Tech Editor – suggest a review for him on Twitter or in the comments!