Mixed In Key has announced the release of a brand new 2.0 version of their Mashup software this morning, bringing the software into 2014 with a slew of new features. The software has come a long way since we first reviewed the software in it's 1.0 release (there wasn't even copy/paste or clip editing back then!).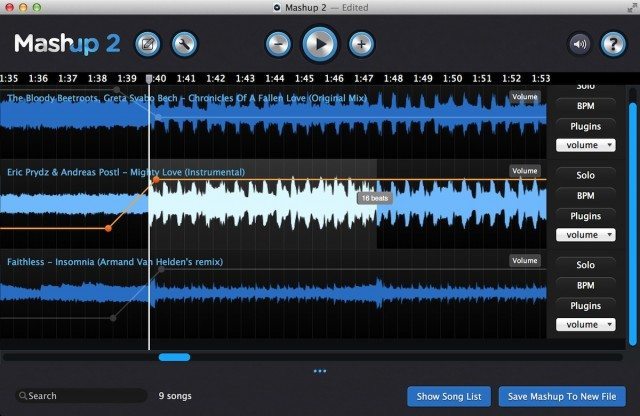 Playing around with the new version for a few minutes, it's clear that Yakov and the team at MIK have put in a lot of work to respond to early criticism and feedback from the community. The software still has an entry-level production feature set, but very much has a dedicated set of tools that help make the core goal of the software very easy: making mashups. The new features in Mashup 2.0 include:
The latest Mixed In Key 6.0 algorithm for the world's best key detection
Support for Audio Units on Mac, and VST plugins on Windows so you can use FX in your mashups
Ability to reorder segments – just drag them past each other
Ability to select and move multiple tracks at once
Better automation envelopes so it's easier to make changes
Left/Right panning support
Show/Hide the song list so you have more screen space to work with
Other speed and usability tweaks/improvements
Mashup 2.0 is available on Mixed In Key's site for $39, and is free for many who has purchased the software in the past.