Today's review shows how to create a beat, mangle its sounds, and manipulate the unique BreakTweaker sequencer to achieve evolving rhythms that won't create repetition fatigue. Compatible with any DAW software, BreakTweaker could be the first step on the path to music production or the new secret weapon in a well-equipped producer's studio.

Reviewed: iZotope BreakTweaker synth/sequencer plug-in
Price: $249 /$299 for the Expanded version with extra soundpacks
Available: Now
Supported Audio Formats: AIFF and WAV (all bit depths and resolutions)
System Requirements:
Windows: XP, 7, or 8; 32/64 bit; host software supporting AAX, RTAS, or VST formats
Mac: OS 10.6.8 or higher; Intel-based Macs only; host software supporting AAX, RTAS, VST or Audio Unit formats
The Good: Innovative MicroEdit Engine lets you create intricately and rhythmically sliced audio quickly. Excellent sample + wavetable synthesis options with 3 synth layers per track. Flexible "isorhythmic" sequencer lets you create tracks with varying lengths and speeds that evolve the beat over time. High-level drum and synth sounds in the included 2GB library, and you can also import your own samples. Undo and Redo of edits.
The Bad: Sequencer notes must be input from the mouse; no MIDI note input for the sequencer. Less suited for live performance because the tracks go out of sync when changing their lengths or speed values in real-time.
The Bottom Line: BreakTweaker's unique beat-creation tools — the MicroEdit Engine and isorhythmic sequencing — are what make it most interesting to producers who will be willing to buy it at this price. It comes with excellent audio content, but it's important that you can also import your own WAV and AIFF files and put them through the MicroEdit grinder, as well as the well-rounded complement of synthesis tools.
BT + IZOTOPE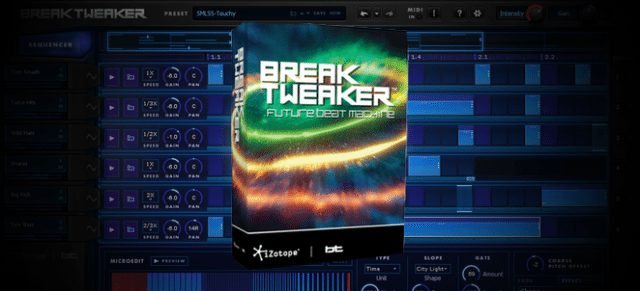 BreakTweaker represents more than a decade of dreaming, planning, and scheming from producer/composer BT and iZotope, his development partner for a previous successful plug-in, Stutter Edit. BreakTweaker blows up Stutter Edit's premise of real-time audio fills, sweeps and stutters into a full beat production environment.
BreakTweaker includes about 2GB of drum and synth audio material geared toward all current styles of electronic music, as well as film scoring and general sound design. It runs as an Audio Unit, VST, AAX and RTAS plug-in, and it's available at a 10-day unrestricted trial. Even if all you have is GarageBand, you could be making sick rhythms in BreakTweaker today.
SEQUENCING IN BREAKTWEAKER

The video shows how to create step sequences in BreakTweaker. You create notes in one of the six tracks by clicking on a segment in the timeline. For sustained notes, drag the right edge of the segment to the right for as long is you want it.
You can drag the track length to be longer or shorter, so you can have tracks of different lengths repeating within the same pattern, which can create variations that evolve over time. You can also independently control the speed of each track. By default tracks playback at 1x speed, but you can change them to 1/3x, 1/2x, 2/3x, 3/2x, 2x, or 3x to create cool rhythmic variations among parts. When you change a track's length or speed, you generally will need to restart the Preview playback of the pattern to sync the tracks back up.
By right-clicking, you can quickly copy and paste individual notes, whole tracks or the whole pattern.
The video covers the basics, but the sequencer also offers basic mixing tools, and lets you output each track to a separate input within DAW software, so that you can fully mix, as well as further process, each BreakTweaker track individually.
MICROEDIT ENGINE

BreakTweaker's MicroEdit Engine definitely helps define the product more than any other single feature. It lets you slice up a note in the sequencer and modify the slices in amazing ways much faster that you could hope to in another program.
The MicroEdit window shows up when you select a single step in the sequencer. In the MicroEdit Type column, you can select the number of slices to divide the step into, then move over to the Slope column, where you can apply Tension and Rotate to the slices, which algorithmically spaces them apart to create a kind of motion in the sliced playback that would be painstaking to say the least to recreate outside of BreakTweaker.
Additional options not shown in the video include variable gating applied to the slices, fade ins and out, and effects that you can apply to the MicroEditing sections, such as Chorus, Aliasing, and Lowpass or Highpass Filter.
SAMPLE GENERATOR

Each track's sound in BreakTweaker can consist of three layers, and each layer is either a sample (AIFF or WAV files accepted) or a synth tone.
The video shows a second kick drum sample being layered over the first. You can select samples in the menu from the included sound library and expansion sounds, or drag in your own from the desktop.
Once loaded, there are tons of sound-shaping options to apply to the sample. You can set the start and end points, reverse playback, loop playback and set the Gain, Coarse pitch and Fine pitch levels. Those three parameters can be modulated by any of the four envelopes or four LFOs available, which you can also customize.
There are also distortion and filter modules, whose parameters can also route to the envelopes and LFOs for modulation. In all, there's an incredible amount of sound design you can perform on just one of a track's three layers.
SYNTH GENERATOR

A wavetable synthesizer provides the other option for a track sound layers. These will send you down another rabbit hole of sound shaping. Each synth generator has two oscillator slots, and there are dozens of wavetable choices for the oscillators, ranging from the basic to the bizarre. And the wavetables are only starting points, since the Shape slider below them can twist their forms in myriad ways to create a spectrum of different sounds.
Similar to the Sample Generator, the synth's waveform has pitch and gain properties that can route to envelopes and LFOs, as well as distortion and filters that can also receive modulation from the envelopes and filters. That's only half the fun though, because the second oscillator can either be added to oscillator 1, multiplied with oscillator 1 (ring modulation), or be a modulator to an aspect of oscillator 1 to create AM or FM synthesis.
The Synth Generator is another feast of sonic proportions. To fully explore all the possibilities of each generator and the effects of layering 3 within one track will be a real treat for sound designers.
"ISORHYTHMIC" STEP SEQUENCING

We wanted to give a closer look to what iZotope calls "isorhythmic sequencing" in BreakTweaker. This is the ability to create tracks of differing lengths and playback speeds, in order to create progressively evolving polyrhythms.
The video shows a synth line being extended from 4 to 5 beats, so that its sounds then begin to fall at different portions of the supporting beat. It also shows a 16th-note shaker pattern being slowed down to 1/3x speed, so that it then triggers in slow triplet pattern off of the rest of the beat.
These videos should give you an appreciation of what BreakTweaker can do, but it's really up to each individual to explore the rest of the iceberg beneath the surface. You can try a 10-day unrestricted BreakTweaker trial from iZotope and get into the nitty gritty. The good news is that no matter how deep you get, BreakTweaker remains user friendly. If you can follow what's happening in the videos, you'll be able to master the whole enchilada.
IZOTOPE GIVEAWAY
The folks at iZotope have offered up a copy of BreakTweaker Extended and a copy of StutterEdit for us to give away to our readers – use the widget below to enter: