A few years ago, any aspiring DJ would buy a budget turntable/CD and mixer combo before eventually moving on to some high-end kit. Today, most will either go for a cheap controller setup to use with their existing computer, or jump straight into the top-flight gear that they see used by their heroes. However, there are still a lot of situations in which a budget mixer can be incredibly useful, so we've gone in search of the best mixer for under $300.
TURNTABLE/MEDIA-PLAYER USERS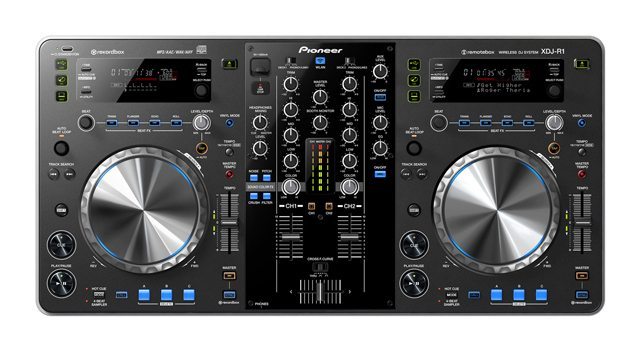 There are many people for whom using a computer to mix is neither desirable nor necessary. A decent laptop for DJ use can be had reasonably cheaply, but it's still a hefty investment if you don't already own a suitable one, which makes that $200 controller look like less of a bargain. Plus, there are lots of DJs who choose to use other formats—whether it be vinyl, USB devices, or even CDs (remember those?). Whilst there are a few options out there (like Pioneer's XDJ-R1), that generally means separate media players with a mixer, and not everybody needs to drop $1000 on an install-level mixer.
A CENTRAL HUB

Fundamentally, a DJ mixer is a box that allows the mixing of a number of input sources, and the distribution of the resulting sound – a device that in even a modest home setup can be incredibly valuable. In my studio setup, my Pioneer DJM-700 is the central location for all my connections—controllers, decks, audio interfaces, and even other mixers go into it, with outputs to powered speakers and my computer.
Even the cheapest DJ mixers will generally have at least four inputs and two outputs—perhaps not all playable simultaneously, but at least accessible. It could be argued that a small 'studio' mixer would do a similar job, but those tend to be more endowed with microphone and instrument level inputs, and if you have a lot of DJ-specific gear, a DJ mixer will usually offer you better bang for your buck.
MIXING EXTERNALLY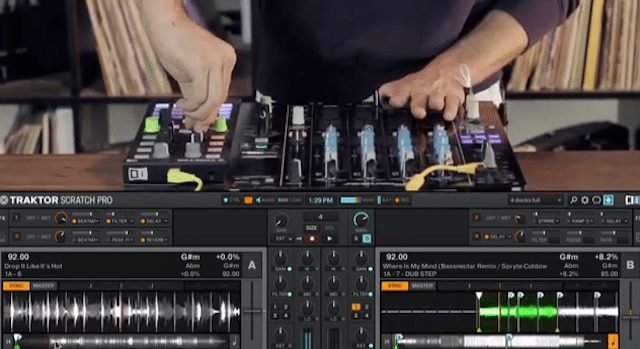 Here's a little industry secret for you (shhh): All DJ mixers work pretty much the same way.
Of course, there are bountiful rewards to be had when you spend a small fortune on a mixer. Sound quality, durability, and advanced features all improve as the price tag goes up, but as mentioned above, all DJ mixers basically do the same thing. So if you're getting gigs, and finding that venues can't (or won't) accommodate your all-in-one controller setup, then you may want to go modular, for example, running an X1/Audio 6 combo through the currently installed mixer.
But just because the club has a shiny DJM-900NXS doesn't mean you need to own one. A carefully chosen sub-$300 mixer will offer all the functionality needed to get the hang of external mixing, and may even benefit you long term, as you won't be reliant on specific mixer features that may not be available at your next gig. If the only mixer you've ever used is a shiny $2000 Pioneer, you're going to get a shock when you roll up to the club and find a rusty Xone:62 with a broken crossfader and two line faders missing.
Having established a few reasons for scoring a sub-$300 mixer, it's time to look at what kind of gear your money will get you:
STARTING FROM THE BOTTOM…
At the real budget end of the market, it's perfectly possible to pick up a usable mixer for around the $100 mark. Back in the early 2000s when I worked for an equipment retailer, we sold Numark's Battle Pak by the truckload, which contained belt-drive turntables and the DM-900/905 mixer, otherwise called the Blue Dog. I'm pretty confident in saying it was the most widely bought mixer in the world for quite a few years.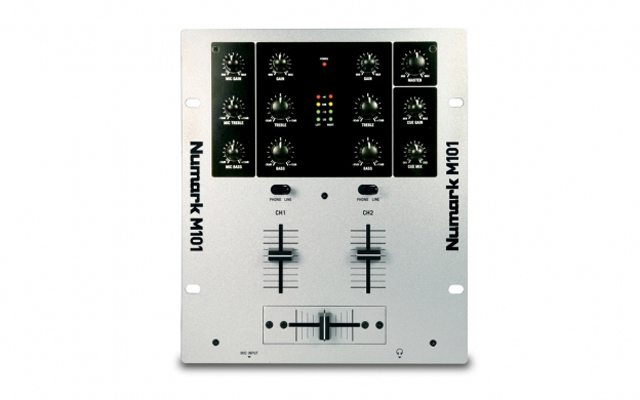 As basic as it gets—two channels, phono/line switchable gain pots but no EQs, and mic input—the Blue Dog served as a perfectly functional introduction to hardware mixing, and its spirit lives on today in Numark's M101. It's a little more refined with a two-band EQ making an appearance, and there's a version with a USB connection for $20 more; it's only a single stereo in and out, so you won't be running a multichannel setup with it, but it makes for an easy way to record a mix to your computer.
Gemini make the PS1, a very similar mixer, for around the same price, although they don't offer a USB option on that model.
KINGS OF THE BUDGET MIXER?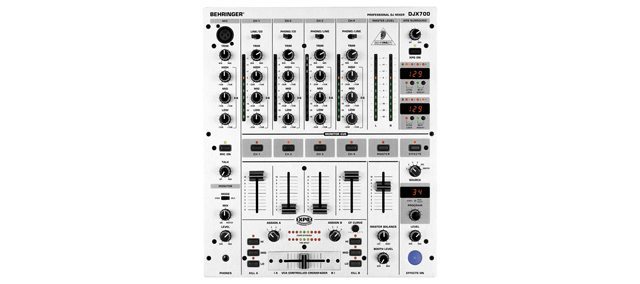 Ahh, Behringer. Often derided, the German brand has taken some flack over their DJ kit in the past. To be fair, a lot of that was justified. Their original VMX series, to put it kindly, was not very good. A lot of that was down to the faders, which seemed to be simply unsuitable for DJing. I was also not a fan of the DJX700, which seemed to be very prone to suffering dramatic wear and tear, even in the face of simple bedroom usage.
However, Behringer have stepped up their game considerably in recent years, with their CMD line of controllers getting much love from the DJTT community, and their new NOX series of mixers appear to be of incredibly good value, starting with the NOX101, which has a street price of around $100, a three-band EQ, adjustable curves on each fader, and balanced outputs. Frankly, that's pretty unbelievable for the price, so on specs alone, the NOX101 is untouchable.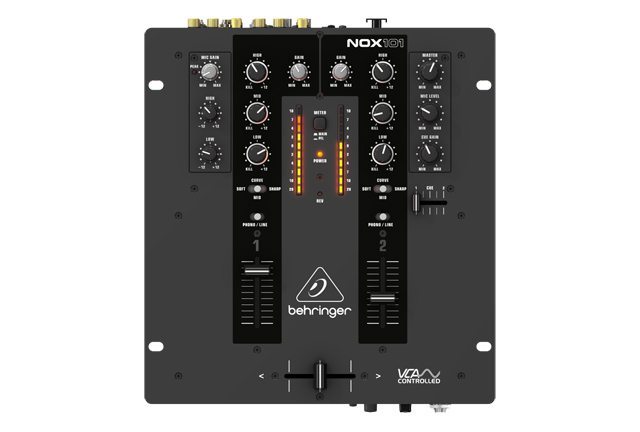 Going up the range, the NOX404 (around $180) has built-in effects, XLR outputs, a USB connection, and an Infinium crossfader, which I can attest to being a superb fader, having used it on the Mackie d.2.
Whether you're sacrificing quality for features is the big question there. Without testing it, we can't really comment at this point.
ITCHY AND SCRATCHY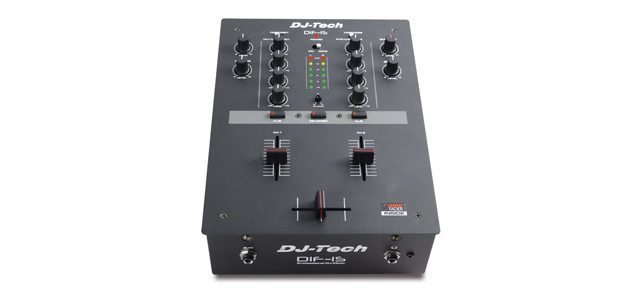 One of the smartest new ideas in budget mixers comes from DJ Tech. The DIF-1S ($200 street) is, at its heart, quite a simple mixer, comparable to the basic Numark and Gemini models mentioned above—the difference being they threw an innoFADER into it and instantly turned it into a decent little scratch mixer. Now, it is a Mini innoFADER, not the full-size, massively adjustable model, but it's a great fader, nonetheless. I have one in my NI Kontrol Z2, and it does a great job.
The other thing that sets apart the DIF-1S is its DVS input/output section, which lets you leave, for example, your turntables permanently hooked up to the mixer, and easily connect your DVS soundcard in and out as required. That makes it super-simple to use as a home mixer for DJs who gig regularly with their laptop and interface but don't want to have to mess around hooking up their entire bedroom rig every time they want to practice at home.
An interesting development that might impact DJ Tech, though, is the imminent release of the Mini innoFADER as an aftermarket accessory. If the price is keen enough, it has the potential to turn the cheapest, most basic mixer into a bit of a scratch weapon, and at that stage the unique selling point of the DIF-1S might go out of the window.
MORE MONEY, FEWER FEATURES?


There's an old adage from the world of engineering and design, which I'll paraphrase here to suit our needs:
Quality.
Feature-packed.
Cheap.
Pick two.
Under $300, there will be compromises in any mixer you buy. Unless a manufacturer has somehow achieved a miracle, there's a good chance that a mixer for $300 with four channels, built-in FX, and USB hookups will not be of equivalent build and sound quality to one with two channels and no USB, or a mixer with a similarly expanded feature set that costs $1000.
That's not always the case, of course, but let's take the Denon DN-X120 as an example. With specs not much better than the $80 Numark M101, it's very basic on the feature front: two channels, EQ, balanced outputs on TRS jacks, adjustable crossfader curve—but no USB, no FX, no special DVS hookup. This is a very straightforward mixer, but you're paying for a higher level of build and sound quality, which comes from years of manufacturing "install-level" kit. I've never heard anyone complain about the sound quality of Denon gear, and even if it isn't the most flashy equipment out there, you know you're getting something which will last.
Likewise the Allen & Heath Xone:23, which officially retails at quite a bit more than our $300 limit, but it can be had for $299 if you look around. I haven't used the 23 yet, but I have spent a lot of time with its predecessor, the 22, and unless they've taken a drastic step backwards, I'm pretty confident the sound quality of the 23 will blow any sub-$100 mixer out of the water. And they last, too. I used Xone:22 mixers for DJ-workshop sessions with teenagers, and those mixers took a beating.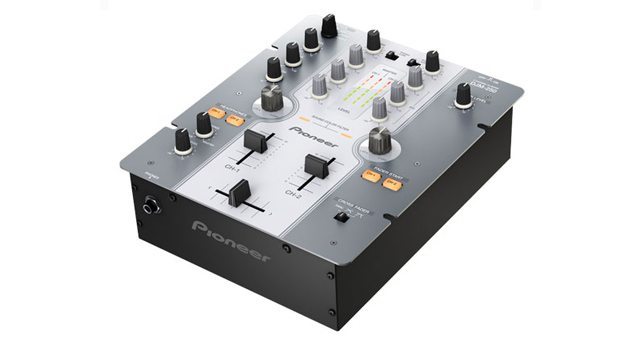 The Pioneer DJM-250 is a strange one. Here in the UK it sells everywhere for £180—dead on our $300 limit according to XE.com, and that includes VAT. Pioneer list it on their own site at $350, but it's hard to find in stock at many US online dealers, and the street price seems to vary widely. It's definitely one to consider, though, if you play out on Pioneer gear at gigs, with a very similar feel to their pro-level kit. Don't expect anything in the way of digital or Rekordbox integration at this price, however.
HERE'S WHERE YOU COME IN
In the weeks to come, we're planning on taking an even more in-depth look at a handful of mixers in this range. I'm pretty sure one of the Behringer NOX mixers needs to be on this list (if the quality even comes close to the specs, then they could be absolutely killer), but beyond that, I'm totally open to suggestions. So, is there a mixer I've discussed above that you want to see used and abused? Do you own any of them, and have deep buyers' remorse, or believe you've found budget mixing nirvana?
Let us know which sub-$300 mixers you'd like to see reviewed in the comments below and we'll do our best to make it happen.