Berlin/NYC-based producer Travis Stewart wears a number of production hats—whether as part of Sepalcure, JETS, or Dream Continuum. But the moniker with which he's most commonly associated is Machinedrum, under which he's released a slew of singles and LPs for Planet Mu, Hotflush, Ninja Tune, and more. His story of success is based on a few key factors: keeping it simple, interesting, and collaborative.
Stewart recently brought his Vapor City LP to the live environment, and performed it at Austin, Texas' South by Southwest Festival, where we caught up with the native North Carolinian to get a few tips on what's made his career such a fruitful one so far.
Real Name: Travis Stewart
What He Does: Producer/DJ/Multi-Instrumentalist
Current City: New York, NY/Berlin, Germany
For Fans Of: Jimmy Edgar, Boards Of Canada, DJ Shadow
Latest Release: Fenris District (Ninja Tune)
PICK UP AN INSTRUMENT
"I was surrounded by music growing up," Stewart says. "My grandpa was in a country band for most of his life and still is. I grew up with a baby grand piano in the house. My cousin was a singer-songwriter. The whole family influenced me to get into it at an early age… I never really wanted to do anything else."
He went on to learn piano and guitar, and in high school, he played snare in the marching band, as well as marimba, vibraphone, and bass. "There was so much music I wanted to make, and growing up in a small town in North Carolina, I just didn't have friends that shared the same influences," he says.
"A lot of people didn't have the drive that I did to really take on music as a full-time thing."
It was purely out of necessity that Stewart stumbled upon electronic music. "I started learning how to make electronic music basically to figure out how I could make this music on my own," he explains. "I was really into band-related stuff and industrial music, and a lot of stuff that involved multiple players. But then from that—just learning how to record my own stuff with software—it got me into electronic music even more."
KEEP YOUR SETUP SIMPLE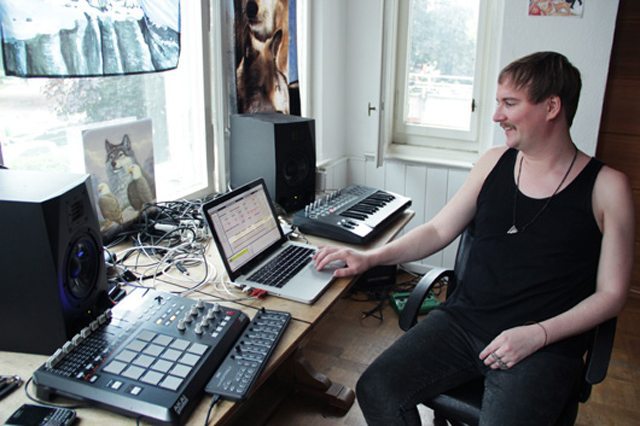 "For the longest time I never really had a budget to build out a studio, so it was all about what I could find for free, even software-wise," Stewart confesses. "So, I got used to working within my limitations, and I think that's what built me up as an artist, really—learning how to make do with what you have… I'm not super into a lot of plug-ins, but when I do find ones that I like, I just kind of stick with it," he explains.
"I use Reaktor, a lot of the Max For Live plug-ins, some Michael Norris [SoundMagic] Spectral plug-ins—different free stuff I found online." And he doesn't get fancy when it comes to laying down the parts. "I'll use a MIDI keyboard if I want to lay down a key line. But even for drum stuff, I end up just using the computer keyboard to input drums. I love [the Moog Prodigy] for a lot of monophonic synth lines and stuff like that," he says.
Onstage, Stewart splits time between strumming an Epiphone Emperor Swingster guitar and playing melodies and drum beats on his Akai MPD and MPK25 MIDI controllers. He also uses the Livid Alias 8 controller and a basic mixer, with everything running into Ableton Live. "I've got a couple of mics going through my soundcard, and the guitar is going through the soundcard, so I do a lot of processing live, and percussion bits," he explains.
BUT KEEP YOUR LIVE SHOW INTERESTING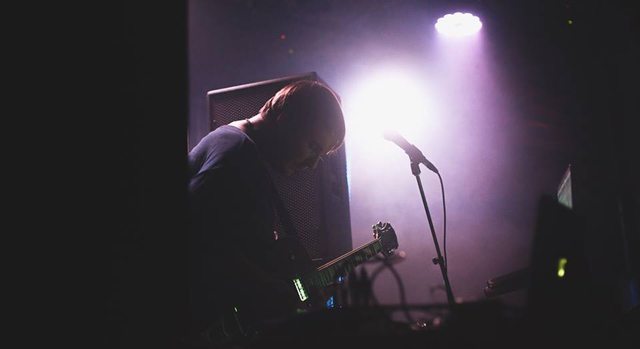 When Stewart decided to bring his Vapor City album to the stage, a lot of planning went into striking the perfect balance between visuals and sound. "You have to be careful, obviously," he warns.
"You don't want the visuals to overpower what you're doing on stage. But, at the same time, you don't want it to be too boring."
The images that roll behind him, designed by artist Weirdcore, are stunning and hypnotic, but it's easy to keep your eyes on Stewart himself, along with drummer Lane Barrington. "The more fun you're having, the more on-point the music is going to be," he says.
GEAR TAKES PRACTICE, TOO
With numerous studio projects on the go, Stewart makes a lot of music—but not all of it is intended to be released. "I just try to get into the habit of being in my studio a lot, practicing with the gear and software I have," he says. "Whether that means tutorials, or just in general, making a track even if I'm not going to use it for anything. It's just the nature of practicing."
"Practicing and learning about your craft are the main two things that you're responsible for. That is your responsibility as an artist."
CONNECT AND COLLABORATE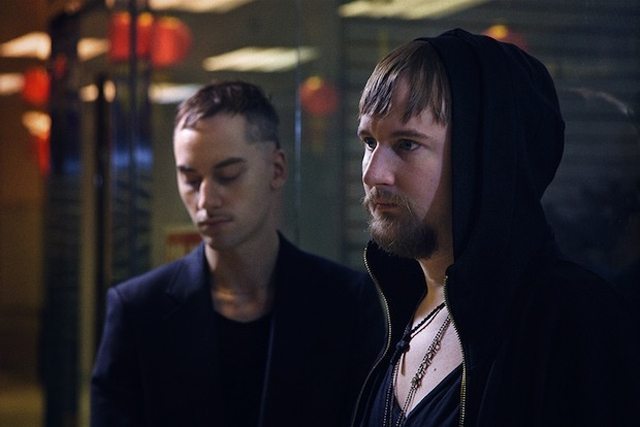 "Being an early internet nerd kind of helped my situation a bit, just getting to know other musicians and other people that worked in the music industry," Stewart says of his early networking. "Even having my geographic disadvantage of living in the middle of nowhere, I was still able to find a lot of other musicians and become influenced by them and establish connections."
From forming those bonds, he'd go on to collaborate with other producers like Praveen Sharma (as Sepalcure) and Jimmy Edgar (as JETS), and vocalists Azealia Banks and Jesse Boykins III. "They both serve different purposes, satisfying different needs that I have," he says of his instrumentals and vocal-driven tracks. "It's a different hat I have to put on. When I'm in the producer's chair with a songwriter or vocalist, it's a different experience. I'm kind of working different parts of my brain. I like being able to explore all those different areas," he says.
Those early connections are also what helped him get noticed. "Even then, it was pretty difficult to get your demo in someone's hands," he says. "In a sense, that has never really changed. The whole idea of labels signing demos doesn't really happen. And, I don't think it ever really did happen. It's always been based on [the idea that] if you have a friend of a friend who works at a label, or you know an artist that's releasing with a certain label, they keep putting that person's name in the right person's ear, then they're going to pay attention one day."
Machinedrum plays April 23 at Moogfest, a five-day festival dedicated to the synthesis of technology, art, and music. The festival honors the creativity and inventiveness of Bob Moog and pays tribute to the legacy of the analog synthesizer with an experimental lineup including Kraftwerk 3D, Pet Shop Boys, Flying Lotus, and more. Single-day and five-day GA passes available here.
Lead photo credit: Nicole Browner