Behind the Mix: Adam Marshall Talks About His XLR8R Podcast and the Art of EQing
Before he made the jump to Berlin, Toronto's Adam Marshall was already an integral player in Canada's hallowed techno and house scene. But in recent years, his popularity has only grown. With a packed touring schedule, a highly acclaimed studio partnership with Christian "XI" Andersen called Graze, and the 50th release of his New Kanada label, Marshall is the definition of an in-demand producer and DJ. Yet he still found time to drop an amazing podcast mix for XLR8R a couple weeks back, so we talked with him about his approach to mixing and how he put it all together.
DJ TechTools: You packed a lot of tracks into this XLR8R podcast. Do you typically shoot to get a lot of flavor into a mix?
Adam Marshall: I have a pretty wide range of influences, but this is a distilled version of a certain mood. It's techno, but there is a rock, hip-hop, pop, classical, and jazz veins in here.
Would you say these tracks are a good sample of the Berlin vibe at the moment, or are you pulling from other scenes too?
I'd say I'm inspired by a lot of different scenes and sounds, and not really focused on any particular one. Good music can come from a lot of different places these days. If I was stuck on a particular style, I'd miss a lot of really good music being made at the fringes.
Do the expats living in Berlin have a different style of DJing in comparison to the Germans? If so, how does it differ?
I think it's a pretty personal thing, and hard to define by where people are from.
When you play a club set, you're obviously tailoring your set to the crowd as it develops. Who do you feel like you're playing to when you craft a podcast mix? Is there a philosophy behind it?
When I'm playing in a club, I play for the floor—I play vinyl and everything is live. A big part of the experience is the fact that everything is on a knife edge and can fall apart instantly, and I think the phase of records being mixed together—or a bit out of phase—can really create magic sometimes with the audience. Making podcasts is a bit different because it's a more personal thing, and doesn't have the audience reaction. I'd say this is a definite difference between the two.
This podcast represents the mood I go for when I DJ, but the records that I've chosen for the podcast are probably quite different than the exact records I'd play in a club. In a club you can play much more simple and raw tracks, which sound full and complete when amplified on a big system. This dynamic wouldn't really transfer for a podcast listened to on an iPhone. It's a different beast.
Did you plan out the mix first? Did you do any post-production on it?
I usually go through my records for a few days and figure out where I want to go with the mix. Post-production-wise, I tend to go in and add percussion fills and tweak certain frequencies. I tend to look at mixes as a release of sorts, and really spend some time locking down the groove.
The EQing frequencies on the mixer really give it some character, and I enjoy getting really deep in the details. I find I enjoy listening to older mixers multiple times if there is some real attention to the details post-mix—things that don't get noticed until after three or four listens.
What did gear and software did you use for this mix?
Technics 1200s, an Allen & Heath Xone:62 mixer, Eventide Space reverb pedal, a Koma FT-201 analog filter pedal, and Ableton Live.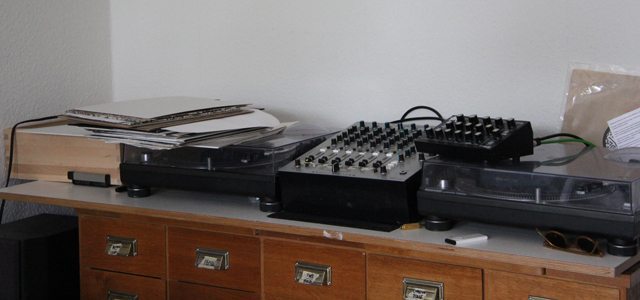 The blends here are often pretty drawn out. Any tricks or tips for keeping them seamless the way you do?
I'd say it's all in the EQing. The EQs on the mixer can really add subtle changing dynamics to tracks, which can make even the most repetitive tracks shine in long mixes.
Where do you do your crate digging?
Hardwax, Clone, Phonica, Honest Jons, Rotation, Technique, Rush Hour…
For people wanting to make techno or house nowadays, do you have any Dos or Don'ts?

No. Just go for it.

Do you look at DJing, running the label, and collaborating/producing as all part of one bigger whole, or do you see each element as separate from one another?
A sense of curation is the common thread between these. And I'd say DJing influences running a label.
What have been the biggest lessons you've learned about running a label over the last 50 releases on New Kanada?
Don't treat it like a business, and things will work out.
Hear more from Adam Marshall here, and check out Tren-Tren, his vinyl label design blog.