What A Twitter-SoundCloud Merger Means For Producers and DJs
The tech-blog world is blowing up with reports that social-media giant Twitter is in talks to acquire SoundCloud. We're not sure how founded the rumor actually is, but such an acquisition could have serious implications (positive and negative) for producers and DJs around the world. We take a closer look at how Twitter might affect day-to-day SoundCloud users in this article—come speculate with us.
CUT FROM THE SAME CLOTH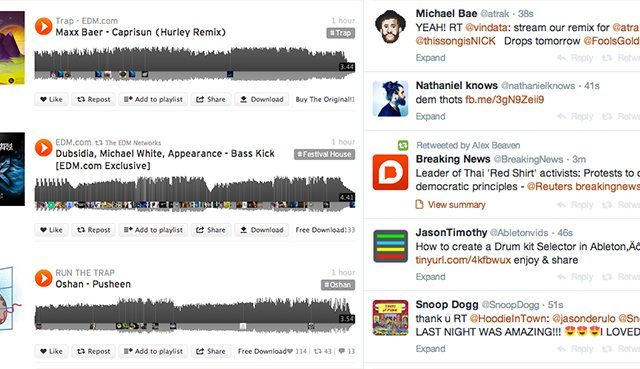 The rumors around the internet are all brief and free of details—but most sites are focusing on the implication of the deal for Twitter. 250 million active users on SoundCloud (recently valued at $800 million) suddenly becoming a part of the Twitterverse seems to many tech commentators like a user play, similar to Facebook's recent WhatsApp purchase.
Twitter and SoundCloud make for a pretty reasonable team, since they're already very similar companies in many respects:
Twitter is well known as a micro-blogging platform that took short, public communication out of Livejournal, Blogger, and others and into a format designed for brevity and immediacy. Anyone could very rapidly publish content on Twitter and potentially get read by any number of people around the world.
SoundCloud has created an active community of 250 million users that thrive on fresh musical, track-based content from artists. It similarly emerged from the very blog-heavy music curation world prevalent in the late 2000s (remember bloghouse?), and made track sharing something that artists could rapidly engage in. As with Twitter, any artist could very rapidly publish a track and get heard by any number of people around the world.
SO WHAT HAPPENS WHEN THEY MERGE?
We continue to experiment with new ways to bring you great content based on the music activity we see every day on Twitter.

— Twitter Music (@TwitterMusic) March 21, 2014
The deal is still under discussion, but it's never too early to speculate on what might change. We won't focus too much on Twitter—since we're pretty sure more DJTT users use SoundCloud more regularly than Twitter. Here's four ways that we imagine users might see a difference when/if #twoundcloud makes its debut:
#1: A BIGGER ACTIVE AUDIENCE

One of the first things to happen after an acquisition would likely be a merging of the two user bases. Twitter users (255 million active every month) will quickly be able to comment, share, and like content on SoundCloud.
One of the biggest obstacles for engagement on any platform is registration, but if Twitter users are already signed in, hitting the Like button on a track makes it that much more likely.
We suspect that followership would merge as well—so if you follow an artist on SoundCloud, they'd show up in your Twitter feed, or if one of your Twitter friends puts out an EP, that would also appear. Remember: Facebook has been slowly failing music artists who don't want to pay for content visibility, so there's real potential to take up some slack in this department.
#2: INTEGRATED MEDIA; QUICKER + EASIER SHARING 

Remember how Instagram photos used to show up directly in Twitter feeds? It vanished when Facebook snatched up Instagram, and now only certain media providers have in-feed viewability. The image above shows what Soundcloud links look like in Twitter's feed by default—not exactly the most enticing way to present an audio file. Odds are very good that if a merger happens, Twitter feeds will prioritize engagement on SoundCloud content, likely right from the feed (you can click in to a tweet with a SoundCloud link and see an embedded player, but that's one more click before actual content).
#3: ADVERTISING AND PROMOTION

Let's talk about money for a moment. Twitter makes money from Promoted Tweets, which allow companies to spend cash to get their tweets in front of users who might engage or suggest the business/brand to likely followers. Expect the same behavior to appear on SoundCloud, and cross-pollination of "Promoted Tracks" in Twitter feeds as well.
We'll see how this plays out, and it's likely a sticking point for some at SoundCloud, which has never had real advertising incorporated into it, instead making money from Pro accounts with more audio storage. The track-sharing platform has only come close in the last year, with Pro Partner accounts getting the ability to add banner graphics to tracks to make them stand out in the homepage stream.
#4: TRENDING MUSIC, ARTISTS, AND LOCALIZATION

If you've been paying close attention to Twitter, you might know that they already made an attempted foray into the music scene with Twitter Music, a now-scrapped internal project that hoped to tie together music discovery and Tweets. With the purchase of SoundCloud, Twitter would be well suited to try again, instead focusing on what music that's on SoundCloud is trending and popular.
Twitter already has some of the most interesting trending information for topics being discussed worldwide and in individual countries with Trending Topics, and doing the same with SoundCloud content would give them ample data to become a major music-discovery platform. We could easily see this engine becoming as powerful as Hype Machine.
Twitter does localization really, really well, encouraging users in all different countries to join and use their platform. If its use in various protests and revolutions wasn't evidence enough, just look at their top five global markets by reach (from 2010):
Indonesia
Brazil
Venezuela
Netherlands
Japan
If they can similarly provide a great experience and platform-adoption rate to countries that don't have a massive cultural reach, it would mean that there could be some amazing new music discoveries. Imagine seeing tracks that are trending for, say, Indonesian SoundCloud users. We would expect a lot more left-of-center tracks, artists, and genres to get attention.
#5 AND BEYOND: YOU TELL US
There's no doubt that a merger of the two services would be dramatic. What would you want to see if the two joined forces? How do you imagine SoundCloud would improve or worsen under Twitter's umbrella? Let us know your thoughts in the comments below.
Read Next: How To Win At SoundCloud