For the last few months we've been building out a brand-new pop-up store and community space in our office in the Dogpatch, San Francisco, and we're excited to announce that the doors are finally opening this week. After the jump, learn more about what we're doing in this space, how you can get involved, and what our plans are for the future.
GEAR: TEST OUT OUR LIBRARY + BUY EQUIPMENT

One of the big features of our pop-up store is the DJ Library, a full repository of DJ and production gear. We're making it possible for DJs and producers to try out gear before they buy it. For example: Not sure if the Ableton Push is what you want in a production controller? Want to see exactly how the Midi Fighter Twister sequencer works? Or want to play with the new Roland AIRA gear? Come spend an hour with it in our space for free, or check it out for 24 hours (old-school library style) and see if it fits into your workflow.
We also are making it possible to finally purchase all of the gear that we sell in our online webstore here in San Francisco — so if you want to do a local pickup, it's no problem. Want to upgrade your gear? We'll also be trying out an in-store-only buyback program for old DJ equipment (must be in fully working condition). Come by the store for details.
MEET UP WITH LIKE-MINDED DJS, PRODUCERS, ETC.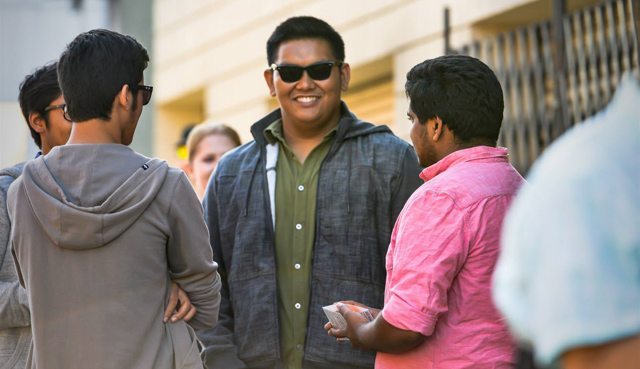 One of the best things about having a space like this one is that it gives us the perfect venue to meet and host events. We're starting off with a few fun meetups during the next few weeks — details below:
June 26th 7pm – 9pm: Producer Speed Dating (Producer Meetup): We wanted to put a new twist on the "Share Your Track" concept that we find in a lot of producer meetups. Bring in a track or idea that you've been working on and get ready to share it for one-on-one rapid feedback in a series of five-minute "dates." RSVP + MORE DETAILS HERE
July 3rd, 7pm – 9pm: DJ/Producer Headphone Shootout (Gear Meetup): Gear meetups will be opportunities for gearheads to get their hands on a wide array of gear or the latest new products to test them out and see how they work. For this first one, we'll have a full spread of the most popular DJ and production headphones all set up for comparison and listening tests. RSVP + MORE DETAILS HERE
July 10th, 7pm – 10pm: DJ Mixoff: Round Robin Mixing (DJ Meetup): Inspired by Skratchpad and an old DJ Techtools tradition, we're inviting DJs of any skill level and any setup to come mix in a round-robin-style setup. Each DJ will mix into the DJ before him or her, mix a second track in, and then mix out — continuing in a circle around the room! Turntablists, controllerists — everyone is welcome. RSVP + MORE DETAILS HERE
We'll also be starting up formal educational classes in July, and will announce them on the Coffee and Controllers mailing list, which you can sign up for here.
COFFEE + STORE HOURS + LOCATION
Wondering where the coffee fits in? We're trying to bring the sense of collaboration and conversation that was so common in the coffee shops and record stores of old back into a modern DJ store. There will be fancy-pants pour-over coffee available in the shop, with a suggested donation to keep the beans flowing.
Coffee and Controllers is located at DJTT HQ in the Dogpatch neighborhood of San Francisco; our address is 560 19th Street. Our hours (for now) will be from 2PM to 10PM from Wednesday to Saturday, although these will be subject to change depending on the needs of our community.
DJTT OPEN HOUSE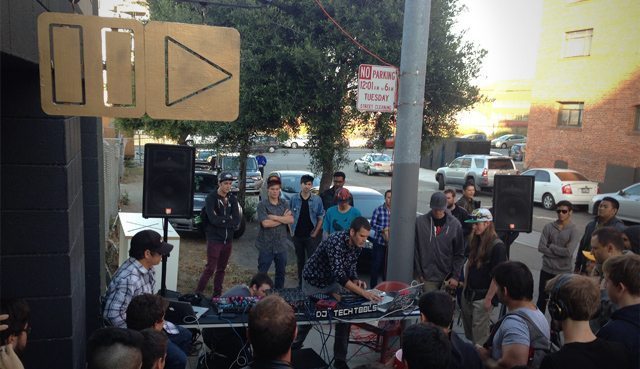 What would DJ TechTools be without a regular party? We threw a soft-opening block party last Friday and it was a huge hit, with over 300 people in attendance throughout the course of the night. Keep an eye out for a performance video of part of Mad Zach's set featuring three Midi Fighters and a Moogerfooger. We'll continue to have similar parties every month to bring together the entire music and tech communities in San Francisco and beyond.
Finally, we decided to open up our SoundCloud and Mixcloud accounts to everyone who stopped through the open house, inviting them to add their most recent work onto playlists for the event. Check out what some of the local community has been working on with the embedded playlists below:
#DJTTopenhouse by Djtechtools on Mixcloud
Have suggestions or ideas for something you'd like to see us do in the pop-up? Let us know in the comments.
Header photo credit: Shubham Garg — who took some great photos at the Open House event; check out the full set here.