Elektron's new flagship Analog Keys synthesizer is no entry-level piece of gear. It can seem convoluted to use at first, and its steep price point will put it a little out of reach for the average consumer—but is it worth it for synth heads? Today we take a look at its many features and draw some conclusions.
Reviewed: Elektron Analog Keys
Price: $1,849 MSRP; $1,799 street
Available: Now
Key Features: True analog oscillators, filters, and signal path
The Good: Well built, slick, clean design; detailed-sounding oscillators and filters; each OSC has its own tunable sub-OSC; each voice has two filter stages; has many advanced features including sophisticated sequencer, high-quality effects, and control voltage outputs
The Bad: High price point; limited to four-voice polyphony; steep learning curve, small LCD, and deep with features and sub-menus
The Bottom Line: As usual, Elektron doesn't disappoint in uniqueness, detail, design quality, and overall usability
A LITTLE ELEKTRON HISTORY
Elektron has come a long way since the development of the SID Station back in the late '90s. I have lots of respect for small companies that bring their out-of-the-box ideas to life and go out on a limb to release a non-traditional product line. This is how great things are born and how history is made. Elektron is no exception—each of their products is original, with unique traits. Unfortunately, not everyone will appreciate them, which means the gear's user base is often limited to serious artists, geeks, and wealthy folks. A small user demographic usually equates to fewer units produced and a higher price point. Elektron knows that—and the bottom line is that good things usually don't come cheap.
ICE BREAKER
When I unpacked this unassuming little synth, plugged it in, and flipped it on, I'll admit that even as a seasoned synth programmer, I was a bit confused—even after having toyed with it earlier this year at NAMM. I had actually read through most of the manual and watched a few videos beforehand, yet I was still a bit frustrated with it when I had my hands on it. I took a deep breath, told myself, "Okay, this can't be this difficult," and began scrolling through the sounds. After all, this is the fun part, and the heart of what you're going to be doing most of the time anyway.
PROJECT MANAGER
The Project Manager is a bit to wrap your head around at first, but in the end makes perfect sense. You can store up to 128 Projects, each of which can be its own unique setup. Say you have several live setups or are producing a few different tracks or genres. Each project can be custom-tailored for your specific workflow needs. This includes all the elements you need, filed into one slot.
SOUNDS AND SOUND BROWSER
The Analog Keys' sound structure and signal path is a familiar one, similar to many classic subtractive analog synthesizers. The patches (sounds) didn't seem to overly rely on the onboard FX. It was refreshing to hear relatively pure, unaffected sounds, tastefully sprinkled with high-quality effects. It's a pet peeve of mine when synth manufacturers disguise a crappy patch with loads of effects. Elektron achieves this purity by keeping the signal path of the OSCs and the digital FX parallel. It is interesting that their diagram doesn't depict this. In short, this keeps a pure, unaffected, dry signal path present, mixing in digitally processed signal alongside it.
Its OSCs are clean, in my opinion, and sound reminiscent of later-model Roland synths. This may be due to the digitally controlled oscillators (DCOs). So wait—it's real analog but we're talking digital? Early synths like the Roland Juno series employed this method of keeping otherwise unstable Voltage Controlled Oscillators (VCOs) in line. The OSC is still analog, but doesn't rely on voltage alone to keep it in tune. Modern synths like DSI Prophet '08 and Tetra use this technology as well. It has its drawbacks in that when playing chords, voice tuning doesn't drift to create a fat chorusing effect. The answer to this is an OSC drift (on/off) function that purposely detunes the voices to create that great Prophet 5-style fatness. The analog overdrive circuit also helps with attitude and character. The Noise Circuit, LFOs, and Envelopes are digital, which is fine—in fact better. LFOs and Envelopes aren't audio signals, and it's more versatile and stable to have them be digital. The LFO rates can get up near the audio range, so FM-style sounds are possible.
There is an Arpeggiator, which is for the most part a classic, straightforward one. It has a poly mode for playing chords. Nothing really out of the ordinary here, but useful nonetheless.
Managing sounds is maintained in two places: At the Project level and globally. Projects can have 128 sounds in their Sound Pool. These are chosen from the +Drive Sound Library, capable of storing a whopping 4096 sounds. Kits include four sounds (one per each track), FX, and CV settings.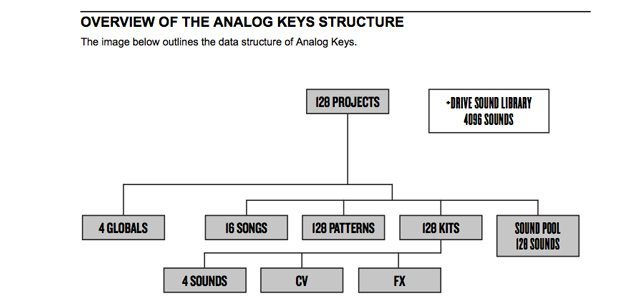 FX SECTION
I'm not going to go too deeply into each effect, but what I can say is that they appear to be of high quality—especially the reverb, which is often skimped on. This is due to the processor-intensive nature of reverb, so thank you, Elektron, for going the extra mile on that one. From a layout standpoint, it's a little deceiving to me that the FX sends are located in the AMP section. As far as signal path goes, it does make sense—it's just not so intuitive. It's good to know that the Saturator Delay will smear pitch for an analog or tape-delay effect. This is always cool for the dramatic Radiohead grinding-halt ending featured in the classic track "Creep."
SEQUENCER
Eventually I went back to the manual and found my way to the Track Sequencer. For the record, I don't do well with user manuals or directions of any kind for that matter. I'm the guy that ends up with five extra screws, after assembling a DIY project.
Once I got a little more familiar with the layout, it wasn't as intimidating as it had been at first. Within minutes I was selecting sounds and recording sequences with relative ease. When I hit an obstacle, I'd refer back to the online .PDF (no hard copy besides the quick guide was provided).
It's a cool step-style sequencer that be step-written or played in real time. It can be quantized, or micro timed for a more natural unquantized feel.
You can have up to 256 patterns that can be chained together with up to 64 chains (sequences) sharing those 256 patterns. This means you have to divide the 256 amongst the chains, so for example, 64 chains could allow for two patterns per chain and so on. Two bigs chains could take up 128 each. You would probably never have chains that large—that's what songs are for. Most chains would be no longer than four patterns, but that really depends on the individual user.
So you have a four-track sequencer playing four sounds with a four-note polyphonic synth engine. If they were all to play at the same time, you'd get one note per track, per step, before one is stolen to trigger the fifth note. That's pretty limited. A cool Elektron feature to help remedy this is that you can poly-lock select tracks so they aren't affected by note stealing. This works great for bass and percussion lines that you want to take priority. It doesn't buy you more voices, but it keeps sequences from sounding glitchy or choppy (in a bad way).
There are some tricks you can use to make one-note chords, such as tuning the two oscillators and two sub-oscillators to different pitches. Also, adding a long trail of delay and reverb to mono sound or a one-note chord can make it appear to be polyphonic and to not sound cut off when triggering the next key. Face it, you've only got four notes, so make them count. The Analog Keys' strengths lay in its cool step sequencer. I like to think of it more like sequencing drum parts and clips, than playing lush, chord-heavy pieces.

Track Key Buttons 5 and 6 control FX and CV. This is great because you can automate the FX as well as your outboard CV gear.
There are far too many features to list in a written review. I've barely scratched the surface myself in the couple weeks I've had it. Worth mentioning before moving on, are the Pattern Modes: Direct Start, Direct Jump, and Sequential. Those familiar with Ableton Live will appreciate these modes. Direct Start immediately starts a pattern from the beginning, no matter where you are in the previous one. Direct Jump starts a pattern immediately, but the new pattern starts from the same position as the previous one. Sequential lets the current playing pattern complete before moving on to the new one.
Parameter locks are a cool feature. They allow you to step-sequence in synth and FX parameters for expressive sequences. This is a good way to get wave-sequencing-style tracks as well as transforming a sound into a entirely different one on each step.
PERFORMANCE MODE
One of my favorites is Performance Mode. Geared towards live sets, you can assign up to five parameters to 10 data-entry control knobs. These are macro controls and great for tweaking several sound and FX elements at once for dramatic and dynamic expression.
Another useful feature is External MIDI Mode at the push of a button. This allows you to transform the Analog Keys into a standard MIDI controller. It's a little limited, but still a space saver for confined setups and triggering laptop and external MIDI sources.
CONTROL VOLTAGE OUTPUTS 
One more super-cool feature is the Keys' ability to control Control Voltage gear, CV for short. There are four CV/Gate outputs on the rear of the unit. They take a special side-chain-style TRS to split quarter-inch cable (basically, a stereo to split mono works). This is just a space saver, allowing two in one jack.
These are switchable between volt-per-octave synths and Hz-per-octave synths. Without getting too far down that rabbit hole, most modular synths' oscillators are scaled by one volt per octave. Some of the Japanese synths like the Korg MS-20 and Yamaha CS series use a Hz-per-octave standard. With the Analog Keys, you're getting a MIDI-to-CV converter. I paid about $500 or more for one of those alone!
With all the cool new boutique modular synths out there, this is another great feature set for the advanced user. If you want to get real slick, you can run your outboard analog synths' audio in to the Analog Keys' audio inputs to process it.
Something worth mentioning while on the topic of external CV gear are the DIN Sync outputs (shared with MIDI Out & Thru on rear of unit). This is great for syncing up pre-MIDI machines like the Roland Juno-60 TR-909, TR-808, TR-606, and TB-303.
GETTING NITPICKY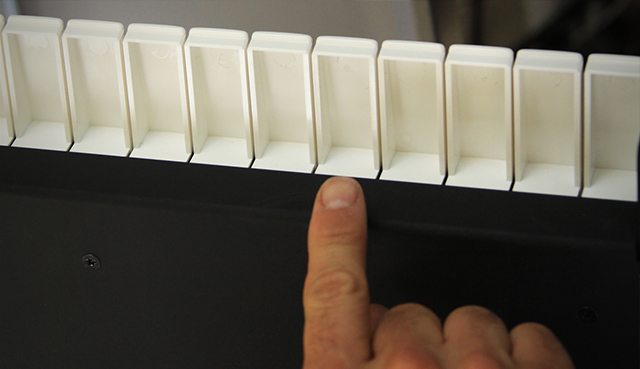 I haven't actually used an Analog Four, but from what I can tell, the Analog Keys is basically the same unit with the addition of a keyboard, joystick, octave selector, and four outputs. If you don't care about the extra outputs and already have a good keyboard controller, then it might be wise to save yourself the $500 and get a Four.
The keyboard keys are left a little unprotected the way they are designed to hang off the edge of the chassis. This is asking for someone to grab ahold of the synth expecting the common keyboard design and accidentally remove a key or two, or at best spring one out of place.
The paint job, although it appears smooth, has little bumps in it. I'm not sure if it's only my unit, or a common issue with the painting process. Not a huge deal, but for the nitpicky, it might be.

The joystick is a bit small and loose for my taste. It's fine once you get a feel for it. At first I found myself being a little heavy-handed and accidentally bumping it, knocking the pitch out occasionally.
A dedicated tap-tempo button would be nice. Okay, there is one—well, kind of. You have to push the Function button along with the Tempo button—a two-handed action, in that they aren't near one another.
The LCD on my unit was mounted slightly askew and not completely centered. I didn't notice this until I shot photos, so it's probably nothing to dwell on.
WRAP-UP
So in end what are we left with? Personally, I don't have much more space for another full-on keyboard synth, so I'd probably just opt to get an Analog Four desktop and save myself the $500 or so bucks. For the serious live and touring artist, I'd say spring for the full keyboard. It has a good feel and the additional outputs might come in handy. I prefer joysticks to wheels simply because I feel they're more expressive and you gain one more dimension of movement for control (X/Y axis), as well as smooth morphing abilities between them. Elektron has once again created an inspiring and fresh product. They have done well in giving us their unique spin on what could have been just another modern analog synth, in what is quickly becoming an over-saturated market.
Have a favorite new analog synth? Tell us about it in the comments below.