LANDR is a new online service that offers to master your music files in just moments. Whether you use it on finished stereo productions, individual song tracks, samples or full DJ sets, the LANDR algorithms master WAV or MP3 files. But is that really possible, or is it too good to be true? We test the service and invite a professional mastering engineer to pit his results against the automated LANDR results. Hear the results and enter an Ellen Allien remix contest for a chance to win a free year of LANDR and other huge prizes.
The mastering of audio can make fools out of even highly experienced music producers. It's the somewhat esoteric process of taking a mixed-down stereo file and processing it to make it ready for distribution. That can include making it punchy or more dynamic, more or less bassy, altering the stereo image, adding multi-band compression/limiting and/or EQ and just in general making it sound "better."
While plenty of artists master their own material, many of them—even, or especially at the highest level—never really learn the skill and prefer to use dedicated mastering engineers who are both highly educated and experienced with the art and science of mastering. A lot of mastering these days takes place entirely in software with high-end plug-in suites, but engineers will also still use outboard processing, often utilizing all-time classic studio gear.
That's why when MixGenius launched LANDR in May, many people greeted it with eye rolls, chortles or outright derision. The idea that a small company could offer an alternative to the time-honored craft of audio mastering in the form of dynamic algorithms that return a processed file online in a matter of minutes simply seemed too impossible to believe.
There are two clear reasons why not to dismiss LANDR automatically.
Historical precedent. In the last couple of decades, we've seen digital processes do things with audio that a previous generation may have never thought possible: treating audio "elastically," real-time pitch correction, the breaking down of polyphonic audio files into their smaller component parts, etc.
LANDR can be useful as it's own thing, rather than a literal replacement for traditional mastering. When you may not have the time or the money for a mastering engineer, you can use LANDR on a new track before you play it in a set, on a DJ mix, or to see how it sounds on a single sample or an individual track of a project.
The Lay of the LANDR
Montreal, Canada's MixGenius sprung up in 2012 from the founder's 8+ years of research on a doctoral dissertation.  Since launching in May, LANDR has pulled more than 100,000 users, both at the free level and paid subscriptions.
In the near future, MixGenius plans on adding more audio formats to LANDR, but for now it outputs either uncompressed WAV or 192kbps MP3 from  its drag-and-drop web interface. Its membership plan includes:
Free – Unlimited 192kbps MP3 files (no WAV masters).
Pro – Unlimited 192kbps MP3 and 4 uncompressed WAV master per month for $9/month.
Pro Unlimited – Unlimited 192kbps MP3 and unlimited WAV for $19/month.
Business – Unlimited 192kbps MP3 and unlimited WAV for multiple artists for $29/month (intended for labels, production houses, managers, etc.).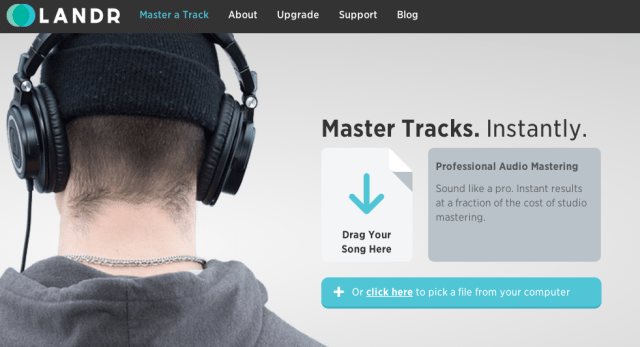 We tried out the LANDR system, and it was extremely easy to use. You simply drag an audio file to the web page (or choose a file from your computer's directory), and when it's finished uploading, LANDR begins processing.
After about a minute, a clip of the result starts to play and toggles over to the original for you to compare. If you have a free membership, you don't have any other options, and you click a finish button for a download link to the track to be emailed to you.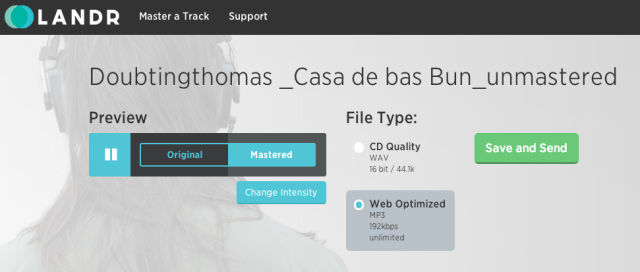 However, if you have any of the paid memberships, you can change the "intensity" of the master to Low, Med or High. Those intensity levels vary the amount of what's happening in the master, including bumps up in the perceived loudness and the clarification of different parts in different frequency ranges so that they stand out more.
Once you choose the intensity level, you just choose the format you want (MP3 or WAV) and finish. The whole process only took about six minutes per song, including uploading a WAV, getting the master preview, choosing the intensity level and then receiving and downloading the mastered WAV.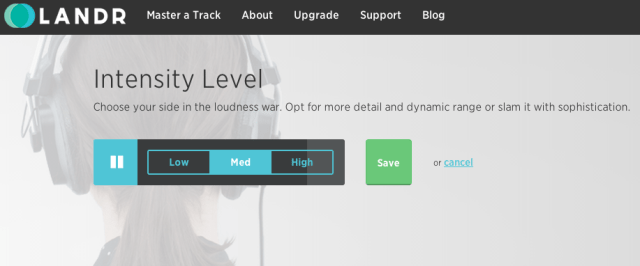 There's no doubt that for the several of our own remixes that we fed into LANDR, they came back out with more clarity and intensity in the bass and high-end, with less muddiness overall. Individual parts seemed to stand out more, and for what it's worth, the overall loudness was pumped up (less so for the tracks that were done at the Low or Med intensity levels). Check out these before and after results in the first of two Soundcloud playlists.
That's all well and good for someone like yours truly, who is definitely not a mastering engineer and whose mixing skills are still a work in progress to say the least. So to further scrutinize LANDR, we decided to take an unmastered track from a third party and then get a professional engineer to master the track and compare that result to LANDR's output.
Head To Head
We start with the minimal techno track "Casa de bas Bun" by Doubtingthomas, courtesy of Archipel Musique Canada. You can listen to the unmastered version first in this embedded Soundcloud playlist.
We fed the track into LANDR and used its initial results rather than choosing an intensity level. Tasha Anestopoulos, the artist relations manager for Mix Genius, told DJ Tech Tools that LANDR's algorithms are not static, but adaptive and reactive to each individual audio file that they receive.
They analyze various aspects of the music and then select the signal processing to apply based on the characteristics of the music. The system also tweaks itself over time the more tracks it receives. "The more music that's fed into it, the more it's fine-tuned," Anestopoulos said. "It's not a static process; it's a big-data analysis process."
When the LANDR version of "Casa de bas Bun" came back, it definitely sounded louder and there was more thump to the bass, as well as more snap to the snares, high-hats and the rest of the high end. Listen to the second track in the Soundcloud playlist.
While mastering engineers can certainly cost hundreds of dollars per track or thousands for an album depending on the scope of the project, with the shrinking cost of music studios and production tools, there are also much more affordable options that will still deliver great work while giving you the advantages human interaction with your mastering engineer.
Places like Symphonic Distribution offer mastering for $15 per track. Great Britain's Label Worx provides all kinds of services for digital labels and is a Mastered for iTunes Approved Mixing & Mastering House. Its mastering prices start at £12.50 per track, with bulk discounts available. If you look at the Pro level of LANDR as costing $2.25 per WAV file, the pro engineers still cost a lot more, however, they're reasonable while affording you the ability to have a conversation about what you're looking for and perhaps feedback on the results.
We were able to get Label Worx Director/mastering engineer Matthew Abbott to take a run at mastering "Casa de bas Bun," and he offered his view on the LANDR version of the song. "First off, mastering is a very subjective thing with no black and white and are many shades of grey," Abbott said.
"Ultimately it often comes down to personal preference. Our mastered versions are what we feel is right for a particular track and the current styles in the clubs. Also, we completed this master somewhat blind, as we normally encourage more info and feedback before starting a relationship with a new customer. For me, the LANDR version is too bright/harsh on the tops. The bass has been lost somewhat, and in this style of track it is the essence of the track. Also, too much stereo spread has been applied, and it has lost some punch and dynamics."
You can listen to the Label Worx master (track three in the Soundcloud playlist) and compare it to LANDR's. Besides any difference in sound you may get with a mastering engineer, Abbott offered some extra details about what you can expect from a mastering service. "Any good service will allow a level of feedback and discussion between the customer and engineer," Abbott said. "A great master comes from a great mix down, so without that feedback, the producer may never understand why they may not get the sound they want after mastering. We try to learn what our customers like and are striving for and try to work with them to get their unique style on every order."
Where Do You Land?
In comparing the two results of "Casa de bas Bun," I don't completely agree with all of Abbott's thoughts about the LANDR master, but I do agree that the LANDR master is a bit harsh on the high end and that the Label Worx master is noticeably more even keel and smooth in its outcome. When you lower the intensity of LANDR results, you can roll off some of that extreme high-end boost, but you can't give the detailed feedback on specific aspects of the track that you could when working with an engineer… at least not yet.
Mix Genius plans to launch quite a few upgrades to LANDR in 2015, including more purpose-built output settings for LANDR, such as settings for club play, online distribution and more. It will probably also pop up on other companies' websites as a licensed, embeddable widget called LANDR Module  for digital music aggregators, music creation networks and artists services.
There certainly is value to what LANDR does, and it's the immediacy and accessibility of it that makes a viable alternative to mastering engineers, rather than a replacement for them. Even though Label Worx has a short turn-around time of 48 hours and will deliver on the same day if possible on request, they can't match the anytime/anywhere and unlimited aspects of LANDR. Anestopoulos mentioned that LANDR has been processing more than 100,000 tracks a month, which is more than all the major mastering houses in the United States. "It will not replace the human ear," Anestopoulos said. "That is an art form and a skill set that has been cultivated over years and years. LANDR is a tool and a low-cost alternative."

Contest: Remix Ellen Allien, Master With LANDR, and Win!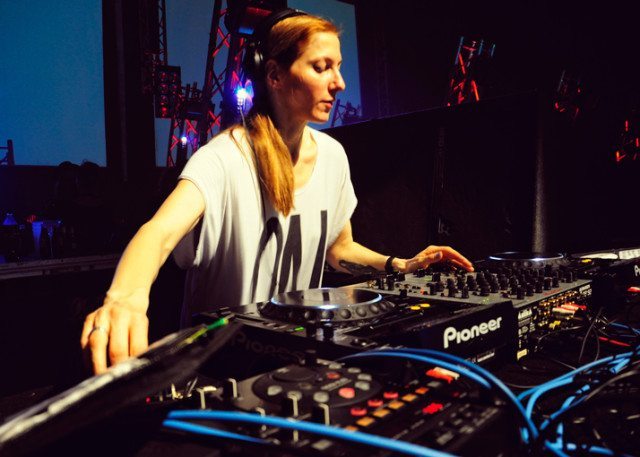 Anyone can try LANDR at the MP3 level for free right now or even sign up for a pro-level account. But to give you the opportunity to win a free year of LANDR Pro Unlimited, as well as some other insane prizes from Native Instruments, DJ Tech Tools and Mix Genius present the REMIX:REMODEL remix contest.
Berlin's tech-house legend Ellen Allien has graciously offered the stems to her latest single, "Butterfly," for you to download and remix. Not only could the winning remixes be rocking dancefloors worldwide during the Bpitch Control label boss's sets, but the top three will score a one-year LANDR Pro unlimited account.
"Butterfly" leads off the new Freak EP, which is a head-nodding, hip-shaking mini-dose of Allien's signature intelligent electro style. The winning remixers will receive:
Grand Prize – Native Instruments Traktor Kontrol S8, direct feedback on your remix and a one-year LANDR Pro Unlimited account.
Second Place – Native Instruments Traktor Kontrol S4 and a one-year LANDR Pro Unlimited account.
Third Place – A one-year LANDR Pro Unlimited account.
Click here for more info and to download the "Butterfly" stems.
We'd love to hear from you about what you think of the LANDR results, what you think the LANDR service would be good for, and whether or not you'd consider using it.