Today's Artist Gear Setup feature looks inside the travel bag of Victor Calderone. Victor Calderone is one of the artists that will be performing for Richie Hawtin's 2015 CNRTL tour. Fans can catch him live in LA on April 25th at Palladium. Like previous artists in the gear setup series, Victor stresses the importance of hearing protection, whether DJs are performing or not. Keep reading to find out what gear Victor Calderone packs in his bag.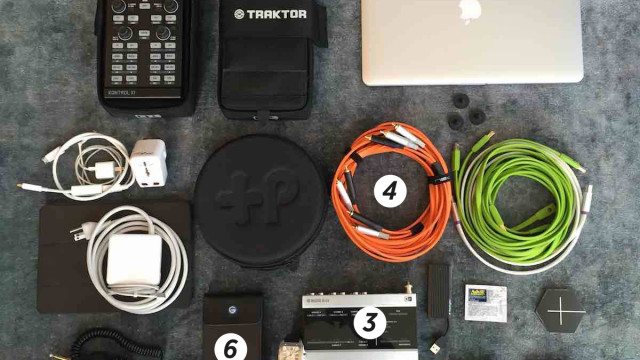 1 – Midi Controller
2 – Computer
MacBook Pro 15" (Maxed Out) Performance Computer.
3 – Soundcard
Native Instruments Audio 8 DJ Interface (check out DJ soundcards in the DJTT Store)
4 –  Cables
Oyaide Neo USB Cables with cases to avoid the birds nest.
Oyaide Neo RCA Cables in Orange to know the difference between USB and RCA in the dark.
Kensington Mini USB Hub. I like this hub because of it's small size and it doesn't require a power adapter.
Custom Made Rubber Laptop Isolators. A must in some DJ booths with way too much bass.
5 – Headphones
6 – External Hard Drive
7 – Hearing protection
Personal Items
Passport
Advil Liquid-Gels for after those marathon sets.
MATTER+ stickers to leave my mark around the world.
Clif Bar. Sometimes ends up being breakfast, lunch or dinner.
Cartier Santos Watch. I've had it forever and is still one of my favs.
iPhone 6 –  To capture all those moments and stay in touch with my family unit.
Sever Star Power adapter for every country
iPad Air for emails and movies.
Headphone splitter for watching movies with my wingman on those long flights.
Check out more of Victor Calderone at:
Looking for more artist gear setups? See what's in these artists bags:
What artist gear setup would you like to see?
Let us know in the comments below!