The 2015 Musikmesse convention in Frankfurt is set to start later this week, but as with most trade shows in the DJ industry, manufacturers try to stand out from the news cycle by launching their products in the days prior. Today, Reloop is introducing two new mixers, the RMX-22i and RMX-33i. These new mixers are compact two and three channel additions to the Reloop mixer range, and seem to be intentionally targeting two audiences: iPad DJs, and DJs looking for a cheap club mixer with Pioneer-like effects.
Watch the intro video below and then read more details:
A few key features on the new Reloop mixers to cover:
Sound Color FX: Clearly focusing on the model that Pioneer has set forward, Reloop has added color FX (filter, white noise, bit crush, and gate) to each channel, and forgoing any BPM-synced FX on these two/three channel models. They're dual pole, just like on the major Pioneer models.
"iPad" Split Inputs: Reloop has clearly seen that there must be some money in marketing to iPad DJs (although we have yet to see many out in the wild), and added a third input to each channel, a single 1/8″ port labeled "iPad". They're including a splitter cable as well, so if your iPad app (djay, Traktor, etc) supports Split Output, it's an easy setup.
Isolate or normal EQ: Again, matching Pioneer's example here, Reloop has made the EQ section switchable between standard (+12 dB / -8 dB) and isolator (+12 dB / -26 dB (Total Kill))
Innofader compatible: yep, you can drop in an Audio Innovate high-quality Innofader (read our review) into these mixers
Outputs: Looking at the outputs of a mixer often tells you who they want to sell it to. On both models, there's a XLR master out pair, an RCA master out, and an RCA booth out.
The mixers are available now and are priced at €249 (about $265 US) for the RMX-22i two channel model and €299 (about $316 US) for the three channel model.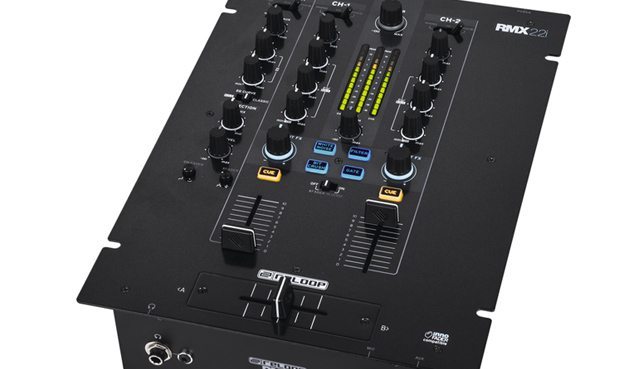 We're still left wondering a little bit with this slim of a price differentiation between the two models, but which are clearly using the same dimensions and external physical case, why make a two channel model at all? A three channel mixer is unique and exciting – but the two channel model looks almost incomplete with all of the additional bonus space on the right side of the mixer.
The "iPad" input is a good-but-simple addition – we suspect anyone who is already DJing on an iPad will already have the cables to route a split 1/8″ cable into RCA ports if that's their desired workflow, but having a dedicated channel means less fussing about if you're sharing the mixer with other DJs.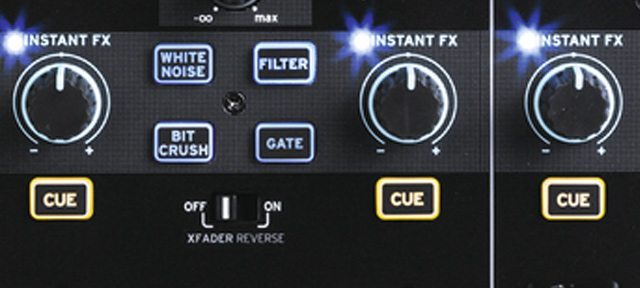 Of course, color FX are incredibly useful – but the beauty of Pioneer's layout is that you can layer the two effects units (Color and Beat) to make them interesting and dynamic. White noise without a bit of reverb or echo will always be a bit too abrasive for me.
All this being said, the price is right on these units – and with Pioneer mostly phasing out their two channel mixers last year, there's a gap in the market for this type of compact two/three channel mixer.