Selling music direct to fans can be a chore, and major distributors often have a better model for disseminating tracks out into the world. But what if artists could have the best of both worlds? With Drip (formerly Drip.FM), a hybrid model is taking off, and in today's guest article from Casie Millhouse we take a closer look a how the fanclub-style system works for 7 different labels and artists.
As more music fans are steering away from major retailers and going to direct-to-fan models with free downloads, direct payments to artists for EPs/LPs/singles, streaming websites, etc, artists and labels are having to reconsider their traditional approaches:
What if there was a way to keep fans and followers in the loop when new releases came out before they were released on major retailers?
What if there was a way to get paid every month but also interact with fans in a "you can't come in if you don't know the secret password" sort of online club?
Now, that would be seriously awesome. And with labels adopting Drip, that's already a reality. Sam Valenti IV (Drip's cofounder) writes:
"The concept around Drip is that the walls between creators and what they create has come down a bit. There are opportunities for creators, including labels, to provide a more holistic approach to sharing what they do and fans can provide value at the level of the creator, directly, if they choose.

We are working to make Drip a great platform for creators to use and one that provides a lot of fun and insight for fans. Miguel (Senquiz) and I are really proud of the new updates and going to keep building a better team to help it grow. We are just excited how many options creators have now. With Drip.com, it gives labels, artists and their communities a place to interact through a sustained subscription."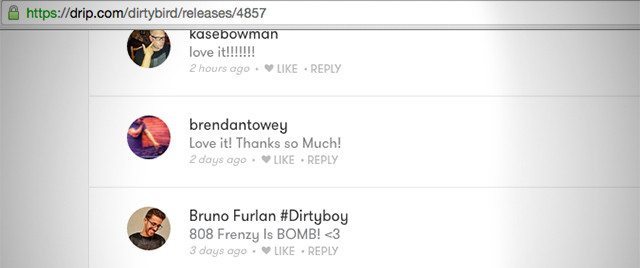 For many fans, these "clubs" (drips) have become a go-to place for music, where they know their money is going to the labels and artists directly. To get a better understanding of how well this system actually works, we asked 7 labels/artists to shed some light on the creator's side of the Drip experience.
What's one thing that's surprised you about the experience on Drip.com?
Can you share a tactic you used to make your fans happy?
Tell us the strangest fan interaction you've had to date. (optional!)
Listed in order of responses received.
Turbo Recordings was founded by Tiga in Montreal back in 1998. In addition to launching his own career, the label has been integral in the success of acts like Chromeo, Proxy, and most recently, Azari & III. Core talent includes Duke Dumont, Brodinski, Boys Noize, and a host of new young producers.

"[on Drip], I interacted back and forth with a fan long enough we eventually met and became friends."
"Tiga was looking to get rid of an old CDJ-100. I suggested he sign it and we ship it to a random Drip.FM fan – that worked really well!"
COMMUNITY is the joint drip of two house labels A-SIDED and Play It Down where they share what they do with their fans.
"We were pleasantly surprised to see the multitude of available file formats for downloads." [Drips allows artists to offer uploads in WAV, AIFF, MP3, and FLAC]
"We post our upcoming shows and offer guestlist to all of our DripFM subscribers. Furthermore, we will soon be giving fans stems to Play It Down and A-SIDED tracks for them to remix."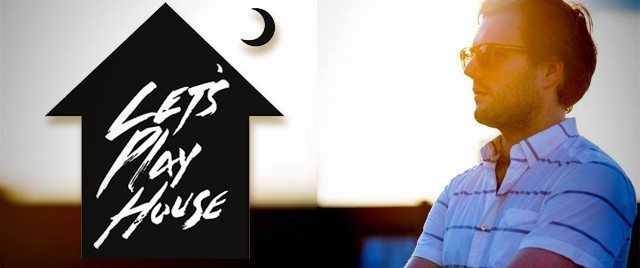 Let's Play House (LPH) was formed in late 2009, based out of Brooklyn and helmed by DJ/producer Jacques Renault and Anthem magazine senior editor Nik Mercer. LPH focuses on curating energetic, comfortable, and warm environments, in which attendees can loosen up and forget their worries.
"The thing that's rare about the Drip folks is they genuinely care just as deeply about the back-end label experience as they do the front-end subscriber one. Most businesses operating in a similar or related sphere (everything from SoundCloud to FATdrop) [don't] feel this way to me, tends to deliver a better UX for the back-end or the front-end, but not both. Drip is a tech start-up first and foremost, something that's completely apparent after using it for even just a few minutes. Really clever, smart, crafty platform that I will always be a fan of."
"Consistent and regular communication through Facebook wall posts, tweets, and email blasts. We've always strived to be open and welcoming to anyone and everyone even just marginally interested in what we're doing, what we're all about. It's of great importance to us to repay fan support with gestures of our appreciation. That's why we share so much through our socials and why we hook people up with freebies and discounts whenever we can. Zero pretension here. If you're gonna reach out to us, we're gonna reach back out to you"
"[…] one fan asked us if we would DJ a bachelorette party for her girlfriend. We were charmed and flattered by the request and probably would've done it if scheduling conflicts hadn't made it logistically tough."
The label that helped put digital cumbia and other modern Latin American derivations on the map, ZZK Records is pushing LatAm culture into the future. Chancha Via Circuito, La Yegros, Frikstailers, El Remolon, Animal Chuki just to name a few.
"I have been impressed by the support the people running Drip have offered us, always willing to answer a question and help with technical issues if they arise. Getting the opportunity to Skype with Sam Valenti (Co founder) and emailing often with Miguel Senquiz (co founder), who also gave me his cellphone number to give him a call, even though he was on his way to a DJ gig!, made me realize how much these guys care about their labels and artists. They treat ZZK Records like a partner."
"We raffle off merchandise to our drippers. We always get them every release before anyone else gets it. We create exclusive mixtapes and releases just for DripFM subscribers. We share with them "what we're listening to now' posts with a run down of what we're jamming at ZZK HQ in Buenos Aires, or at the sub-HQ in Atlanta."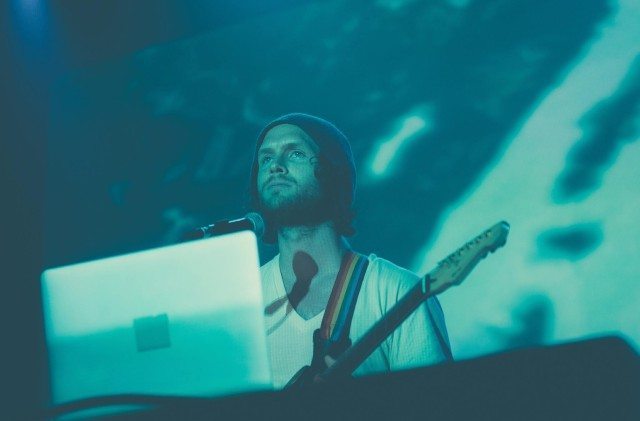 Christopher Willits is a creator focusing on immersive audiovisual experiences where sound, image and imagination overlap.
"One thing that has surprised me is how connected I feel to the group. I knew it was going to be a new level of intimacy, but now I feel like the members are a part of my creative process. By sharing openly with them and hearing feedback it catalyzes my process of creating in a new way."
"I was about to play a show in Tokyo and a messenger brought me a hand-written note from one of the members. It basically said "hey, tickets are sold out and I wasn't able to make a request for guest list beforehand (all of my members get guest list in addition to all the content for $5 a month). Can you help me out?"So I walked outside, found him and got him into the show. It was very cool."
"It's hard work having regular weekly releases of different content, organizing remix projects, and sharing the process behind the music and images I create, but it's definitely worth the connections and community that is building."
M+6 is a label pool on Drip. Participants are Morr Music (+ sublabels), Shelter Press, Miasmah, Sonic Pieces, Immune, Root Strata + Altin Village & Mine.
"Actually we were surprised how open-minded our subscribers are. When we changed our drip channel into a label pool, we had seven very different labels in the pool. So M+6 delivers a huge variety of musical styles. And there's even very, very strange and experimental releases. At first we were a little afraid to loose subscribers, but we git really nice feedback, people were really appreciating."
"Hmm, we don't consider our subscribers as 'fans', as this implies some ideas of hierarchy and stardom…we don't like this too much. We think our subscribers are music lovers in the first place. So we try to give them as much of new music as possible. Normally there's at least a new release every week, often more. On the other hand we're not 'dripping' too much from the back catalogue, that people might already know. If none of the participating labels of the pool has a new release, we simply ask other labels, if they want to contribute. So our tactic is 'More Music, No Bullshit'."
Bedroom Community is an Icelandic record label/collective formed in 2006 by Valgeir Sigurðsson, with Nico Muhly and Ben Frost, later adding Sam Amidon, Daníel Bjarnason, Puzzle Muteson, Paul Corley, Nadia Sirota and James McVinnie to the intimate roster.
"People genuinely seem to want to be involved, it's direct and feels real."
"We announce new artist signings to drip first & give sneak listens to music not released before to the general public."
Over To You: Drip or Slip?
Many artists and labels are confident that this online version of music distribution is a perfect solution for an era in the music industry that requires creative solutions to keep listeners interested. Modernizing a subscription fanclub model is a pretty ingenious solution.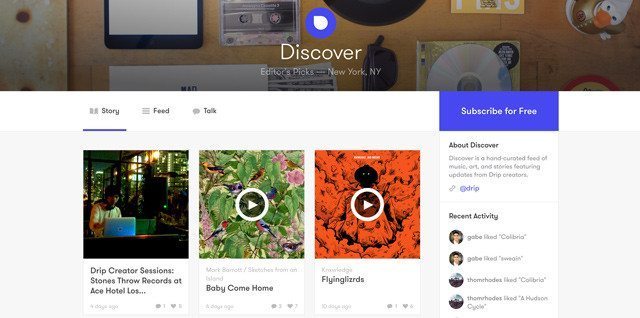 Want to try out what Drip is like from fan's perspective? You can subscribe for free and check out some of the top content picks from the Drip editors here.
For labels, it's a pretty fair pricing breakdown to set up a Drip of your own – with an 80 or 85% revenue split to the label/artists. For now the process is selective – with company only partnering with labels or artists with a track record of releasing regular content to their followers. You don't have to be Skirllex or Claude VonStroke to launch your own Drip, but you do need to be ready to provide value to your biggest fans.
Drip started with music communities and has expanded to include nonprofits, visual artists, and more.
While Drip might be the first of this kind of platform, it's clear there's a winning model here – giving fans what they crave. And the company started with music communities, but they've since expanded to include nonprofits, visual artists, and more.