We speculated that Pioneer would release a new media player in their XDJ line soon. But instead of an XDJ-2000, the DJ manufacturer is going the opposite direction and making a lower-cost digital player for the masses, the XDJ-700. See the full announcement and features inside, as well as how it sizes up along other similar players.
Want an XDJ-700? Place a preorder in the DJTT store here. 
Introducing The XDJ-700
The truth is that much of the XDJ-700's features appear to be right in line with the XDJ-1000 – which makes a lot of sense as many of the 1000's features were touchscreen/onboard software-based.
 7-inch full color touch screen: View waveforms, browse tracks, search with a QWERTY keyboard and more.
Pro DJ performance features: Autoloops, hot cues, quantize, beat sync, and Slip mode
Rekordbox compatible: All the analysis done in Rekordbox will mean your tracks can show waveforms in full, beat countdown to cue, phase meter, and key-analysis traffic light coloring.
Pro DJ Link: Connect to any other player to share tracks across them – up to four other players or laptops.
USB HID control of Rekordbox DJ: We haven't heard about HID control for any other software – but we're not surprised now that Rekordbox DJ is out.
XDJ-700 Size Comparison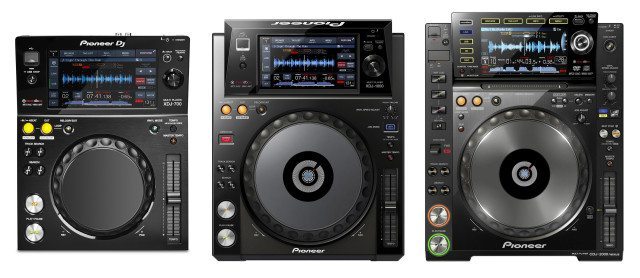 One of the biggest differences in the XDJ-700 is its size. The jogwheel particularly has been knocked down to a smaller size, without an onboard display.

There's also the question of height – and Pioneer has helped bring the XDJ-700 up to a standard mixer height by including a removable stand. That being said, the 700 is Pioneer's slimmest player yet – so the unit seems more ideal for smaller spaces, home studios, and DJ booths without a lot of space.

Download a quick-and-easy comparison PDF between XDJ-700, XDJ-1000, and CDJ-2000NXS players! Free to DJTT members (just an email required).
What's missing on XDJ-700 vs XDJ-1000?
Aside from a full-sized platter, you'll also notice that there's no Reverse/Track Direction button on the player, as well as no Vinyl Speed Adjust.
Neither of the XDJ players have Digital Out on the back – just RCA and Pro Link. To get Digital Out, it's necessary for now to get a CDJ-2000nexus, but we expect we might see an XDJ replacement before too long.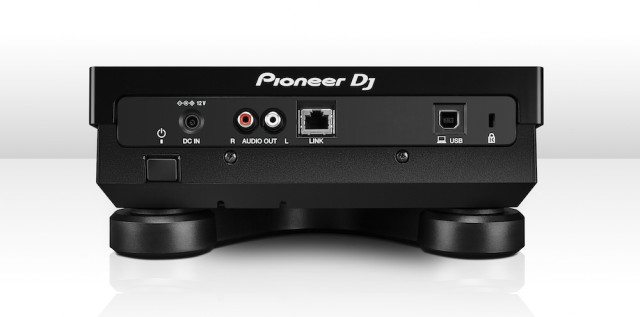 The XDJ-700 is now in the DJTT store with a retail price of $697. Get yours here!