The original version of iMaschine was a fun beat-making app, but a lot of the advanced production features that users of the Maschine software were used to never made it into the app. Native Instruments is today launching a brand new app, iMaschine 2, that adds an Arranger, Step Mode, and Smart Play functionality. There's a whole host of features that make this app less like a toy and more like a mobile version of Maschine's production software on desktops – keep reading for the full details.
New iMaschine 2 Features
For iPad and iPhone users, this new app is a significant step forward from the old iMaschine – it brings some of the most commonly requested features that producers who use the normal Maschine hardware/software combo have been enjoying for years. Here's the most notable of the new iMaschine 2 features:
Arranger: The new version of iMaschine adds is the tiered patterns, groups, and song sections that can be used to lay out a full track. Create patterns out of loops and scenes, and then arrange patterns across the full length of a song.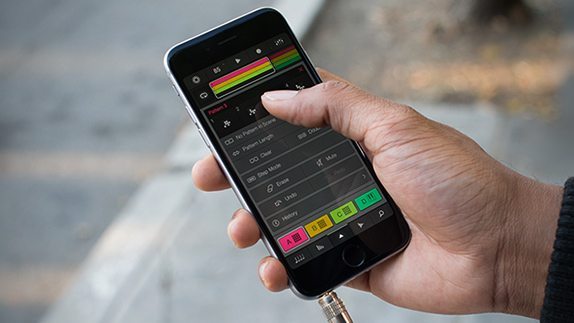 Step Mode: This mode allows step sequencing of drums, meaning that you can program them across the pads just like on a Maschine's step mode. No fancy finger drumming required!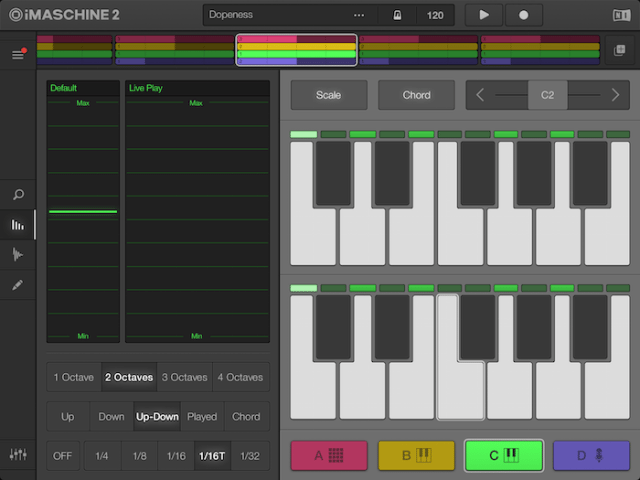 Smart Play: This brings the Scale (play notes in a scale), Chord (play a note and it turns it into a chord, and it also presents some suggested progressions for inspiration), and arpeggiator functions to iMaschine 2, meaning that you'll always be adding new parts that are in-key with your project.
Color Coding: Songs and groups can now be color coded for easy reference throughout an entire project.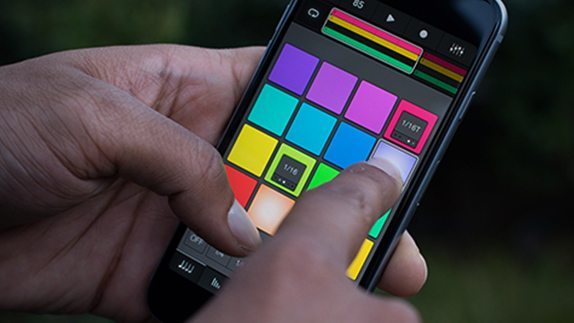 3D Touch: Apple's new velocity detection functionality on iPhone 6s and 6s Plus works in iMaschine 2 – press harder to get a stronger velocity, or adjust the rate of repeat on a hit.
Worth noting, if you're already a dedicated iMaschine user, your projects will open in iMaschine 2 without any issues – but you will still have to buy the brand new app. And as always, you'll be able to open your iMaschine projects in Maschine with a simple export – or just bounce them right out to Soundcloud if you're felling confident.
Price + Expansions
The new version of iMaschine 2 is out now on the app store – and while it'll eventually cost $9.99, the current intro special price is $4.99 until December 1st of this year. Native Instruments is also putting out a specially priced in-app bundle purchase of 36 iMaschine expansions for just $0.99 – with the hopes of appeasing anyone who spent money on iMaschine expansions in the original app and want them in the new version, as well as being a good deal for new users.
Big congratulations to our Team Supreme friend TK Kayembe for putting in work on the demo in this video!