Smithson Martin is well-known for being one of the few manufacturers in the DJ space not afraid to do touchscreen control that isn't limited to iOS or Android platforms. They've just dropped early specs on a new unit to be unveiled this Thursday at the 2016 NAMM Show, the Kontrol Surface 32, which is designed to emulate hardware interfaces via templates on the touchscreen devices. Keep reading for the details.
Kontrol Surface 32 Specs + Details
The KS32 looks pretty similar to the now discontinued limited edition KS-1974 unit that debuted at NAMM 2012, which was the first highly portable unit from Smithson Martin (in the mean time, they also unveiled a tablet-sized unit, the KS10.)
The KS32 looks to me a more ready-for-mass-production unit, with a large 32-inch touch screen in full HD, a 170º viewing angle, and capacitive touch screen. The press release also touts the touchscreen has having less than a 5 millisecond response time (watch this video to see how short of a delay that actually is), which becomes critical when using a device like this for audio purposes.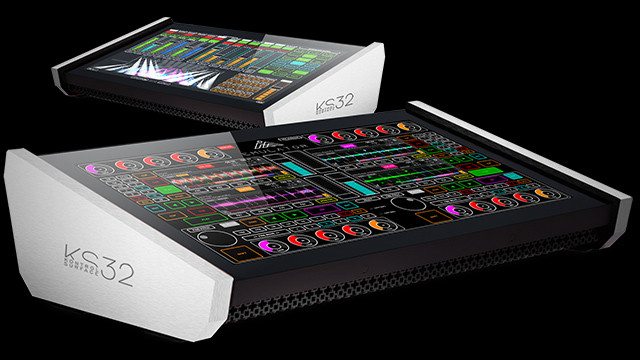 Some of the tech specs below – we're still waiting on some parts of it:
Screen size: 32 inch
Resolution: 1920×1080 native – full HD
Viewing angle: 170/170
Power supply: 110v to 240v automatic
(Concurrent) Touch points: 10
Touch technology: PCAP (projected capacitance – read about it is here on Wikipedia)
Operating systems: Windows 7, 8, 8,1 10 and OSX compatible
Emulator Templates
What makes the Kontrol Surface 32 special is that it's paired with customizable touch templates in Emulator 2.0, which is Smithson Martin's control software for the KS line. The premade templates are designed to match familiar control surfaces – like the Pioneer DJ DDJ-SX2 on the unit in the header image.
Right now the KS32 works "perfectly" with PC software and will "soon include support for Mac OS X with Emulator 2.0" – the unit will be available in Q2 2016 at a street price of $2,499.
We'll take a closer look at the KS32 at NAMM 2016 and find out more details. You can see all the NAMM articles here, or follow us on Twitter or Instagram for up-to-the-minute updates and unique insights.