Ahead of the NAMM 2016 show, which starts on Thursday in Anaheim, Roland has released details of the A-01, a new highly portable controller that connects to DAWs, tablets, CV/GATE and MIDI gear. The A-01 is an incredible hybrid machine – with the flexibility to be an on-the-go production tool, a studio mainstay, or a live performance rig. Keep reading to see it in action and read some of the details.
Roland A-01: The Analog Invasion Continues
We've watched over the last few years how Roland has expanded their reach into the world of analog gear, from the AIRA line to the recent Roland Botique modules last fall. So their entrance into the hybrid controller/synth market makes a lot of sense.
When you first see the A-01, it's often presented along the (separate) Roland K-25m keyboard unit – which it easily attaches to make a nice complete unit. There's an onboard 8-bit sound engine "developed by the engineer responsible for Roland classics including the JX-3P", meaning that combined with the keyboard unit you can quickly start creating on-the-fly. There's even a half watt mini-speaker built-in, and it can work off of an internal batter supply.
A-01 as Standalone Controller / Synth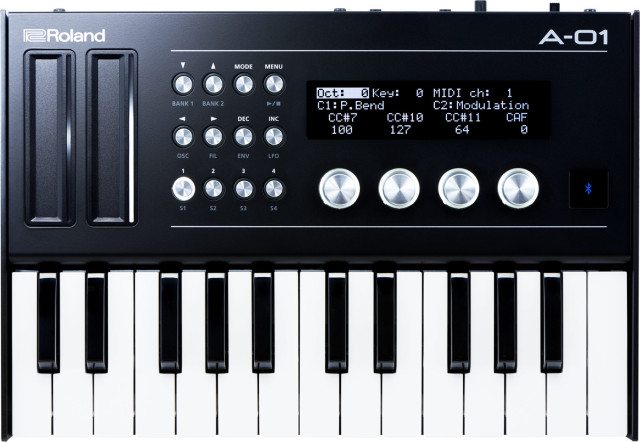 But even when standing alone, the unit is made to be a workhorse that plays nice with every bit of MIDI gear (Classic MIDI I/O, USB MIDI, and Bluetooth MIDI). This is the same kind of wide-open system that made Arturia's Beatstep Pro such a desirable sequencer for MIDI lovers, and we suspect the reaction will be much the same on this unit.
There are a few additional advanced controls that make this a stage-worthy performance unit, namely "dedicated dials and dual ribbon controllers assignable to pitch bend, modulation, sound preview, and channel and polyphonic aftertouch, as well as CC and system exclusive data."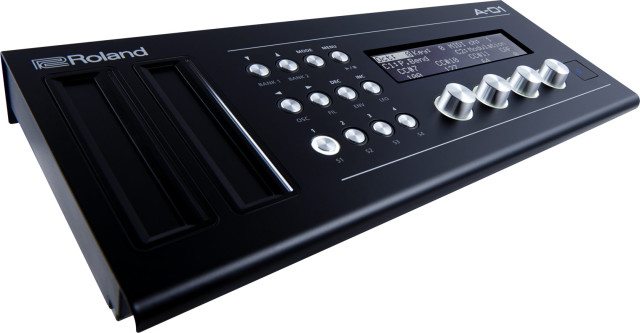 The small display isn't about to challenge the high-res screens appearing elsewhere in the MIDI market, but that's not what the A-01 is about. There's always a risk with units like this to become too much menu-digging and not enough focus on quick-and-easy usability, but we'll have to wait until we get a hands-on with the unit to really how the user interface feels and performs.
The Roland A-01 is expected to launch in February for a price of $599 – get more details on the official Roland page.
Roland A-01 Tech Specs
Memory:
Controller Mode: 16 patches (4 patches x 4 banks)
Synth Mode: 16 tones (8 tones x 2 banks)
Seq Mode: 16 patterns (8 patterns x 2 banks)

I/O Connections:
PHONES jack: Stereo miniature phone type
CV OUT jack: Stereo miniature phone type
GATE OUT jack: Stereo miniature phone type
MIDI (IN, OUT) connectors
USB port: MicroB type (MIDI)
Bluetooth LE
Power
Rechargeable Ni-MH battery (AA, HR6) x 4
Alkaline battery (AA, LR6) x 4
USB bus power
Current Draw 500 mA (USB bus power)
Expected battery life under continuous use: Rechargeable Ni-MH battery: Approx. 12 hours
We'll take a closer look at the Roland A-01 at NAMM 2016 in the coming days. You can see all the NAMM articles here, or follow us on Twitter or Instagram for up-to-the-minute updates and unique insights.