News keeps pouring this time of the year (NAMM 2016 starts tomorrow) and Reloop isn't holding back. Earlier today they announced the new Reloop MIXTOUR which gives you full control over two channels along with a built-in audio interface, making it ready to rock on Android, iOS, OS X and Windows. While similar in design to the Traktor Kontrol Z1 and Akai AMX this new device has a few tricks under its sleeve to make it truly shine.
Reloop MIXTOUR: Powerful Slim Djay Controller
DJ Gear: Reloop MIXTOUR (official product page)
Manufacturer: Reloop
Price: US$ 199,99
EUR  €149,00 (special introductory price / regular MSRP €179,00)
UK £110.00 (special introductory price / regular MSRP £130,00)
Availability: End of January 2016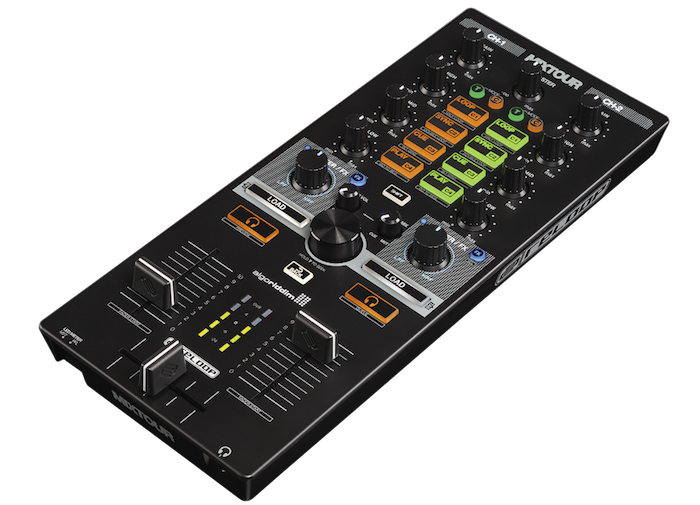 Feature List:
Ultra-portable, yet sturdy all-in-one DJ controller with integrated low-latency 4-channel audio interface for iOS, Android & USB connectivity.
Designed for Djay 2 and Djay Pro with mappings available for Virtual DJ & Traktor and it's fully assignable to other software.
Powerful, colour-coded, rubberized trigger section for transport, looping, 4 hot cue control per deck and grid editing.
Dual FX Mode: Control FX and filter simultaneously.
Gain + 3-band EQ per channel and dedicated bi-polar LFP/HPF sound filter control.
Sturdy & flat built with 45-mm PRO faders including Fader-start support.
Turntable spindle cavity for easy positioning on turntables.

The MIXTOUR is, in essence, a two-channel mixer, although it must be noted that it isn't a true mixer in the 'standalone' sense since it lacks audio inputs and must be hooked up to the software but once it's connected it packs quite a punch.
In terms of how this unit works with its software counterparts, it unlocks a solid external mixing solution for iOS and Android DJs that cleanly integrates with Djay 2. It's also fully MIDI-mappable so it will work with most desktop based DJ software as well. Not only does it take the more tactile elements of mixing into a hardware controller, but acts as a plug and play solution in terms of audio and power – with a built-in soundcard and cable that allows your device to charge off the MIXTOUR's power supply.
It's the first time we see a controller of this size offer support for 4 hot cues per deck and this does remove a bit the need for most to grab a secondary controller. That being said, you might still want some extra control to beat match your tracks in place unless you don't mind using the touch screen on iOS/Android or sync your tracks.
All in all we think this is a big win by Reloop since you do get a lot more control over software than the Kontrol Z1 and it's still a wonderful alternative to the Akai AMX if you don't think it's worth spending another $50 to get a DVS capable device or touch sensitive knobs.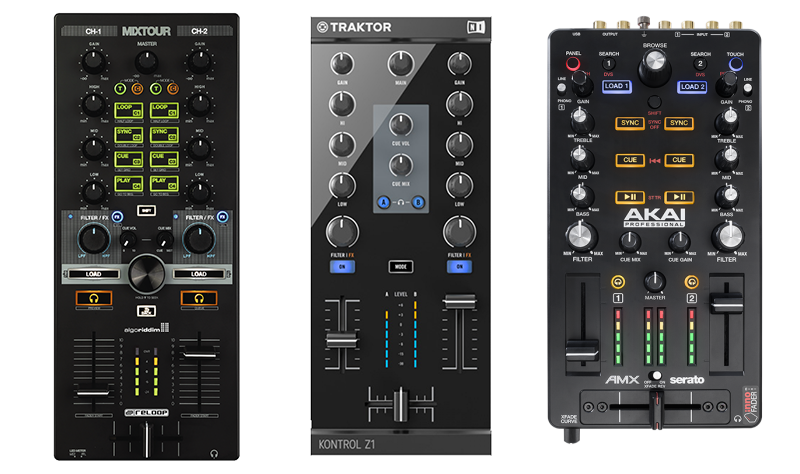 We'll take a closer look at the Reloop Mixtour at NAMM 2016 in the coming days. You can see all the NAMM articles here, or follow us on Twitter or Instagram for up-to-the-minute updates and unique insights. 
About the Author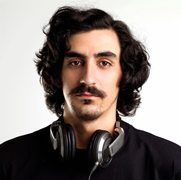 Who? Matias
Years experience: DJing since 2005 and producing since 2008
Why he's helpful: Matias has used nearly every DJ software out there and has helped create tons of DJTT's best mappings (with over 25k downloads). He's our lead DJTT product expert and can answer pretty much any gear question too. Think of him as the super helpful guy behind the counter at the record store who has lots of great suggestions on what gear is perfect for your unique tastes. You can chat with Matias on live chat in the DJTT store (he gets nearly 100% positive feedback ratings).