Splice continues to be one of the most interesting online tools for producers on the web. The new Splice Beatmaker site has built an online drum looper and added a few interesting twists to it to allow users to quickly try out new samples from other users and producers, as well as listen to unique and interesting patterns. Read on for details.
Splice Beatmaker: Testdriving Samples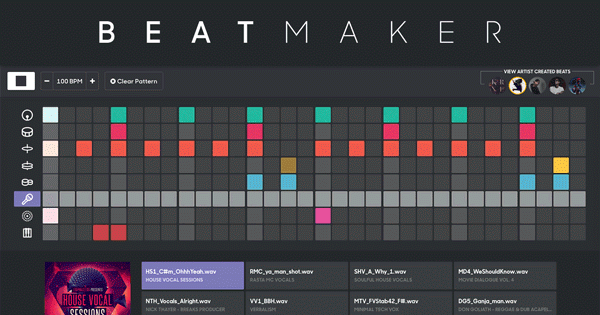 The Beatmaker site is a pretty basic, easily to use setup. It's a drum sequencer capable of playing eight counts (two bars), and an adjustable BPM. There are eight different sounds, which each can be loaded with a new sound from Splice Sounds' massive repository.
The pitch here from Splice is simple – play with this fun toy, try out some new sounds from their library, and maybe users will join Splice Sounds, their monthly subscription sample service that allows producers to download 100 sounds from a library of over 850,000 royalty free sounds a month.
But if you'd prefer to just zone out and make some fun beats, Splice is fine with that as well. They've included quickly-loadable patterns from featured artists like KSHMR, KRNE, and Lex Luger. They're even throwing a little contest:
"Choose your samples, build a groove, and share your finished beat with the hashtag #BeatMaker. You'll be entered to win an award-winning FabFilter plugin plus a full year of samples on Splice Sounds!"