The new version of Serato DJ has been getting teased since late last year, with the news of streaming service Pulselocker being fully integrated. Now the Serato DJ 1.9 Beta has gone public, which means that anyone can download it and get started right streaming tracks into Serato right away. Read on for details + a download link.
Serato DJ 1.9 Beta: Pulselocker Is Here
We've been anxiously awaiting the new Serato 1.9 update with Pulselocker support – and now the Beta is live here on the Serato DJ forums.
The Pulselocker integration is pretty quick to start up – just click on the Pulselocker library in the browser and you'll be prompted to log in and start your free trial (unfortunately if you signed up for the Pulselocker Beta when it first launched to try it out, your trial will be expired). Then you're greeted with a basic explanation of how the service works: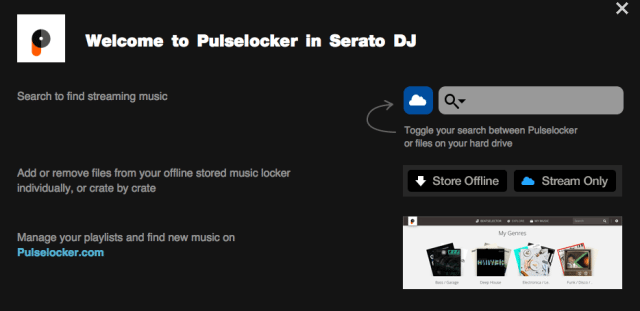 A few things that we've noticed so far:
This experience seems optimized for requests or for using the Pulselocker.com crate sorting method – it's not very easy to find new tracks if you don't know what you want. You need to use search, so you have to have something in mind.
The search trigger (cloud icon, above) right now includes both Pulselocker and your own music – it would be nice to have it search only Pulselocker if you want to find new tracks.

There's very little DJ metadata included in the search results – no key, BPM, genre, or grid. For this to be a killer streaming service, some of that metadata needs to be a part of the results. It should be as seamless as using your own library.
Don't rely on Pulselocker to give you every song out there- they have a big library, but when I typed in "Beyonce", there wasn't a single track by the real Queen Bey. Plenty of jazz covers of her songs, though (?!).
One thing to note, the only plan that Serato is supporting right now is the $20/month plan – but there's ongoing discussion in the 1.9 Beta forums about what the best options might be. The $10 level only offers streaming support – no offline download – which could be a risky choice for DJs playing out.
Try out the new beta and let us know your thoughts in the comments! 
Serato DJ 1.9 Beta Bugfixes
In addition to Pulselocker support, there's a number of major bugfixes in this new update of Serato DJ, including: 
HID mode not consistently working on Pioneer CDJ's with OSX El Capitan
Audio artefacts when scratching backwards slowly
Potential hang when using censor actions during Flip playback
Potential crash when editing beatgrids
Certain video files causing a crash on import
Potential hang when tapping tempo after adjusting beatgrid
Potential hang on exit with corrupt FLAC files
Potential connection issue when hot plugging a device using a USB hub
Other Changes
Tempo Matching Display available in the setup screen (Horizontal and Vertical view modes only)
Audio and performance optimisations
Crashes and hangs, including on startup and shutdown
CPU and general performance optimisations
Bundled new OSX drivers for Allen & Heath Xone 43C, DB2 and DB4 mixers
Get signed on to the Serato DJ 1.9.0 beta here – but remember, don't rely on a beta until the final release! Always be weary of upgrades.