This seemingly major update adds the performance-oriented Live Loops view with tempo-synced Remix FX to the GarageBand for iOS music workstation app. Is this a vital new companion to DJs and live performers or more a watered down version of Novation Launchpad for iOS or Ableton Live? We dissect the new features in this Garageband review.
Reviewed: Apple GarageBand for iOS 2.1
Price: $4.99 or free for many iOS 9 devices
Availability: Now
System Requirements:

 iOS 9.1 or later. Compatible with iPhone, iPad and iPod Touch.
The Good: Live Loops and Remix FX add new music-creation dimensions to GarageBand, as well as making it practical for live use and more appealing to DJs and music-making beginners. Drummer for iOS lets you finely customize beats without having to program them. Convenient workflow for making your own loops and using them in the Live Loops grid.
The Bad: No built-in MIDI sync capability, but if you have the Audiobus app, you should be able to sync GarageBand with other Ableton Link apps and software through Audiobus.
The Bottom Line: The new grid-based loop-launching Live Loops view in GarageBand 2.1 for iOS lets you combine and remix included loops, finished tracks, material you create or any other audio file, and then effect them with tempo-synced Remix FX in a way that should be familiar to users of Ableton Live and Novation Launchpad for iOS. It's easy to create your own loops, and the Drummer feature makes it even easier to customize beats. There's little to no downside to giving this a try.
Live from the Garage
With Apple's update to GarageBand 2.1 for iOS, the $4.99 app has been boosted in big ways both for serious music production (see more in the final section) and for loop-based performing, remixing and live, tempo-synced effects. Those latter aspects are what we're focusing on, because they add an entirely new dimension to GarageBand.
The app is now an even better entry point for people looking to get started producing music, and it is also a notable companion to DJs and live performers who want to add some spontaneous loop mixing and mashing to their sets—whether they make their own loops or use the included or third-party material.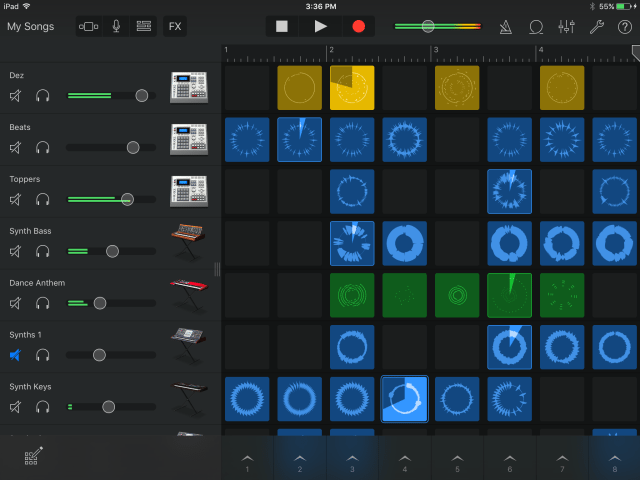 Live Loops
While this Live Loops view is entirely new for GarageBand, it's not entirely new. Quickly familiar to clip-launching grid users of Ableton Live, Bitwig Studio or even Novation's Launchpad iOS app, Live Loops presents tracks with horizontal rows of launchable clips—either audio/MIDI loops or one-shot samples. Along the bottom row, there are launchers for triggering the entire vertical column of clips, or you can tap each clip to play/stop them.
Loops are represented as circular audio waveforms or MIDI data, and a clockwise-rotating overlay shows the progress of the loop as it plays, similar to the Loopy app and other looping software that has since gone by the wayside.
This update comes with more than 1,200 new Apple Loops and sounds, many of which went into creating the 9 Live Loops preset templates that you can choose from when starting a new GarargeBand project: EDM, Hip-Hop, Dubstep, RnB, House, Chill, Rock, Electro Funk and Beat Masher. You can start a new template as well. Either way, you bring in Apple Loops from your collection, audio files from iCloud, or audio from your devices Music collection.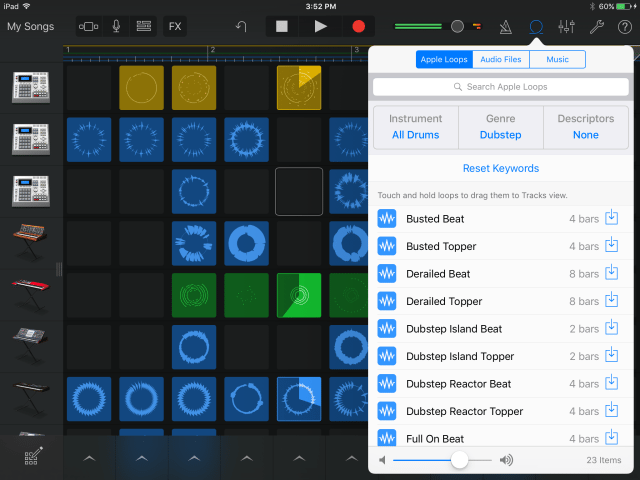 When you're in Edit mode, you can drag the clips to different locations, or edit their properties, such as start and end points, pitch, reverse and playback speed from ¼ to 4x speed.
Remix FX
In the Live Loops view, you just hit the FX control bar button to bring up the Remix FX panel. This holds 7 total effects modules: 2 x/y pads with 6 selectable effects each, a Gater (slicing) touchstrip, a Downsampler (bit crushing) touchstrip, and buttons for Reverse, Scratch and Tape Stop effects. The x/y pads give you the choice of Filter, Repeater, Wobble, Reverb, Orbit and Delay effects, and if you hit their gyroscope buttons, you'll control the x/y position with the physical rotation of the iPad.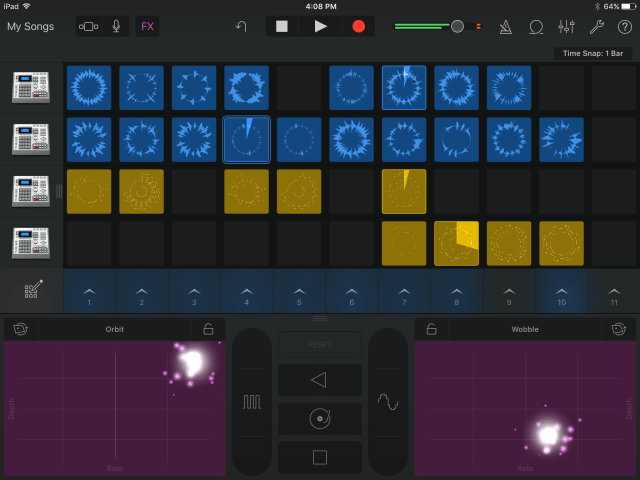 The Remix FX all sound very good, are tempo synced in most cases and feel very intuitive to play. Working multi-touch combinations of effects can get really destructive while still sounding rhythmically tight. This is a small but really fun feature. In fact, if there were an audio input, so you could run your whole DJ rig through it, I wouldn't be mad at that at all.
You can record your Live Loops performances, including Remix FX moves, into GarageBand tracks, similar to how you can record an Ableton Live Session view performance into Arrangement view tracks. Recordings include a Remix FX track that shows the effects movements you made as automation curves. You can't edit those curves, but you can trim, copy and paste portions of the track (see screenshot).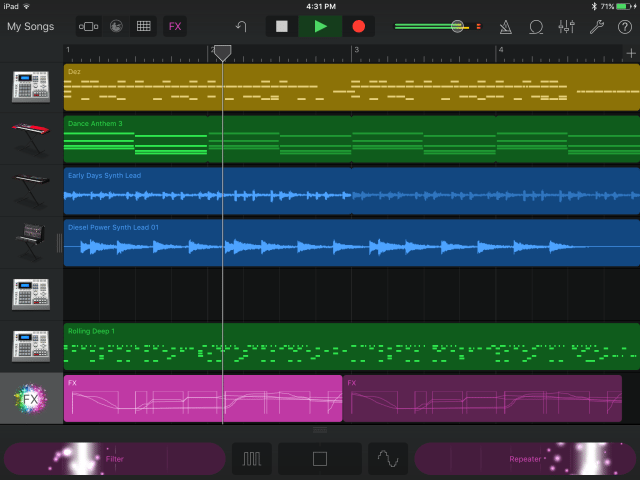 Drummer for iOS
Apple packed another cool new feature into this update: Drummer for iOS, which is a simplified version of Drummer for the Logic DAW software. This a way for canned beats to be highly customizable, so you can dial in the drum patterns you want without programming beats from scratch.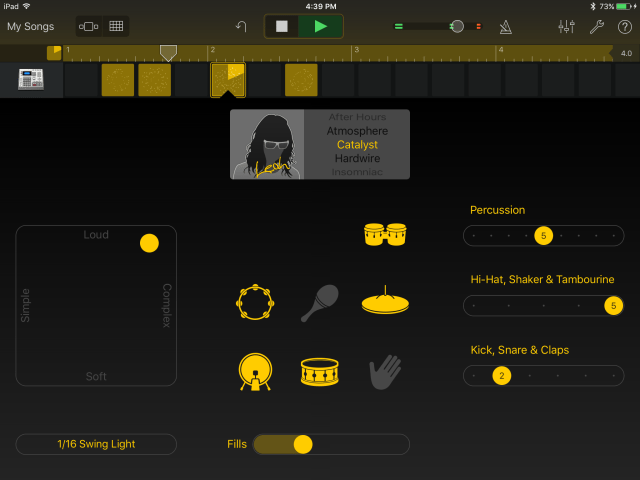 There are 9 Drummer types: 4 acoustic (pop, RnB, modern rock, classic rock) and 5 electronic (electro house, minimal, dubstep, hip-hop, trap). Each Drummer type has 8 "patterns," but these MIDI based patterns are nearly endlessly variable. An x/y pad morphs the beat from soft to loud and from simple to complex, and a slider sets the frequency of drum fills. There are three "tracks" to the beat: Percussion, Hi-Hat/Cymbals, and Kick/Snare/Claps. For each one, you can choose one of up to 10 variations, as well as mute individual elements.
My main complaint about Drummer for iOS is that the sounds aren't varied enough from kit to kit. There is some variety of course, but while you can get near infinite variety in the rhythms, you can't swap out the samples. Drummer is a cool concept for achieving all kinds of rhythms, but if I arrived at beats I wanted to keep, I'd want to use the MIDI data with different samples.
Make Loops in Tracks View
Making your own loops and samples for the Live Loops grid works pretty smoothly. It's a snap for experienced people, and really worth trying for newbies.
Tap an empty audio or instrument cell and choose the option "Record Into Cell." If it's an audio cell, a recording screen will pop up for you to record from either the built-in or connected microphone. Make your recording, and when it's finished, you can edit the sample for its start and end points, pitch, playback speed, whether it's a loop or one-shot, etc.
If it's an instrument cell, the instrument— like a drum machine—will pop up along with a loop-recording interface. Drum machines (pictured) are the easiest to record for beginners. Just start recording and tap in rhythms as best you can. The quantize function will snap the notes to the time resolution in the settings.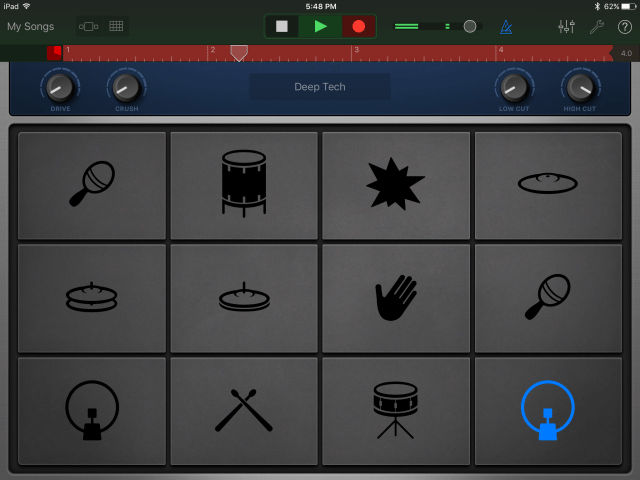 When you're finished, you can edit the notes in a "piano roll" interface (pictured) to correct the timing and to add, delete and extend notes. You should rename any of these loops that you want to keep to something you'll remember, you so can recall them in the library and use them in other projects.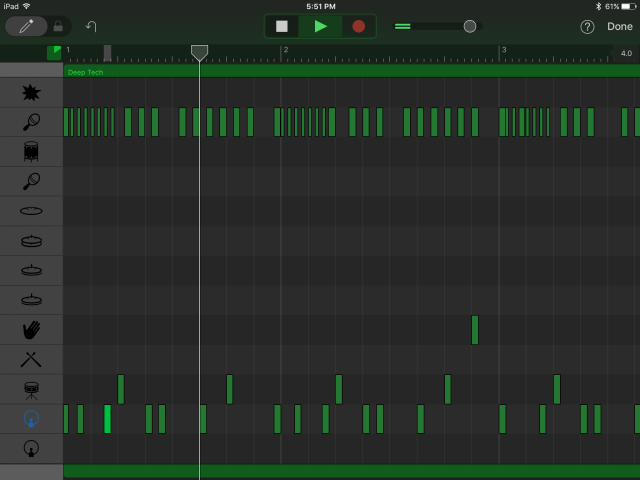 More for Musicians
GarageBand 2.1 for iOS also incorporates the 3D Touch input that's only supported on the iPhone 6s and iPhone 6s Plus hardware. Soon enough, 3D Touch should be a part of all new iOS devices, and it helps to introduce things like velocity sensitivity to music apps.
The app is also optimized for the amazing 12.9-inch iPad Pro and has some other nice new features relevant to producing music:
Volume automation curves for tracks.
Simple EQ and Compressor devices.
Vintage and modern bass amp rigs.
Record up to 32 simultaneous audio tracks (with an appropriate third-party audio interface).
Compatibility with third-party Audio Unit Extension instrument apps.
Import/export projects with Apple's iCloud Drive.
Video Overview
Markkus has done a 10 minute video walkthrough of the app as well – check it out below:
Garageband iOS Overview/Review

Markkus has done a full review of the new Garageband 2.1 for iOS – designed around looping that's perfect for dance music productions. Read the full thing here or watch an overview below: http://djtech.tools/gbiOSreview

Posted by DJ TechTools on Wednesday, March 23, 2016
Read more reviews of DJ gear from Markkus Rovito here on DJTT.