Recently, Ean played a gig at a unique venue without a proper DJ booth and came back to the office the next day wondering what good options existed for DJs who need to set up their gear in a presentable way. We've done a bit of research to find out what's on the market – keep reading to see our findings and to add your own solutions in the comments!
Header image credit (of an ideal trailer-based mobile DJ booth) to Australia's MotorEx 
Portable DJ Booth Options:
Not every DJing situation has a real booth, and not every venue is ready to have a DIY Ikea setup built in their space. So what is a mobile DJ to do? Here are the professional and sturdy solutions we've seen on the market:
Dragon Frontboards Facades
Price: $249+
Portability: Quickly breaks down into its own hardcase with wheels.
Durability: Looks to be designed to last – having a dedicated carry case makes it particularly compelling for mobile DJs.
These facades from Dragon Frontboards are best used with a table that's already in the venue – it just makes them classier. There's quite a few versions available based on what you might want – a classic Naga is a full facade that reaches 45″ from the floor. There are also cheaper tabletop options if you just want a bit of a classy look on top of a sheet-covered table. They also offer a variety of materials, including Plexiglass, Lycra (great for lighting up with custom lighting, LEDs, etc), or even a super-fancy plush leather option: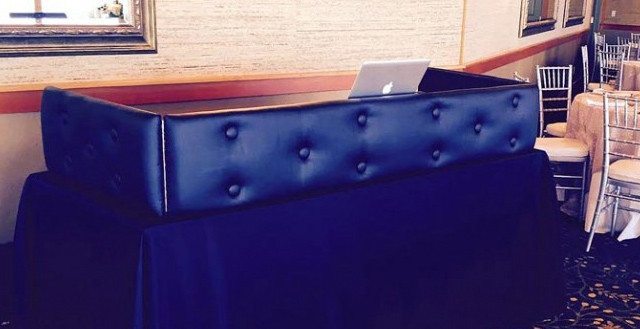 DIY Facades
Worth noting, there's a classic video on YouTube that shows how to make basic facades like the ones above as a DIY project. If you'd prefer to craft a facade yourself, check it out below (it's from 2011, so you'll have to pardon the excessive electrohouse).
LiteConsole XPRS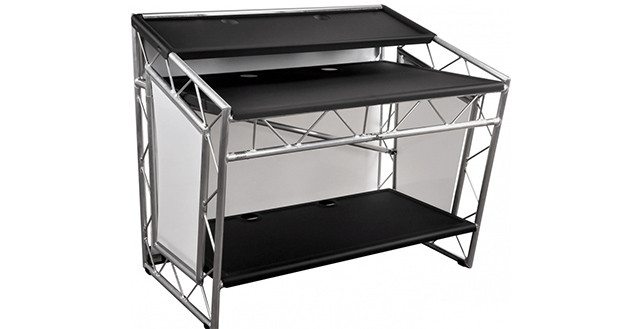 Price: £949 ($1340) and up
Portability: Folds flat – assembled with just parts slotted into each other (no bolts required). Likely to be a bit heavy as it's made of Aluminum
Durability: Based on a metal truss design, we suspect this is one of the more durable portable DJ booths out there – as it should be, based on the price.
The Liteconsole XPRS stands out to us as probably the professional-looking solution – akin to actually having a club's DJ booth at your mobile gig. It has three shelves (see the image above), making it ideal for a full DVS setup or even multiple controllers, and the sides can easily be lit up with your own custom lighting if you want.
Triplar 5 Panel Workstation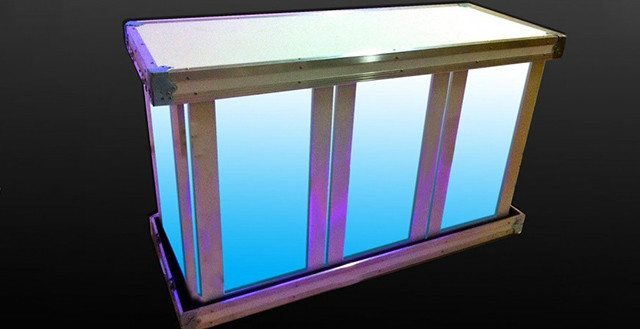 Price: $699
Portability: Quickly breaks down into its own hardcase with wheels.
Durability: Looks to be designed to last – having a dedicated carry case makes it particularly compelling for mobile DJs.
If you want an all-in-one solution, this Triplar 5 Panel Workstation from Dragon Frontboards is the way to go. It's 36″ high, but Dragon will also customize the height if you have a specific need (for a fee, of course). It breaks down into a single hardcase with wheels for easy transport. As with the facades featured above, they can be made with Plexiglass or Lycra for backlighting options.
Matrix Booth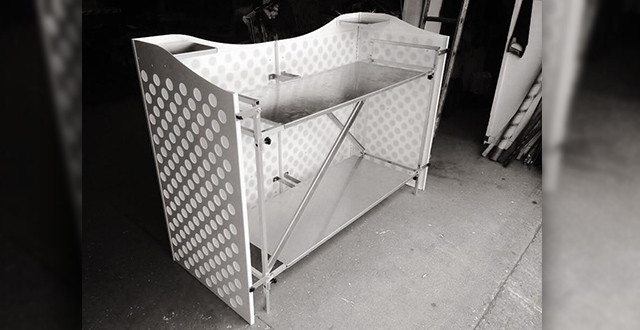 Price: £685 (~$970) and up
Portability: Claimed 5-minute assembly time from metal parts – each of which are removable for flatpack transport
Durability: Made of al
DJ Standz makes a unique Matrix Booth stand that is a nice medium between solid metal design and unique facade – it's quick to assemble, and has two main shelves, as well as two secondary shelves in the top corners for light monitors, lighting, etc. The actual gear shelving is made of aluminum and is wide enough for a full CDJ-style setup or a few controllers, if you like. The "Matrix" facade that encloses the main metal shelving seems easily made to look professional with just some simple uplighting.
Chairigami Cardboard Standing Desk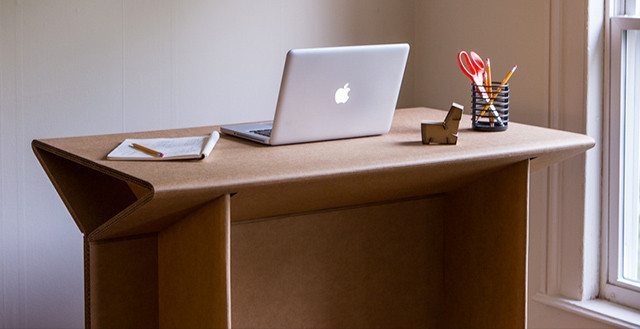 Price: $165
Portability: Lightweight (as it's made of cardboard), folds together quickly.
Durability: Might not last forever as you'll be unfolding and refolding it each time you want to set up.
This one is a bit unorthodox, and that's why we like it. This Chairigami standing desk can easily become a perfect DJ booth – it's offered in three heights (38″/42″/44″) which makes it great for ensuring your gear is at a good level – although with DJ gear, you'll probably want to go with 38″ (and maybe even cut it down smaller). This might not be the best option if you have to set up outside often – especially if there's even a slight chance of rain…
Oh and by the way, these desks are plenty sturdy for holding gear – check out this booth display for Pittsburgh Modular at a trade show holding some heavy synths: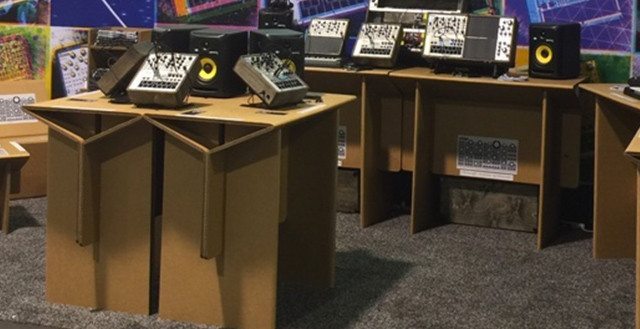 DIY Portable DJ Booths
There's some very simple DIY DJ booths that we've seen around the web – check out this classic video from 2009 of someone building their own basic mobile DJ booth. Have you seen a real winning DIY portable DJ booth? Send us an email – editor@djtechtools.com – so we can investigate and maybe make a guide article.
Do you have a portable DJ booth setup that you regularly use and think is awesome? Share in the comments below and we'll feature your responses!