Dedicated fans have carefully been watching for every chance to see the new Richie Hawtin / Andy Rigby-Jones mixer collaboration, but finally the 100% analog PLAYdifferently Model 1 mixer has been publicly announced. Watch DJ Techtools' world-exclusive explanation and demo video with Richie himself after the jump, as well as a Boiler Room live stream today.
Richie Hawtin Demos PLAYdifferently Model 1
Key Features
Welcome to a mixer design that's significantly different from almost every DJ mixer out there. From a quick glance, most DJs would notice a few obvious unique things: no crossfader, instead there's six faders with studio-style caps, and there's a few more knobs on each channel than just a simple gain/EQ.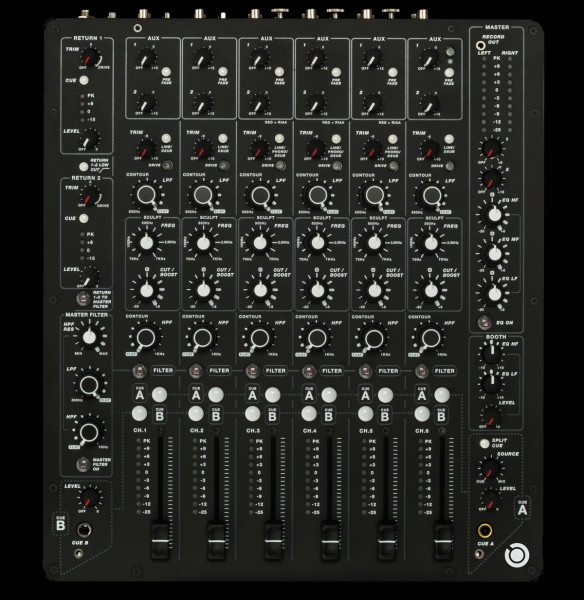 This is a fully analog mixer, built in the UK, and it has an impressive feature set. Here's an overview of the most notable:
6 stereo channels
Contour filters: Individual low Q LPF and HPF for each channel, "designed not to add colour to the sound as they are swept across their frequency range. Due to the low Q , these filters only cut, they do not boost"
Master Filter: this is a filter that's separate from any individual channels – you can assign any of them to it – similar to other Xone mixers
2 stereo sends + returns: each with an assignable filter and low cut, they also can be assigned to the mixer filter.
Two Cues: Specifically designed for two DJs to use this mixer concurrently, there are two separate cue systems for previewing audio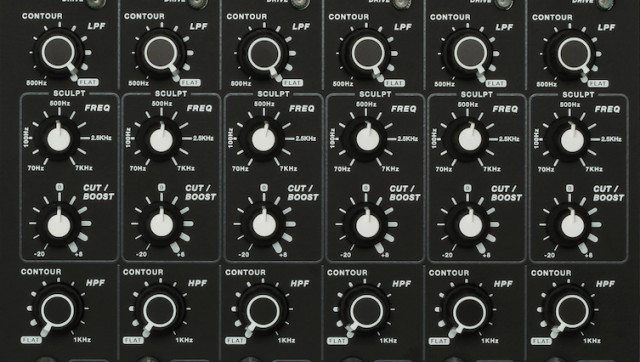 Sculpt EQ: "a semi-parametric swept bell filter, and consist of two controls, FREQ which sets the centre frequency and CUT/BOOST which adjust the gain or attenuation at this frequency. The level of cut/boost is asymmetric; maximum boost is limited to +8dB, while the cut is extended to -20dB. Sculpt has a wide Q and a frequency range that covers almost seven octaves."
Master EQ: an overall EQ that effects the master output
Booth Out EQ: a two-band EQ that allows adjusting of the booth output
Drive Control: Every input on the mixer has a Drive knob, which allows you to adjust "the level at which the channel pre-amplifier clips the input signal, thus creating harmonic distortion as an effect".
Model 1 Inputs and Outputs

Similar to the feature set, there are some major industry firsts on the PLAYdifferently Model 1, including:
3.5mm Record Out port on the top right of the mixer above the VU meters
XLR and 1/4″ Master Out
1/4″ Booth Out
2 pairs 1/4″ Aux outputs
2 pairs 1/4″ Return
DSUB IN/Out: Two serial ports, conforming to TASCAM DB25 connector standard, allows multiple channels to be sent to and from high-end soundcards
6 RCA Inputs: three of which can be switched to phono
Mixer Linking ports: You can also link together multiple Model 1 mixers for use with multiple performers or in order to expand the number of channels. When linked, mixers share one set of outputs and the Cue systems work across all mixers.
The technical details on this mixer are incredibly detailed, and with a design and prototyping process of over two years, it's no wonder. The full user guide with complete technical specs will be available on the official PLAYdifferently website here.
The Model 1 Design + Production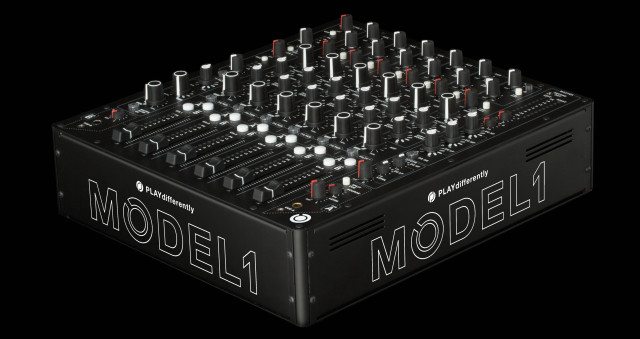 The mixer has retained a lot of the design language and interface styles that are present on Allen & Heath mixers because it's co-designed by the Xone series mastermind, Andy Rigby-Jones, and ultimately the mixer will be manufactured by Allen & Heath, only with PLAYdifferently branding.
Price: £2500/$3650, £50/$73 flat rate shipping worldwide + taxes.
Release Date: At time of press, it's still unclear when the mixer will be available to the public but we'll update this article when those details become available.
Boiler Room Livestream
As if our video and the specs detailed above weren't enough of an opportunity to nerd out on the new PLAYdifferently Model 1 mixer, there's a Boiler Room with Richie scheduled for today (Tuesday, May 3rd) at 20:00 CEST (that's 11:00AM PST, 3:00PM EST).

Dubfire b2b Richie Hawtin Boiler Room Berlin DJ… by brtvofficial