Introduced at NAMM 2016, Hercules took on a bold new direction with their P32 DJ controller, a two-deck MIDI controller with built-in sound card that swaps out jog wheels for 16 pads on each deck. In today's review, we take a closer look at this pad-heavy controller – and we're even giving one away – keep reading to enter to win!
Want to jump right to the contest and enter to win a P32? Click here.
Reviewed: P32 DJ
Manufacturer: Hercules
Price: $299
What Rocks: Unique control layout is unlike any other all-in-one DJ controller, highly portable, and a good price for 32 pads
Compatibility: Works with all DJ software – included DJUCED 40º (Hercules' own DJ software), mappings for Traktor Pro, Serato DJ, Virtual DJ 8
Inputs/Outputs: RCA Master Out, 1/4" headphone jack, USB port (also powers the unit)
Novation and Native Instruments might have been the first major DJ hardware manufacturers to replace DJ MIDI controllers' traditional jogwheels with alternative controls (with the Twitch and Kontrol S8/S5, respectively). But in recent years the entire industry has caught on to the trend of "performance pads" as a key toolset with which to DJ.

For Hercules, the P32 DJ a departure from a formula that they've been following for years, with smaller-than-usual jogwheels present on almost all of their previous controllers. But there's no doubt that they've stayed true to their traditions of reasonably priced gear that emphasizes portability on this controller.
Let's start out with the big question on everyone's minds:
Can You DJ with Just Pads / Without Jogwheels?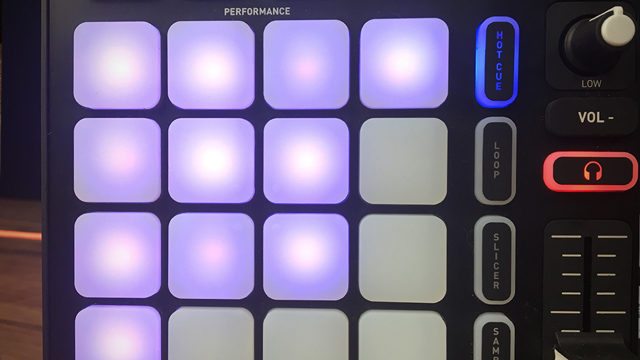 The answer is yes – with some adjustment. Being presented with a grid of pads instead of jogwheels, turntables, or platters of any kind is a mental switch up for many DJs who are used to controlling the playing tracks in a traditional manner. Here's what's really fun about this type of setup with the P32 DJ:
16 cue points for each deck – 16 cues allow you to easily have an entire deck on melodic or vocal chopping, fun to layer over top of another deck. This also works well with…
Slicer mode – (Freeze mode in Traktor) uses the top 8 buttons to slice through a track and the bottom 8 to adjust the length of the slices selected
Loop mode – makes it easy to select common loop roll lengths (top 8 buttons) or enable a loop of any length (bottom 8 buttons) quickly – this is a bit redundant with the loop encoder at the top of the controller, but still very useful to DJs who rely on loops to mix – which is way more common when you aren't as focused on jog wheels.
Sampler – in Hercules' own DJUCED software, this controls decks 3 and 4, which are sample decks. It also can control Remix Decks, Serato's SP-6 Sampler, or Virtual DJ's sample banks with ease. Just being able to hit the sampler button and quickly have access to a full 16 samples is a fun – it feels very similar to using a Kontrol F1 in this respect.
We also imagine that a number of Ableton Live finger-drumming producers will be inclined to view this bit of kit as a one-stop-shop for performance setups. There's no included mapping for Ableton Live, but it's easy to map on your own quickly. The one drawback in this context is that the rest of the controller is designed for two-deck use, which is great for Ableton users who already have their sets designed for two channels, but less ideal if you have a number of clips scattered across more than two channels.
Hands On 32 Pads
Speaking of finger-drumming, let's talk about the pad buttons on the P32 DJ. The 32 pads are the central focus of the controller (thus, P32). They're made of a soft, rubbery material, which make them inviting to touch and play.

The action will be familiar to those who have used pads on Livid or Monome controllers. The pads push down, and the tactical feedback that you get is from the actual button material hitting the case. There's no velocity-sensitivity, and while this isn't most advanced type of pad out there, using this design likely allows Hercules to keep the price of the controller very budget-friendly.
Heavy users of MPC units or arcade button controllers will likely find these style of pads difficult to get used to, but for DJs looking for a solid start into the world of pad controllers, these buttons are totally acceptable.
The Rest Of The Controller's Controls: Mixing, Loops, FX
Beyond the pads, the rest of the controller has a pretty standard set of controls that make it possible to DJ. There's the industry-standard four FX knobs (three for FX and one for wet/dry) with on/off buttons under each.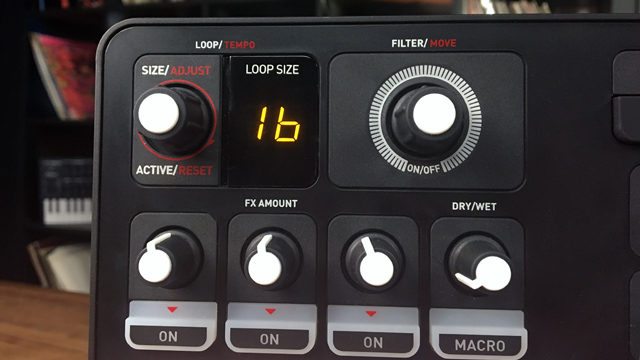 There are loop encoders with a basic LED display that shows the loop length. Push to enable a loop, rotate the encoder to change the length, shift+rotate to move the loop – all how you'd expect this type of control to behave. As noted above, it's important to have a dedicated control on the unit for this, because not having jogwheels on a controller absolutely lends itself to using loops more in mixing.
Next to each deck's loop section is a large filter encoder. The encoder is larger than any other knob on the mixer, which is great, but it feels like it should be a traditional potentiometer instead of a push encoder. Encoders are great for the shift functionality – a move / beat jump behavior – but with filters, encoders are very noticeable when used. You can hear it engage in "steps" instead of a smooth sound like you'd hear with a traditional potentiometer knob.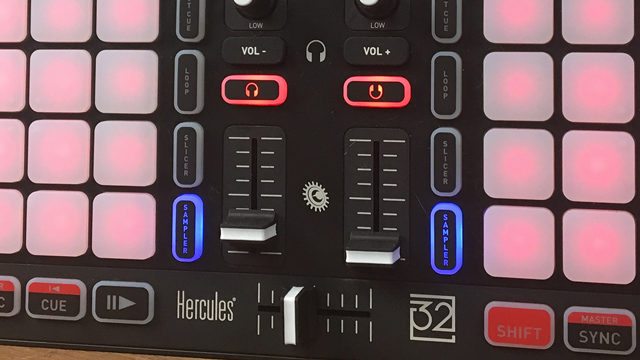 For a budget controller, the P32 DJ's mixing section is what you'd expect. There's low/mid/high EQs, an easy browse/load section, and headphone cue selection buttons. The short-throw channel volume faders and crossfader might be harder for users of full-sized DJ controllers to get used to, but it's important to remember that this controller is only 14 inches by 9.5 inches.
Portability + Design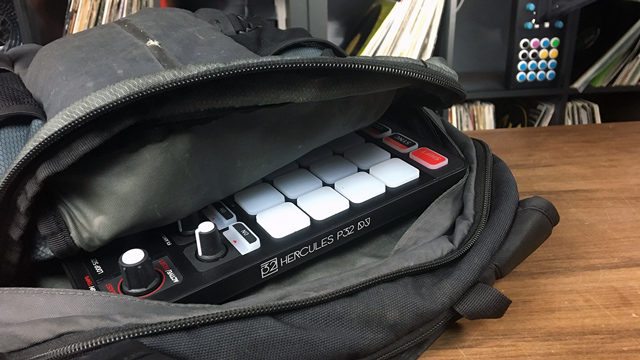 Hercules did a great job of making this a controller that really is the definition of portable. I was able to fit the P32 in a very small backpack. It's also light, coming in at just 3.08 pounds.
Compared to controllers that have a similar functionality – two decks, FX, and a basic soundcard, the P32 does it all in a much smaller footprint, all while keeping the spacing of the controls relatively comfortable. I felt like the channel faders and crossfader were a bit too close together. Other than that, the full-size pads and other controls have plenty of room around them for heavy use.
Great For the Centerpiece Of A Modular Setup?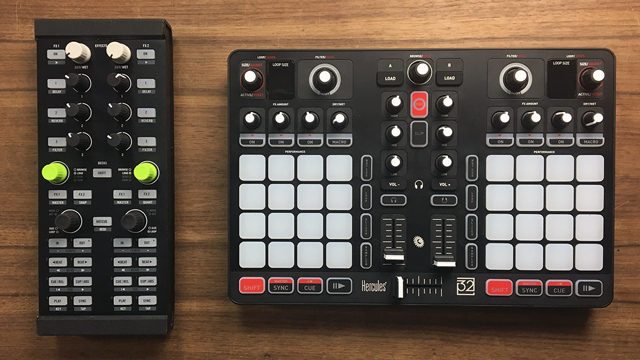 There were a few controls that I found myself wanting dedicate controls for on the P32, the addition of which would probably have made this controller too cluttered. It felt like using the P32 alongside a second small controller might be ideal to cover these controls – which are available via a shift layer:
individual track gain
master volume
track tempo / pitch
scrub through tracks
nudge a track backwards/forwards in a track a tiny amount
P32: A High-Value Budget Pad Controller
For DJs looking for an analogous set of kit, it's tempting to compare the P32 DJ to two Traktor Kontrol F1s with a Z1 in the middle. This unit is vastly more affordable at $299 (if you bought those Kontrol units, it would run $600). What you get is a complete DJing package – in addition to the unique control set, there's a built-in sound card with master RCA outs and a headphone cue.
For the price and the size, the P32 is a solid controller. It might not replace a full-fledged DJ setup, but could be a perfect mainstay in a larger modular setup. It could also be a good choice for DJs who want something small and portable to take for spur-of-the-moment gigs. The P32 will surely encourage users to think beyond the jogwheel, ideal for DJs who have sets that rely entirely on loops, cue points, samples, and a layering-heavy workflow.
Giveaway
We're giving away a single unit of this P32 DJ controller – just use the widget below to enter to win!