In their usual fashion, Pioneer DJ has sent out a late night email for a surprise announcement of a new product, this time the DDJ-RZX. This new bit of DJ gear is designed specifically to work alongside a new Rekrodbox DJ video pack that allows mixing video in the DJ software – read on for details.
Pioneer DDJ-RZX + Rekordbox Video
The DDJ-RZX looks (and behaves) a lot like someone took the Numark Dashboard and permanently installed it to a DDJ-RZ. It offers three 7-inch touch screens, each of which allow you to:
preview and monitor video and image files
trigger beat/release FX
Touch FX that allow use of X/Y controls to change level/depth of the effect
see enlarged track waveforms / metadata (similar to the TOUR-1 screens)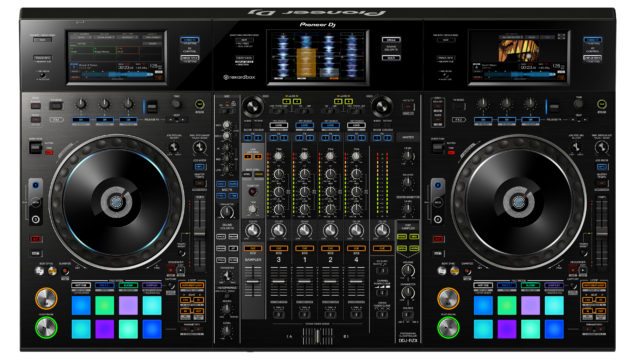 Also worth noting is that Pioneer has added a few new effects controls that you can take advantage on on the controller:
Combo FX – control Sound Color FX and Beat FX at the same time using the touch screens
Sampler Repeat – change the length of a loop just by touching the display and apply Sound Color FX when using the rekordbox dj sampler
Sound Color FX with sub parameter control – use the studio-quality Sound Color FX from the DJM-900NXS2 mixer including Sweep, Filter, Crush, Dub Echo, Noise and Space, and fine-tune them using sub parameter control
Release FX – exit complex FX patterns by selecting Vinyl Brake, Echo or Back Spin and twisting the dial
The DDJ-RZX includes license for Rekordbox DJ, Video, and DVS, and is estimated to be in stores sometime in July with a retail price of$ 2,999.
Rekordbox DJ Gets Video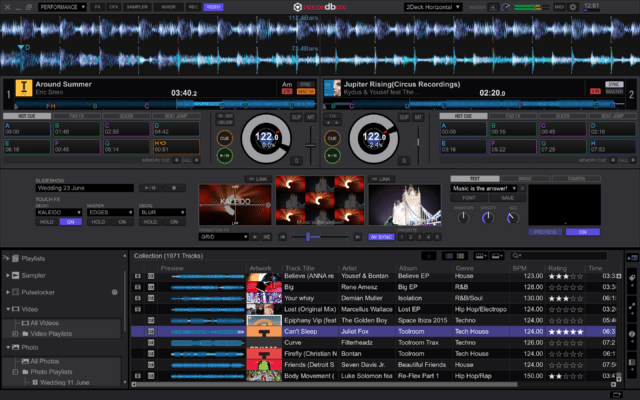 The new Rekordbox DJ Plus Pack adds the ability to mix videos to the software – taking solid aim at Serato and Virtual DJ. The feature set includes (directly from their press release):
Native control of videos – scratch and add FX to videos as if they were audio tracks
Transition FX – use the crossfader to mix two video sources with a choice of 20 built-in FX, or add up to five effects to your favorites and recall them
Touch FX – trace on the display's x and y axes to add FX and adjust parameters
Slideshow – create slideshows of still images in advance or on the fly
Camera output – show the live feed from a digital camera connected to your computer
To take advantage of this new Video Plus Pack, you can buy a license for $149 – or get access instantly if you have a subscription license to the software.
Will This Turn Into An XDJ-RZ Standalone Unit?
Upon first glance, we thought that this product announcement would be a much-needed successor to the all-in-one standalone XDJ-RX, this time in a four deck version. Unfortunately, it's not, but considering Pioneer DJ's penchant for reusing similar designs in their lineup we wouldn't be surprised. Alternately, this is just begging for someone to install a Mac Mini inside the case (if there's room) and run it as a standalone unit…. anyone up for the challenge?