The music production platform Ableton Live is continuing to evolve. With a new update set to launch later this year, the DAW will incorporate a number of powerful, commonly requested features. Watch a performance video and learn how Ableton Live 9.7 will improve sample slicing, drum layouts, audio routing, and much more.
TecBeatz Demo Push + Ableton 9.7
In the upcoming version of Ableton Live, producers and live performers have a lot to look forward to. Naturally Ableton is focusing heavily on making these features the most fun to use on their Push instrument. Check out the demo video below where producer TecBeatz performs using some of the new features on a Push 2:
Features Coming In Ableton Live 9.7
Most of the features are Push-centric in the new version, and it's pretty clear that Ableton wants to make sure that their own controller is the best experience with their software. Here's the features that we know are coming in the new Live 9.7: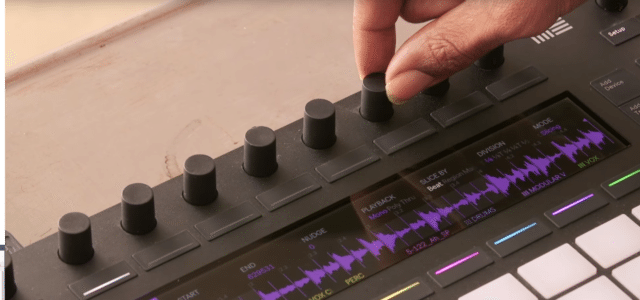 New Sample Slicing Abilities: Trying to finally overtake some of the other (more intuitive) sample-slicing platforms on the market, Ableton is adding new slicing options. You can now chop up samples by beat divisions, regions, as well as manually or by transients. This is all a part of Simpler in the new version.Important to note is that because of these new Simpler features, Live sets opened in 9.7 are not backwards compatible.
A third layout for Drum Racks + Simpler Slicing: This new layout for allows quick access to 16 preset velocity levels for the selected sample. This layout might come in handy for live performers who want to program more interesting beats – but don't want to rely on their own finger dexterity to create consistent velocity.
Audio routing from Push: Now producers can adjust and select the Input and Output audio routing directly on Push 2. This makes it easier to sample internal/external audio sources without having to jump over to the computer.
Visual feedback for tighter recordings – new display info shows clip phase and count-in so you can start and finish clip recordings more accurately.

Hands-on color customization – color pads, tracks and clips using Push to make your live performance easier.
Better playability – Push's pad sensitivity adapts to what you play, whether it's drums or sustained chords.
TecBeats also recorded a walkthrough of his performance for Ableton – he delves into many of the above features with a bit more detail:
Ableton Live 9.7 will be a free update for all Ableton users. If you can't wait for the full release later this year, the Beta version is available right now – sign up and be one of the first to try it out here.