It feels like an eternity since Rekord Buddy 2.0 was first announced. The software that promised to sync metadata (cue points, beat grids, loops, ect.) between the top three current DJ platforms (Rekordbox, Serato, Traktor) has been eagerly anticipated for years. After a private beta earlier this year, Next Audio Labs has this week released a public beta version of Rekord Buddy 2.0 that anyone can download – assuming you're ready to buy.
What Can Rekord Buddy 2.0 Do, Again?
Rekord Buddy 2.0 is music management software with a few special features:
Sync metadata between Rekordbox, Serato, Traktor
Sync playlists between Rekordbox, Serato, Traktor
Organize your library thoroughly using smart lists, filters, and tags
Rekord Buddy library file ensures Rekordbox, Serato, Traktor library files will not be corrupted
DJ Software Freedom Of Choice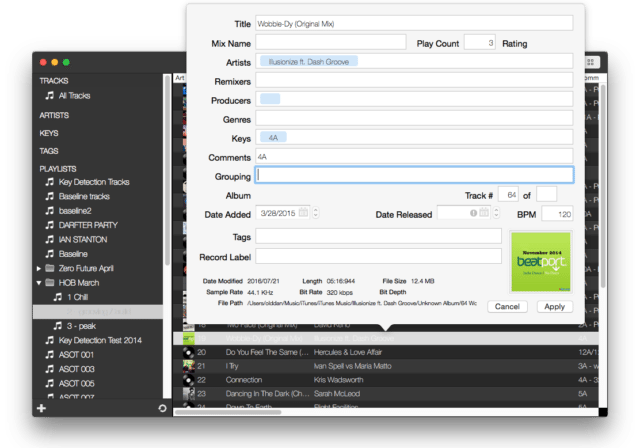 Rekord Buddy 2.0 is quite a big deal for digital DJs. This is the first and seamless method of syncing your library's metadata across multiple platforms. Say you feel like playing on Traktor for one gig then you for your next gig you feel like using Rekordbox on flash drives, with Rekord Buddy 2.0 this isn't an issue at all. Gone are the days of having to analyze your library more than once, setting beat grids and cue points multiple times, just to have the flexibility to move between different platforms.
The new version of Rekord Buddy makes this process as effortless as possible. Your entire DJ library is imported and all of your metadata is synced across Rekordbox, Serato, and Traktor.
As a DJ who has taken the time previously to analyze my library multiple times, just to have it available in more than one software, this saves a tremendous amount of time. With this software, DJs can be more prepared to play on any of the three major DJ platforms without more investment in library prep time.
Beta: What's The Catch?
While Rekord Buddy 2.0 is in public beta, it's a paid public beta. You have to purchase the software before being able to download the beta version. The software license for the beta will extend into the full release version. Cleverly, the current purchase price is discounted to try and entice more people to join the beta.
This will certainly prevent some DJs from joining the beta – but that's also the point. Next Audio Labs wants beta users that are serious about using the software and willing to actively report on any issues while still in a testing phase. The thinking is: users willing to pay the cost of the software up front are more likely to be invested in the beta process.
First Thoughts: Is It Worth It?
I've purchased the beta license for Rekord Buddy 2.0 and have spent some time with it. Unfortunately as part of the terms of the beta I am not able to give many details on the software in its current state.
The software does do exactly what it advertises, and I am completely satisfied with my purchase. Particularly if you're an organizational nut like myself and/or really into trying all sorts of software, I can confidently say that Rekord Buddy 2.0 is worth checking out.
Editor's Note: We've reached out to Next Audio Labs to see what they'll allow us to show / tell you all about in the new software and we'll update this article or create a new one when we get details.