Over the last week, more short teasers implying a collaborative product between Serato and Roland have surfaced. Now, as the date turns to 9/09 around the world, the two companies are set to give the public a first glimpse of a new product – the DJ-808. Learn about this new Serato DJ controller with a built-in step-sequencer in article.
Roland 24 Hour Livestream
For 909 Day (September 9th), Roland is rolling out a ton of new products – their official press information says 30+ products. For the reveal, they're streaming a number of performances and product introductions over the next 24 hours from 8 different cities around the world. The stream begins at 9PM PST, with the first stream starting at Serato HQ in Auckland, New Zealand.
Roland notes that as well as DJ equipment, they're introducing new synthesizers, digital pianos, electronic drums, BOSS guitar products, and "a new genre of musical instrument never offered before by Roland".
Edit: the livestream has been taken down since it is no longer live – but here's our first look video of the DJ-808 instead:
DJ-808 Controller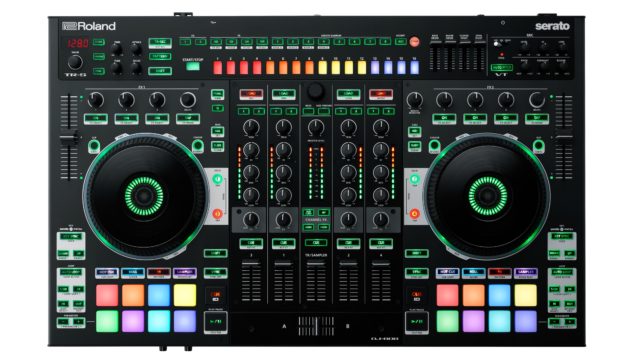 We're only a few minutes into the livestream and we've already seen a new product on the DJ booth at Serato HQ – a controller. It's called the Roland DJ-808. It's clearly a four channel DJ controller. And there's a step sequencer at the top. Features revealed so far:
Integrated TR-S drum machine offering the iconic 606, 707, 808 and 909 drum sounds in a 16-step sequencer which can also trigger the newly improved 8-slot Serato DJ Sampler. This is all Analog Circuit Behavior, straight out of the Roland AIRA lineup. Control the different volumes of each using the faders right next to it. You can tweak the decay and pitch of each built-in sound.

Sequence the Serato Sampler (now with 4 pages of 8 decks)
The Performance Pads can be used to play the TR-S drum sounds, or your own samples
Pitch-n-Play allows you to quickly get into pitch play with your tracks – pitching up or down in semitones that are compatible with the current key of a track
4 built in FX to the mixer

connection with external instruments via MIDI or AIRA Link USB
24-bit / 96kHz capable soundcard
Dual Deck mode for controlling multiple decks concurrently
Integrated Roland VT voice transformer – allows pitch shifting and vocal key matching to playing tracks via the Auto Pitch feature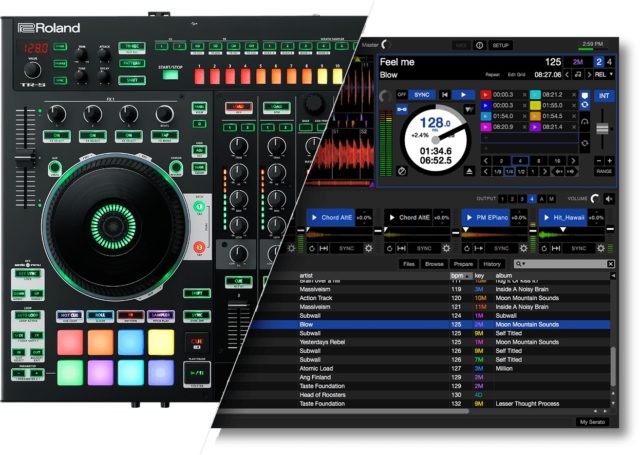 Serato DJ enabled – no license required, include a license for Pitch 'n Time DJ
RGB-colored, velocity sensitive pads
Large range 100mm pitch faders for accurate level control in the mix

Two USB ports on the DJ-808 – which can be a simple hub and also used as AIRA link – meaning there's seamless connection to Roland synths and instruments, sending power and MIDI sync data.
1/8" and 1/4" headphones jacks, combo XLR input jacks, built-in phono pre-amp, and audiophile sound quality.
Watch the stream above – and we'll update this article with more details as they're revealed. We know a bit more about what's coming, but due to non-disclosure agreements aren't able to share until the official announcement. Stay tuned!