Ableton launched Link, a technology for syncing tempos between softwares, last year. Since then, many iOS apps have jumped on the bandwagon – but major desktop apps have lagged behind. Today, Ableton is announcing that Serato DJ, Propellerhead Reason, and Cycling 74's Max are all integrating Ableton Link.
What Is Ableton Link?
Link is a software protocol that works on local area networks. In order for it to work, an app needs to have Link built into it, and then you simply join the same network as the other apps you want to synchronize and activate the Link. Until now, this largely has been between iOS apps and Ableton live:
You don't need Ableton to be the central hub, either – so other apps can sync together without Live being used. A ton of applications can be all linked together, or many instances of Ableton Live. It's a standard that we hope will continue to get adopted across a lot of software applications, and that's why this next bit is so exciting:
What Softwares Will Now Have Link?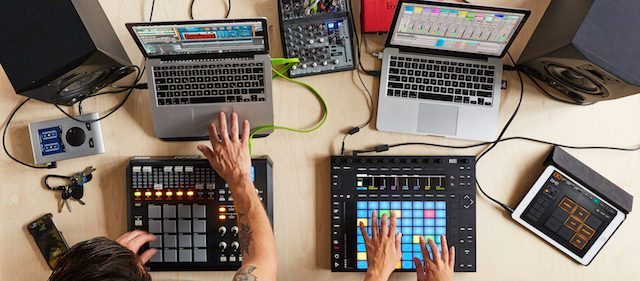 Popular iOS apps like Figure, Funk Drummer, Launchpad for iOS, Looptunes, iMaschine, and Reactable have had Link integrated into them for a while now. But today's announcement goes further than iOS: Serato DJ, Propellerhead's Reason, and Cycling 74's Max all are integrating Link into their desktop softwares.
For Serato DJ users, this means that finally there's a level of syncing between Ableton and Serato that was broken years ago when The Bridge stopped working. Now users will again be able to apply effects and trigger Ableton clips in time with decks in Serato DJ, and vice versa.
We suspect that this will likely work between copies of the same software as well (as it does now with Ableton) and you'll be able to sync up multiple instances of Serato DJ. Handy if you're really starting to layer things together – and even better if you're step sequencing with something like the Roland DJ-808.
At the same time, Ableton has made Link open source. This will make it even easier for developers of any app to use the Link technology in their own software – and we're really hoping that it becomes an industry standard.
We're still waiting on more details from the software companies about how Link will be specifically integrated into their software. Stay tuned for details – and here's hoping that future Traktor releases will have Link integrated.