About a year ago, Apple released OS X 10.11, El Capitan – and DJs around the world either experienced or heard about the many issues that plagued digital DJ software. Even now, many DJs and producers have held off on updating. This week Apple releases macOS Sierra, 10.12. Read on to learn what the state of DJ software is with this new release.
Warning: Do not update to macOS Sierra if your current DJ setup is stable and you have an important gig coming up. Always have a backup plan or way to roll back your operating system. Don't take risks!  
Traktor Pro With macOS Sierra

Let's start with the most exciting development. With El Capitan, there have continued to be a number of major issues for users of Traktor's hardware, mostly related to larger CoreAudio problems. According to Native Instruments,
"after working closely with Apple and intensive testing, macOS Sierra delivers very stable audio performance on all our current-generation hardware devices."
If you've experienced issues with stuttering audio and dropouts, many beta testers have confirmed that macOS Sierra seems to fix these with the new version of Core Audio:

There are a few legacy devices that are still having issues with their audio output which, according to NI, still seem to have crackling issues. Native Instruments has mentioned on CenterCode that they will stop support of these devices with this new update:
Kontrol S4 MK1
Audio 8/4/2 DJ
Serato DJ with With macOS Sierra

Serato DJ also had some hiccups with El Capitan – most of which were resolved after an arduous few weeks with serious issues. To ward off any potential issues this time around, Serato has sent out a mass email letting their users know the current status of their software. The main warning is for legacy Serato Scratch Live users:
As Scratch Live is a legacy product, we don't recommend updating to macOS Sierra as there may be unknown issues.

However, we've been testing Serato DJ across the beta versions of Sierra and should be able to confirm support shortly after the official release.

If you have supported hardware for Serato DJ, we recommend upgrading.
Note that similar to Native Instruments, Serato have stop supporting older devices and sound cards – like the Rane TTM57 (MK1) mixer and Rane SL1 soundcard.
Rekordbox DJ With macOS Sierra

Rekordbox noted earlier this summer that, "We will not be officially supporting Sierra until after the official public release and we've had an opportunity to verify compatibility. During this time, you may try it at your own risk, Pioneer DJ does not guarantee performance, assumes no responsibility for loss of information, and will not provide support should you encounter any problems."
So far we haven't heard of any major issues – just a few posts on the Rekordbox forums and Facebook groups that seem to indicate everything is working without issue: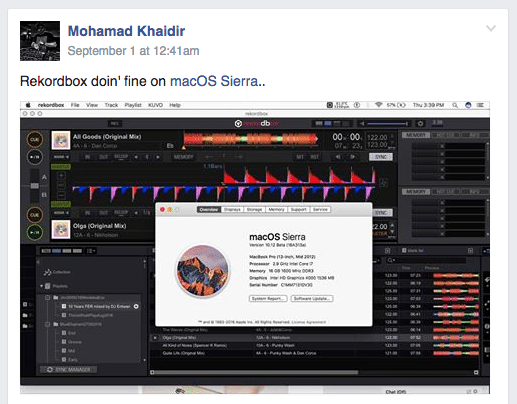 Ableton Live With macOS Sierra

Ableton has written up a support article on their site sharing a bit of details about Live 9 and the new macOS. It's a similar story here – no major issues so far. They note that only the newest version of Live 9 is confirmed to be working well:
"We are not aware of any issues affecting the latest version of Live 9 under macOS Sierra.  However, older versions of Live 9 cannot be expected to function flawlessly, nor is Live is supported on the beta version of macOS Sierra."
And the same goes for Max for Live:
"As of version 7.2.4, Max for Live will work in macOS Sierra.  However, for users that upgrade the OS (as opposed to reinstalling it), it is necessary to perform a Java 6 SE installation a new time."
Apple is set to make macOS Sierra available for download tomorrow – Tuesday the 20th. Details on their site here. 
Do you have any experience with Sierra and other DJ software? Let us know in the comments.