DJ software isn't easy to build. Developers and management have customer data that only goes so far when it comes to building a product DJs will enjoy using compared to others. For a small software company to go up against NI or Serato there are a lot more hurdles to overcome with (usually) a much smaller budget. This is a typical narrative, but not the narrative of DJ Player 9, which receives advice and design tips straight from a Slack community its own users.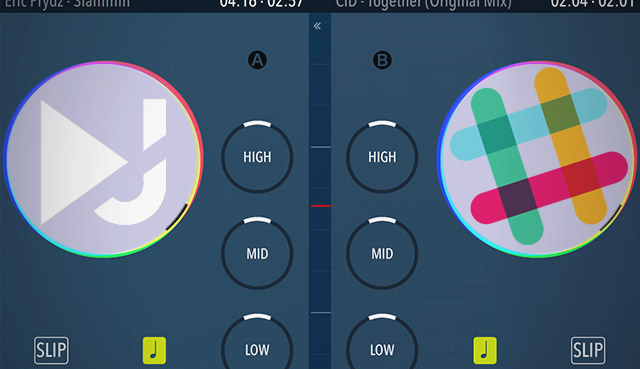 Crowdsourcing a DJ App with Slack
In the Bay Area tech scene, Slack is a trendy app used for interoffice team communication. I've never seen it used in DJ context before hearing about DJ Player 9's origin story. Since November 2015, creator Gábor Szántó has used Slack to connect his team with its users from 45 countries in 11 different time zones. From MIDI mappings to beta tests, the community of 1000+ members has contributed to the latest release. This progressive move takes the users right to the discussion table. DJs were able to give ideas, mock-ups, and even niche features that would eventually make it into the release candidate.
The final DJ Player 9 app is a child of this ecosystem and it has a strong foundation of users who are dedicated to testing and improving the software. The community is still alive and well today where users are contributing and talking about the app. Gábor wants to keep the conversation going because, "no 'point zero' version is perfect, and not every reasonable wish" is present.
DJ Player 9: What's New
The press release claims DJ Player 9 is the "Formula 1" car for the DJ world – we'll let you read the features and decide for yourself. The iOS app is DVS ready for any timecode vinyl and has MIDI support for a range of controllers with no manufacturer restrictions. The app also supports 4 decks and Native Instruments STEM tracks as well.
There are two major interface options when DJs use the app: Classic and Modern.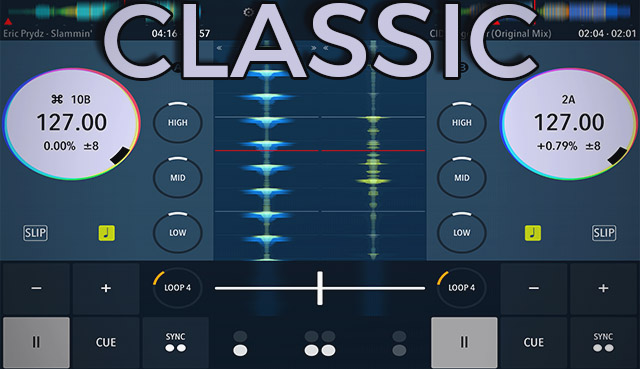 The Classic interface is the legacy of earlier versions of DJ Player. This version focuses on handheld capabilities with DVS and portablism in mind. The top level controls include Play, Cue, Sync and Loop with a +/- pitch control and 3 EQ knobs. A crossfader rests between both decks. The deck displays BPM, pitch changes, and key with a vertical waveform on the side and a smaller horizontal waveform above.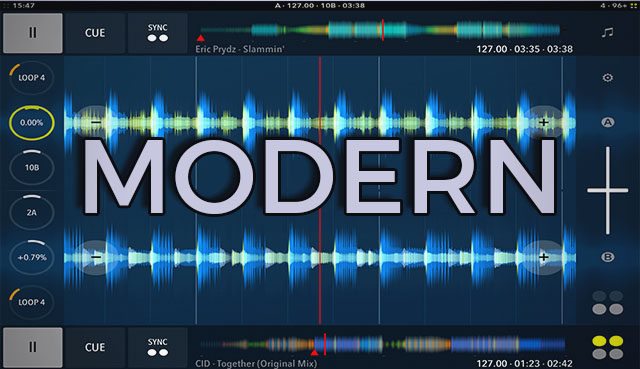 The Modern interface is more progressive with waveforms taking up a majority of the screen real estate. The waveform displays (for both views) now provide better track structure overview and beat localization. Immediate controls available within the Modern face are Play, Cue, Sync and Loop with a knob pitch and key control. A crossfader rests on the left side of the screen. EQ controls are available with a click of a button.
Each interface has a dedicated FX screen for each deck. The FX screen has three FX pads and a combo option to layer effects. Users can switch between Modern and Classic interfaces quickly using the Yin-Yang symbol at the top of the screen. As the interface has improved, the performance of the software has been maintained. Under the hood, analyzing tracks takes less time and the app runs at 60 FPS. The folks behind DJ Player 9 promise to provide better performance, better responsiveness, and a cleaner sound when compared to other DJ software.
Final Thoughts
As always with switching to a new DJ software, the heavy claims in press releases about performance, responsiveness, and features don't really matter. DJs change software when they see other DJs using it, and the experience of the software is superior enough to convince them to put in the effort to learn something new.
DJ Player 9 is a unique breed. After being sent through exhaustive tests by dedicated users, the company now has a product that resonates with the DJs who use it. Other companies have open betas, however, rarely do consumers communicate compliments and issues directly to the creator.
The new version is well situated to be a strong contender in the ring of iOS DJ software. There's the added bonus of having an open community of DJs who believe in the product, and the crowdsourced design makes this a unique entry.
DJ Player 9 is available now in the App Store for free, with required subscription of $1.67/month or $89.99 to remove trial notifications.