When ill.Gates waxes poetic on music production processes, it's clear that he's spent uncountable hours in the studio. In today's video, he shares some of his most valuable tips for anyone taking on the creative process of producing. Learn why "it's not over until someone kills a puppy" is reasonable music writing advice – watch the full video inside.
ill.Gates': How To Optimize Your Studio Workflow
In the above video, ill.Gates gives an incredibly detailed overview of five tips that have changed his own creative process in the studio when music making. Here's a quick summary of the major points he makes:
Divide Studio Sessions Into "Day" and "Night" Sessions
Time spent in the studio is incredibly valuable – but if you do everything at once it will be too overwhelming
Split your sessions into Writing and Prep sessions
Prep/Nighttime: Shorter amount of time, good for sound design, plugins, making sounds and kits, organizing library, practicing finger drumming (essentially anything isn't writing music). This is more about exploring and experimentation.
Writing/Daytime: Treat this like you would a job – wake up early, focus entirely on writing the music for a long period. Get as much writing done as possible in one session!
The Three Production Phases
Phase 1: Saying Yes – This is when you're creating new ideas, jamming. Putting down as many ideas as possible. Add as many things as you want to your project.
Phase 2: Saying No – Arrange the above ideas into a track "by subtracting, not by adding". Delete stuff from the first stage – you can't incorporate all of your ideas into one song.
"A good song should do one thing really well, not all the things."
Phase 3: Finishing Up – Finalize everything – flatten it down to audio stems. Mix rendered audio instead of live instruments (for the sake of processing power). Correct timing, and tidy things up. Mix again with fancy plugins and make small edits to your stems where needed (reverse things, pitch shift, etc).
Make Your Studio Ergonomic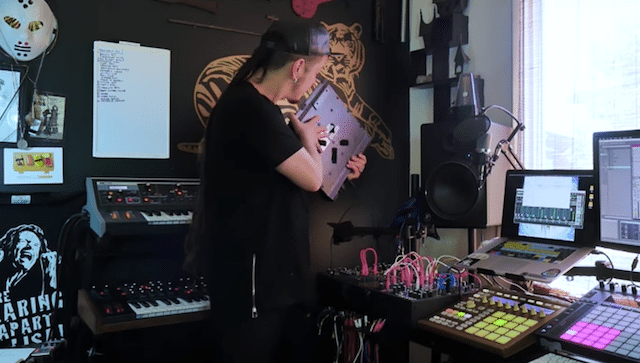 ill.Gates likes to stand up for phase 1 – when jamming – not be sitting down. This is common in a lot of creative practices.
Buy monitor arms / trees and attach your various gear to. There are a number of low-cost options on Amazon – which tilt and rotate fully. Many pieces of gear won't have VESA mounts on the back of them, so try using heavy-duty Velcro instead!
Timeboxing + Recipes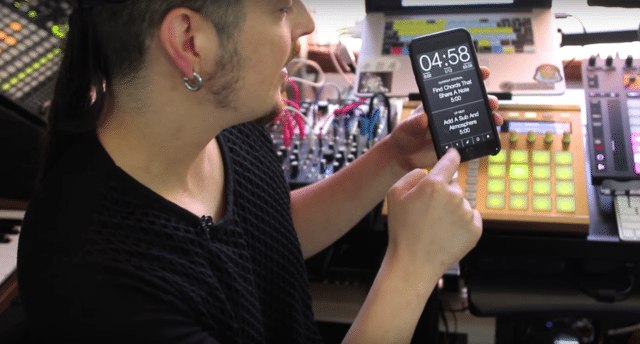 Make a list of everything that needs to happen to your track
Set a timer (simple mechanical kitchen timers like this one work well!)
Cross off as many things on the list as possible
You might recognize this as a simplified version of the Pomodoro technique
You can also use your phone – ill.Gates recommends interval timers – he specifically uses Seconds Pro ($4.99 on the App Store) which allows you to allocate specific amounts of time for different studio tasks.
Apps allow you to unit the kitchen timer and the list – to make what ill.Gates calls a recipe (can you tell he loves cooking analogies?)
Find more ill.Gates' studio advice on ProducerDJ.com – including his Ill Methodology tutorial series. 
Want to own some of ill.Gates' original finger drumming soundpacks? Check out the packs he released with DJ Techtools here.