As first reported on the Denon DJ Facebook group and on Twitter by a DJTT reader, a brand new media player from Denon has appeared in leaked images online. The new media player is likely what the company meant last fall by their #changeyourrider campaign. With cue point buttons and a full screen with waveform display, this is the product Pioneer DJ might want to be scared of: keep reading for our summary of what we know.
Editor's Note: We were sent a preview of this product already, but all information published in this article is based on what we've seen in these leaked images. 
@DJTechTools whats this? pic.twitter.com/lP9QNgqXzX

— Jay Dizzle (@DjJaimeGavela) January 5, 2017
It appears as though a certain magazine has published an image of the new Denon DJ SC5000 and the floodgates opened on the internet. Here's the best image we've seen so far of the new media player (click on it to zoom):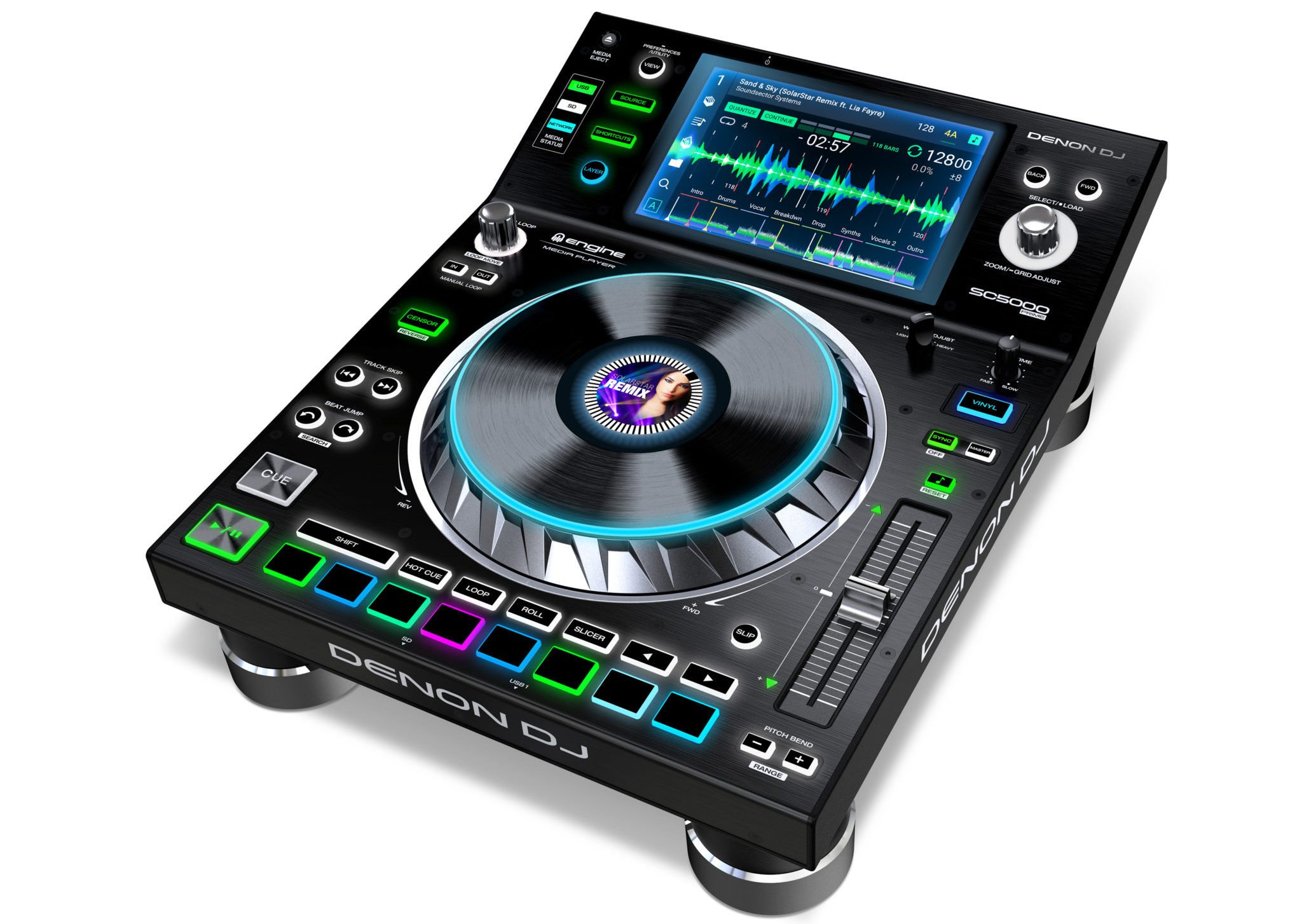 Denon DJ SC5000 Features (Based On The Images)
It looks as though a lot of DJ requests have been answered on this new model – here's what we can tell so far from these pictures:
8 performance buttons below the deck – for cues, loops, rolls, slicer
On-jog display (that appears to show album artwork!)
Built in slip mode
A loop encoder – with a "loop move" label underneath it. This could be a huge advantage over Pioneer's limited loop move functionality on CDJ/XDJs
A large screen that shows colored waveforms, song section labels, beatgrid, track information, Camelot Wheel key data, and more
Censor/Reverse button
Sync and Master functionality
Adjustable pitch range as well as pitch bend buttons (a first on standalone players?)
Beat Jump in place of Track Search
USB, SD, and network link-based track storage (USB and SD card appear to be front-loading from below the cue buttons)
Engine News Coming Too?
To power these features and bring Denon's standalone players into direct competition with Pioneer, we also suspect that there will need to be a substantial upgrade to the preparation software, Engine. This could take many forms – from Denon building their own DJ software (like Rekordbox DJ) that also acts as preparation software, or just an update to the existing platform.
We'll have more details on the Denon DJ SC5000 next week and at NAMM 2017 – which starts later this month. See all of our NAMM coverage here.