Just ahead of NAMM 2017, Italian audio company Mixars has announced both a line of Galileo crossfaders and a new simple mixer, the UNO. Keep reading for details on both based on what we know so far.
Galileo Crossfaders
Mixars have worked in collaboration with British fader manufacturer Pro X Fade. From this partnership comes the launch of the Galileo range of faders, in their words, designed to "offer the best scratching experience, backed by our superb development and manufacturing capability".
The Galileo range includes three specific faders – likely tiered by price (which is still not announced):
the Essential: built in Japan, offers "the latest and best technology" from Pro X fade and will be installed in several Mixars products at NAMM 2017 to demo.
the Kallisto: a "'razor sharp' contactless dual-rail crossfader with both digital and analog outputs."
the Pro: a universal fader that will be compatible with a wider-array of mixers
Mixars' UNO mixer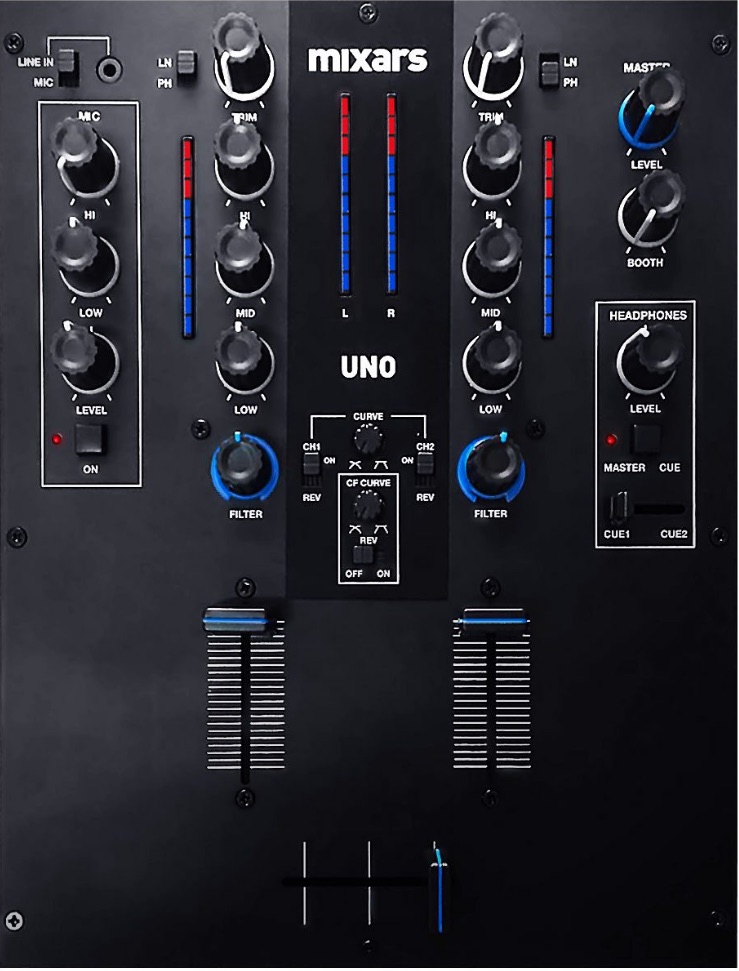 Mixars' second new product for NAMM 2017 is the UNO mixer. It's a stripped-down version of the popular DUO Serato DVS mixer that the company launched laste year.
The UNO feature set includes:
the Kallisto contactless dual-rail crossfader
two channels with 3-band EQ, trim, and high/low pass filters
VU metering on each channel and on master
cue on the master channel (which is an omission on other similar products)
two switchable line/phono inputs (with twin grounding terminals)
a separate switchable mic/aux channel controlled by a rotary knob
three sets of RCA outputs (master, booth, and record) and one pair of balanced XLR master out
The UNO mixer seems most appealing to turntablist DJs who either want to use exclusively vinyl or have another method of routing a DVS signal (like a Serato/Traktor sound card). Scratch DJs will feel right at home with the UNO's up fader and crossfader curve control and the mixer's ability to reverse all faders for "hamster style" scratching. DVS DJs needing controllerism features might prefer the DUO mixer, which is Serato DVS-enabled and has two banks of four hot cues next to the up faders.
Enclosed in a full metal chassis, the UNO appears tough enough for routine performances, but only time will tell the durability of the (as of now) untested Kallisto Fader.
Will Mixars Thrive?
These product launches represent a pivotal moment for the one year old Mixars as they bring to market tempting products for the turntablism community. Their Serato mixer, the DUO, seems to have won fans over with its simplistic design and rugged build at a price nearly one thousand dollars below competitors like Rane's Sixty-Two or the Pioneer DJM-S9. At the same time, their new fader range seems to have its sights aimed squarely at Audio Innovate's Innofader – traditionally a favorite among fader upgrading DJs.
The real question becomes: how successful is the brand? Can they take on industry leaders and carve out a niche? Clearly they have enough runway to continue developing new products and launching them – so what will this generation of products hold?
The Mixars Galileo faders and UNO mixer will be on display at NAMM 2017 – stay tuned to DJTT and we'll report on price, availability, etc. 
[H/T to DJWorx for first reporting on this Mixars news.]
Wondering why there's so much new gear news on DJTT right now? Companies are rolling out their new products ahead of the NAMM 2017 industry convention. We're giving DJTT readers the first coverage and insights into what's coming out:  See all of our NAMM 2017 coverage here.